Email Footer Examples & Best Practices for Keeping Readers Happy
By Amanda MacArthur • 08/13/2014
Keep everybody happy with compliant and useful email footers
We developed the Email Newsletter Scorecard with our friend and email marketing expert Jeanne Jennings. Let's look today at #9: the all-important footer. In addition to abiding by CAN SPAM laws, having a footer resonates with the email recipient because it gives them a way to communicate with your brand, manage their subscription or opt out of your list if they choose. Giving these options makes your email newsletter more reputable.
Readers have come to expect that they can find this information in the email footer template of your mailings.
So, when developing or scoring your own email newsletter, make sure you can check these five best practices off the list:
The email newsletter includes a mechanism to allow readers to unsubscribe. It's also a good practice to have these links in your header to deter users from hitting the misleading "junk" button on their email client. This is a CAN SPAM requirement.
The email newsletter includes a U.S. Postal Service address for your company – this adds credibility and also makes you CAN-SPAM compliant.
The email newsletter includes a link to your privacy policy – this helps with getting whitelisted.
The email newsletter provides a link to a subscription management page where subscribers can update their email address or change their preferences (if you have more than one list).
The email newsletter includes a copyright notice to protect your intellectual property from those who might take it as their own.
The following are a few good email footer examples, including a couple who have done something very smart by adding their social media subscription links to the bottom of their emails. Why is it smart? Because not only can it distract a user from unsubscribing, but it also helps keep them on your social media list, even if they unsubscribe from your email list.
Photojojo includes the short link to their featured article and bold ways to get the attention of their readers.

Discover how to attract and convert website visitors into hugely profitable email subscribers when you download our FREE 

Organic Audience Development Strategy

 handbook.
Nation's Restaurant News, a Penton Media property, adds in social media subscription links, calls-to-action for their print publication and contact information to their footer, too.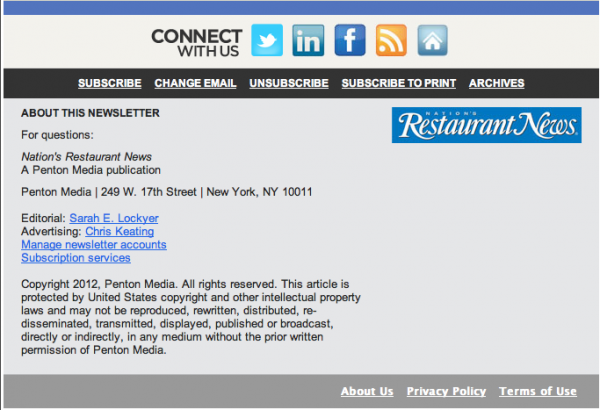 More good ideas, this time from Mequoda client Bayou City: Links to posts from earlier in the week, plus a "Forward to a friend" feature. Like social media links, the links to other articles might distract the reader from unsubscribing – maybe she'll see something that interests them more than the one she just saw. And encouraging sharing of your free content is simply a no-brainer.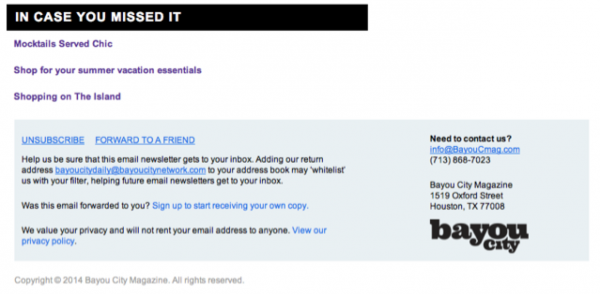 One other Best Practice: Reminding the subscriber to whitelist your email address. Just because she got it today, that doesn't mean her email filter will respond the same tomorrow. "Smart" filters that are supposed to "learn" seem to change their minds regularly.
Related Posts
Posted in Audience Development Strategy
One Response to "Email Footer Examples & Best Practices for Keeping Readers Happy"
Barbara Shepherd Says:
October 31st, 2012 at 12:56 pm

Really? Having a privacy policy link is a CAN-SPAM requirement? I thought it was a best practice but not a legally required element.
Leave a Comment