Email Footer Examples & Best Practices for Keeping Readers Happy
By Amanda MacArthur • 10/31/2012
We developed the Email Newsletter Scorecard with our friend and email marketing expert Jeanne Jennings. Let's look today at #9: the all-important footer. In addition to abiding by CAN SPAM laws, having a footer resonates with the email recipient because it gives them a way to communicate with your brand, manage their subscription or opt out of your list if they choose. Giving these options makes your email newsletter more reputable.
Readers have come to expect that they can find this information in the email footer template of your mailings.
So, when developing or scoring your own email newsletter, make sure you can check these five best practices off the list:
The email newsletter includes a mechanism to allow readers to unsubscribe. It's also a good practice to have these links in your header to deter users from hitting the misleading "junk" button on their email client. This is a CAN SPAM requirement.
The email newsletter includes a U.S. Postal Service address for your company – this adds credibility and also makes you CAN-SPAM compliant.
The email newsletter includes a link to your privacy policy – this helps with getting whitelisted.
The email newsletter provides a link to a subscription management page where subscribers can update their email address or change their preferences (if you have more than one list).
The email newsletter includes a copyright notice to protect your intellectual property from those who might take it as their own.
The following are a few good email footer examples, a couple who have done something very smart by adding their social media subscription links to the bottom of their emails. Why is it smart? Because not only can it distract a user from unsubscribing, but it also helps keep them on your social media list, even if they unsubscribe from your email list.
Photojojo includes the short link to their featured article and bold ways to get the attention of their readers.

MarketingProfs doesn't dilly dally with being cute, their footer includes all the necessary bits and leaves it at that.

Nation's Restaurant News, a Penton Media property, adds in social media subscription links, calls-to-action for their print publication and contact information to their footer, too.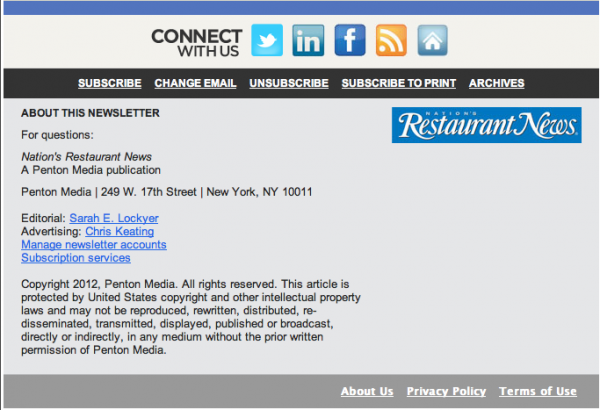 Folio's email footer is also straight to the point, focusing mostly on the links.

Nobody ever said your email footer needed to be swanky or fancy. In fact, most of the examples we found in our inboxes were straight to the point, while others were funny or just plain pretty. As long as you follow these best-practice guidelines, your email footer will be in compliance with CAN SPAM and will also keep your subscribers happy.
Related Posts
Posted in Audience Development Strategy
2 Responses to "Email Footer Examples & Best Practices for Keeping Readers Happy"
Barbara Shepherd Says:
October 31st, 2012 at 12:56 pm

Really? Having a privacy policy link is a CAN-SPAM requirement? I thought it was a best practice but not a legally required element.

web tasarım Says:
May 25th, 2014 at 10:36 am

I really don't perhaps discover how I ended way up below, even so presumed this specific publish used to be good. I would not realize whom you are having said that undoubtedly you're going to your well known doodlekit when you will not be presently. Kind regards!
Leave a Comment