Show Me your Blockbuster Posts!
By Don Nicholas • 09/24/2012
A blockbuster post drives traffic to your website over an extended period of time
Chris and I are working on a webinar about creating blockbuster posts. As I've mentioned before, a single blockbuster post can drive as much as one or even two percent of the website's traffic. Unlike traditional periodicals, website content is forever. The top 10 traffic driving posts to a well-optimized website are often months and years old.
The following table shows our top 10 Blockbuster posts for the month of August 2012. You'll note there's a month and year in parentheses behind each article title. This is the original date of publication for this post. The post may have been tweaked and updated over time, and you can be sure that Google has captured a snapshot of every change. Keeping posts up to date is one best practice for making sure a blockbuster post has a long and productive life.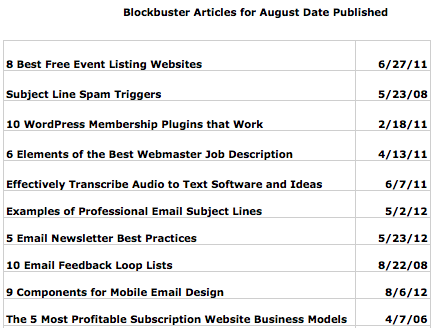 If you look through our top 10 posts, you'll notice some patterns. Blockbuster posts are always keyword rich. They often contain a list or the words "best" or "top." I'm sure if you look long enough, you'll see other patterns in the content that works well for us.
A little help please: show us your blockbuster posts!
Chris and I would love to broaden our research beyond our normal benchmark websites for this webinar on creating blockbuster posts. We'd be eternally grateful if you would post the link to any posts from your website that are perpetual traffic drivers, along with any comments you might have as to why they perform so well. If your post is selected for inclusion in the upcoming webinar, we'll give you some direct feedback about how your best performer compares with others we've created and seen others create.
Thanks in advance for your help.
Happy testing!
Related Posts
Posted in Audience Development Strategy
2 Responses to "Show Me your Blockbuster Posts!"
Mary Says:
September 27th, 2012 at 4:46 pm

You're absolutely right. The two biggest traffic drivers for my site are a few years old now. One is an article and the other an RCLP for a free report and both are strong performers year after year with very little care and feeding from me along the way. Although I should probably be doing more.

Effective Teaching Strategies: Six Keys to Classroom Excellence
http://www.facultyfocus.com/articles/effective-teaching-strategies/effective-teaching-strategies-six-keys-to-classroom-excellence/

I think this article performs so well because "effective teaching strategies" is not only in the headline but it's in the url twice because effective teaching strategies is an article category.
10 Principles of Effective Online Teaching: Best Practices in Distance Education
http://www.facultyfocus.com/free-reports/principles-of-effective-online-teaching-best-practices-in-distance-education/

This free report does well largely because it's keyword rich with a few different phrases: "effective online teaching,""online teaching best practices" and "best practices in distance education." Plus we repeat a key phrase multiple times by giving them a sneak peek at numbers 1-10. (Principles of Effective Online Teaching: #1 …"

Like your blockbuster posts on the Mequoda blog, our most popular ones are almost always numbered articles, eg Five Characteristics of Learner-Centered Teaching, Three Steps to Better Course Evaluations, Top 10 Strategies for Preparing the Annual Tenure and Promotion Dossier, 10 Ways to Promote Student Engagement, and so forth.

And it's probably no surprise that these numbered articles also do extremely well in social media.

Don Says:
October 3rd, 2012 at 11:23 am

Thanks Mary!

This is a great case study on what really drives website traffic.
Leave a Comment