Times to Tweet: Should You Start Tweeting During the Day on Saturdays?
By Amanda MacArthur • 07/03/2012
A new study, Strategies for Effective Tweeting: A Statistical Review, from Buddy Media (recently acquired by Salesforce) says that publishers get 29% more engagement from their followers when they tweet on Saturdays, even though only about 7% of tweets coming from publishers actually arrive on a weekend.
Engagement is a funny word, often thrown around loosely in social media. Buddy Media defines this usage of the word only by retweets and replies, saying "78% of user engagement with a brand's Tweets is in the form of Retweets, while replies, which form the basis for 'conversation,' make up only 22% of engagement".
Something to consider here though, is if you're employing a weekend strategy, shouldn't someone be available to respond?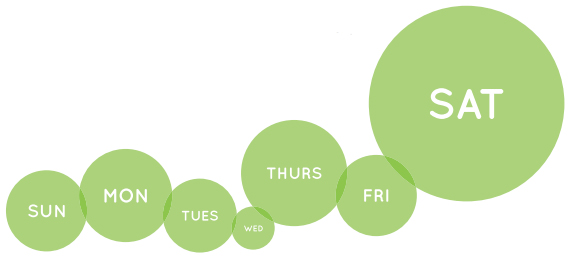 Recently our Managing Editor Chris Sturk tested tweet times himself and found the same type of results, saying that sending tweets on the weekends has led to thousands of new visitors each month for Mequoda.com.
So while we always caution to watch your own analytics before jumping on any social media bandwagon, here are some well-researched highlights from the report that you can test back at the office.
Tweet during the day, post to Facebook at night: Posting tweets during the "busy hours" of the day, 8am-7pm got 30% more clicks, whereas Facebook posts saw a 17% increase during "non-busy" hours. This applies to weekends too.
Post four tweets per day: While not entirely applicable to publishing, since you have more content to share than others,  the study showed that four tweets per day were most effective, and after that, people's attention waned.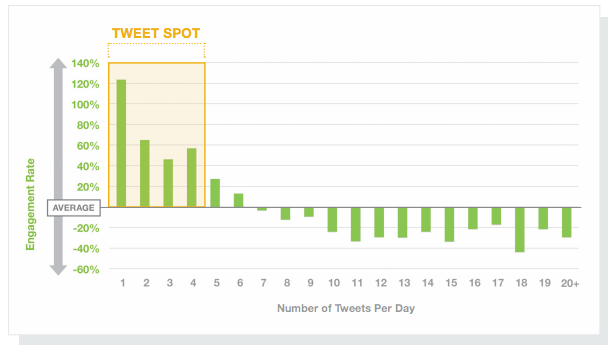 Keep your tweets short: Tweets that were 100 characters or less got 17% more engagement, which means that just because you have 140 characters doesn't mean you have to use all 140 of them.
Include a link: Another no-brainer for publishers is that tweets with links in them have an 86% higher retweet rate. Thankfully, we have lots of links to share!
Use hashtags as often as you can: The study reports that tweets that use hashtags get double the engagement. I'd argue that these results can be easily skewed by Twitter chats, but don't disagree that every tweet you send has an opportunity for a hashtag. Just don't use more than three, or you'll see a 17% drop in engagement.
Use images when you can: There are lots of opportunities for you to post behind-the-scenes at photo shoots, during meetings, lunch or anywhere else that gives your readers a human presence to resonate with. Posts with images in them are twice as likely to be clicked and responded to than any other type of post.
Spell out your retweet: We already know that asking for the retweet is the best way to get one, but this study shows that asking for a "retweet" instead of a "RT" gets you twenty-three times more response.
Now let's bring it back to your own tweets. Do you have any personal analytics that agree or disagree with these findings? I think we'd easily disagree with the four tweets per day rule, as we've seen much more traffic and engagement by upping our schedule. What about you?
Related Posts
Posted in Audience Development Strategy
One Response to "Times to Tweet: Should You Start Tweeting During the Day on Saturdays?"
Addy Johnson Says:
August 2nd, 2012 at 5:46 am

This is interesting study which have share with us. I never knew about timing of doing tweet but after this advice i will surly be careful about it.
Leave a Comment