Reasons Why Digital Magazine Publishing is a Smart Move for Publishers
By Kim Mateus • 06/28/2012
A growth in digital medium usage, and a decline in print magazine usage, portrays digital magazine publishing's value
Print magazine publishers can share stories about tough financial times they've experienced. Many would cite a decrease in circulation as a significant problem encountered within the last handful of years. And according to a recent study, the reach of print magazines is still dropping among adults.
The TVB Media Comparisons study looks at data from 2010 and compares it to 2012 numbers. In 2010, the daily reach of print magazine among adults was 28.6%. In 2012, that percentage has dropped to 24.8%.
Those statistics probably aren't too surprising to many of you with print products. Hopefully your readership has remained stronger than these numbers dictate.
When it came to the other forms of media, there were only three that increased reach over the past two years, all of which can be utilized by digital publishers.
Internet, which is the second most popular behind only television, increased its reach from 67.5% in 2010 to 73.1% in 2012.
Tablets being the newest form of media on the list didn't even have a usage rate in 2010, but represents 11.7% usage in 2012. This market has begun to develop rapidly over the last two years. Consistent growth is expected within it until 2016, when a predicted 760 million tablets will be installed.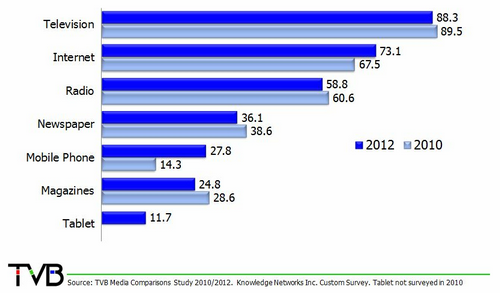 Growing even quicker than the tablet market is the mobile phone market. In 2010 mobile had a 14.3% reach. In 2012, mobile reach has grown to 27.8%.
There are a few bright points for print magazine publishers and digital magazine publishing endeavors alike. First, as stated at minonline, "magazines are still the fourth most influential medium when it comes to purchase decisions, behind TV, newspapers, and Internet."
Magazines still have power in advertising and 6.8% of respondents find magazines to be the most helpful in learning about products. The Internet and newspapers were only slightly more popular for doing this (8.7% and 8% respectively).
Furthermore, digital publishers have the chance to build audiences with content on the Internet, tablets, and mobile devices, as all of these markets either have significant usage (Internet), or growing numbers (mobile and tablets).
Five ways to use these growing digital mediums
Internet: Propagate your audience development blog with thorough journalistic content, optimized for both search and social media. Use free downloads to spread your industry knowledge while building your email marketing lists.
Tablet: Prepare a tablet publishing strategy that focuses on generating revenue through premium digital products, builds audience and brand recognition with free content, or a combination of the two. Either way, utilizing retail partners in the tablet market (Apple, Nook, Kindle, etc.) is a great way to find new audience members.
Mobile: Optimize your email content for mobile because more mobile users are checking their email on the go. As email is a viable medium for sales, this can help keep your customers around.
There is still a desire for print magazine content, but how long will it be an option for publishers? Will digital magazine publishing overtake more publishers in the future? Please share your thoughts below.
Related Posts
Posted in Digital Magazine Publishing
One Response to "Reasons Why Digital Magazine Publishing is a Smart Move for Publishers"
Steve Says:
June 29th, 2012 at 12:10 am

Any opinion or guess as to viability of a magazine for fiction short stories for the mobile app market?
Leave a Comment