Study Shares How Tablets, Smartphones are Used
By Chris Sturk • 07/19/2012
Digital magazine publishing receives data on how mobile devices are used
What are some of the most pressing questions you have about mobile device usage? As digital magazine publishing heads to tablets and smartphones, digital publishers seek answers to how these devices will fit into their digital publishing strategy.
A study from ABI Research – Mobile's Role in a Consumer's Media Day: Smartphones and Tablets Enable Seamless Digital Lives – gauges responses from over 1,000 mobile device users.
The difference between tablets and smartphones
Tablets and smartphones are clearly different devices that are used in certain manners. Smartphones are designed to be communication devices, and according to study, 70% of users won't leave home without it.
Tablets are designed for media consumption and interaction. The touchscreen functionality brings users close to the device. Within the study, 70% of tablet users referred to their tablet as an entertainment device.
What's working for mobile-focused publishers
After reading the data on how smartphones and tablets are being used, we have some suggestions to offer digital publishers.
Digital publishing tip #1: Although both tablets and smartphones are "mobile devices", most device owners engage at home during leisure times. It is during these times consumers are the most receptive to advertising on their devices.
Digital publishing tip #2: Smartphone users shop more than tablet users, but tablet users reportedly spend more on average. According to the study, 30% of smartphone users spend $20 or more on their device monthly. This is compared to 46% of tablet users who spend $20 or more on their device monthly.
Digital publishing tip #3: Tablets and print materials are closely aligned. While reading print magazines and newspapers at home, 81% of tablet owners use their device as a "companion 'Print reading' activity". This activity has high value to digital publishers because it creates a relationship between print and digital media consumption.
Three "soundbites" from the report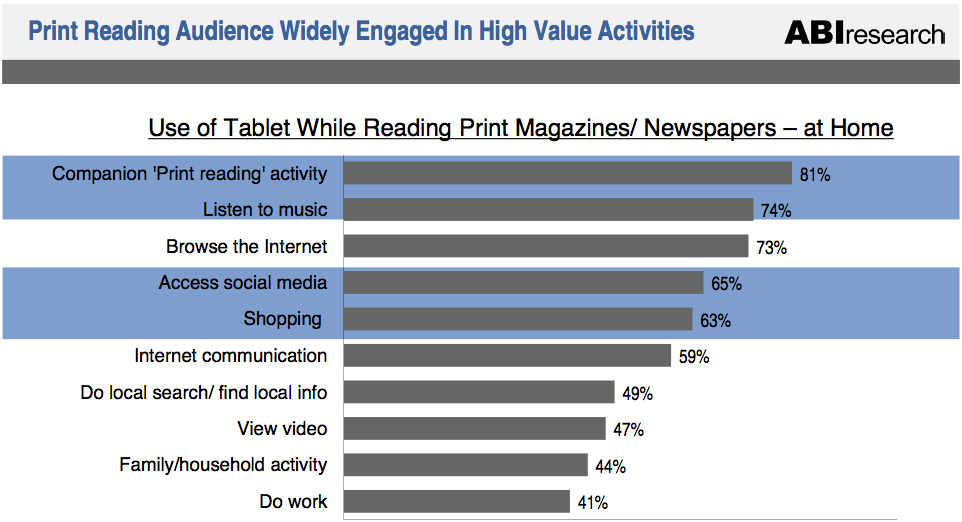 To wrap up, here are a few quotes from ABI Research's study:
"Tablets do not only cannibalize print media, 24% of users watch less traditional TV due to tablet based viewing. This is especially pronounced for Women."
"77% of users interact with ads whilst using a tablet compared to only 53% on smartphones."
"Location is the 4th most important factor enticing smartphone users to interact with ads after coupons, specific product searching, and favorite brands. It is far less important for tablet users who identify the sites they visited, apps they used, fun activities and daily routine as bigger factors than location when clicking on ads."
After discovering this data related to tablet and smartphone usage, particularly with shopping relevance, do you plan on reworking your digital publishing strategy? Will you focus on digital ad creation in a different way than you currently are? Please share your thoughts on this information and how you will apply it to your digital publishing strategy, if at all. Let's get the conversation started in the comments below.
Related Posts
Posted in Digital Magazine Publishing
One Response to "Study Shares How Tablets, Smartphones are Used"
Luís Lopes Says:
July 20th, 2012 at 4:20 am

Very interesting article and study, makes us think if the logic of doing an app for a smartphone or tablet should be different and customized. App arquitecture vs Engagement vs advertising, three factors that really matter to some of the main publishers. Concerning to content, can be important to put it online during the best hours . thanks once again.
Leave a Comment