How to Analyze Your Referring Website Analytics + 7 Steps for Using them
By Norann Oleson • 11/01/2012
There's a lot to learn in Google Analytics, but unless you're a business analyst or marketing manager, you probably don't need to know all of them.
However, one set of metrics that every user of any capacity should know are your referring website analytics. Referring websites are those who are linking to you and sending you traffic. Referring traffic is comprised of visitors that find those links to your site and click on them.
If you have a lot of spammy sites that you're 100% sure are bringing down your ranking, Google announced a new disavow tool that allows you to mark sites as spam that are linking to you. SEOMoz warns most people from using this tool, however, because most sites don't need it and the drop in links can do more harm than good.
Let's run through a few of the numbers found on the referring traffic part of your analytics package so we can wrap our heads around their value.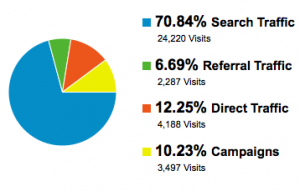 In the latest version of Google Analytics, you can find an overview of your referring traffic sources by visiting Standard Reporting > Traffic Sources > Overview
A site that's well optimized will have a substantial amount of traffic that comes from search engines, usually 65% or more.
To find out your referring website analytics, go to Traffic Sources > Sources > Referrals on the left-hand side of your dashboard.
If you partake in social media and search engine optimization, your top referring sources are likely to be Google, t.co (Twitter), Facebook and LinkedIn.
If you keep flipping pages of your sources, you'll come across smaller sites that are linking to your website and sending you traffic.
Once you find one of those, you can click on it to find out more about the link and the visitors it's referring. You'll see how many people it's sent to you, how many pages those visitors looked at, their average visit duration, if they're new visitors, and what their bounce rate was.
If you come across an inbound link that has favorable metrics in all of these categories, it might be smart to reach out and try to get another inbound link from the same blog. From this page, you can also open the link to see what article or page linked to you and where.
Learn the
seven strategies that all successful special-interest online publishers have in common
by downloading our
FREE
Seven Online Publishing Secrets
white paper.