The 9 Most Profitable Subscription Website Business Models [+ Video]
By Mary Van Doren • 05/02/2013
Coming up with the right business model for a successful subscription website is usually the biggest stumbling block for those wanting to get into this business.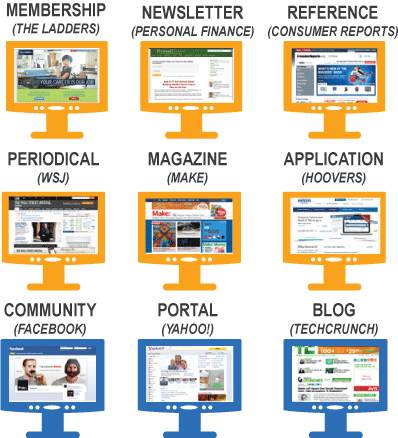 Choosing your content focus is a business-critical decision, as the focus you choose pretty much dictates your chances of success with a subscription website. However, more serious than the focus of a subscription website is the business model. Not considering the subscription website business model is a major mistake some publishers make.
Our research shows nine discreet models for subscription websites. These include six premium (paid) models and three affinity (free) models. In many cases, two archetypes are needed for success: a portal or blog to drive traffic, and a premium subscription website to use as a primary monetization factor.
Premium (paid) subscription website models
Membership
Newsletter
Reference
Periodical
Magazine
Application
Affinity (free) subscription website models
The Nine Subscription Website Models
Membership Subscription Website
A membership subscription website archetype provides paid members with a library of information on a specific topic of interest or a cluster of topics and creates a community of individuals who share a common interest.


A membership subscription website is user-driven and content-based. And unlike a newsletter subscription website, whose minimum information unit is an issue of the publication, a membership subscription website is a destination in and of itself. Its business goal is to generate revenue from user-access fees by acquiring and retaining members; it accepts little or no advertising
Newsletter Subscription Website
A newsletter subscription website archetype is set up to build subscriptions for a related print or digital newsletter and to provide access to issues of the newsletter.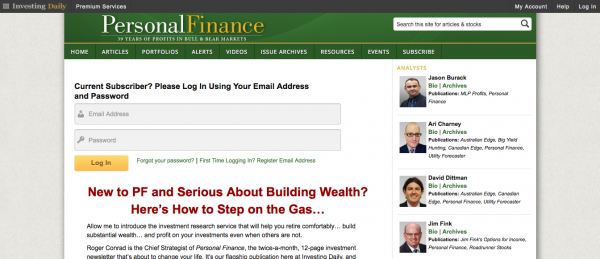 A newsletter subscription website is commerce-based, with an overall objective of increasing product sales and providing customer service to existing subscribers. The Minimum Information Unit (MIU) and the primary product sold through the website is a single issue of the newsletter. The website is organized by the newsletter's issue date.
A newsletter subscription website generally has a free area, with content that focuses on the benefits of becoming a subscriber to the related publication and conversion architecture where a visitor can purchase a subscription. It also has a password-protected private area, where paid subscribers can view an HTML version of the current issue of the print or digital newsletter or download it in PDF format, as well as access and/or download back issues and other premium content.
Reference Subscription Website
A reference subscription website model allows paid subscribers continued access to a library of content that is updated constantly with new information.
Reference subscription websites are the online replacement for printed reference books, print directories, catalogues, and loose-leaf binders that used to be updated quarterly or annually. For a reference subscription website, however, the flow of new and updated information is constant. The paid subscriber—and, for the BtoB audience, the subscription can cost hundreds or thousands of dollars—can search or browse through the library of data to access the information or listings and find answers to questions.
The MIU of a reference subscription website may be an article or a book, report, document, lesson, or episode. It could be something as small as a baseball card factoid or as comprehensive as a training video. While simple sites may rely solely on HTML and PDF files, more robust sites also incorporate still photos, audio, and video into the MIU.
Periodical Subscription Website
A periodical subscription website model offers regularly updated news content that is intended to be consumed online, primarily in HTML, rather than downloaded.
A periodical subscription website is an on-demand reference source that is experienced randomly and selectively—a filing and retrieval system that allows users to quickly locate the information they seek. Every page of every article is tagged with keywords, topics, authors, and dates in order to facilitate successful content retrieval.
Magazine Subscription Website
A magazine subscription website model is set up to build subscriptions for a related print or digital magazine and to provide access to issues of the magazine.
A magazine website is only a magazine website if the user can view or download an issue of a magazine—one that is linear and periodic, has pages and a regular frequency, and can be viewed in HTML or downloaded as a PDF or stored in a CDF (Closed Document Format) format such as Texterity's Cover Leaf. The MIU of the magazine subscription website is a single issue of the publication.
Many people refer to any website that carries a legacy magazine brand and magazine content as a magazine subscription website; however, if the content is not organized in a magazine format and issues cannot be viewed or downloaded, it does not meet the basic criteria of being a magazine subscription website. It is, instead, a periodical subscription website.
Consumer magazine subscription websites are as diverse in both content and execution as the magazines they represent. Some offer robust content and interactive functionality; others are mere customer-service portals for the print or digital companion publication.
The magazine subscription website model is poised to explode, as Apple makes it clear to magazine publishers who offer an online digital version of their publications that their subscribers will be able to access it on an iPad. That means potential access to millions of additional subscribers if publishers simply offer an app that delivers a digital version of the publication. At least a dozen other eReaders are also available, have been announced, or are under development. The numbers are staggering. The potential is enormous.
Application Subscription Website
An application subscription website model allows access to specialized online software (an "app") that allows users to input information, use calculators and/or search a proprietary database, and access results.
Application subscription websites combine user data and publisher data to provide added value for the subscriber. The software application(s) on an application subscription website—similar to standalone applications that a user might purchase and load onto a personal computer—is the MIU. And thanks to Apple, "app" has become a familiar word in and of itself.
Community Subscription Website
A community subscription website is a powerful networking tool that relies primarily on user-generated content.
Social network subscription websites are used to create a setting where people with similar interests can use the virtual world to make real connections—whether purely social relationships or specifically BtoB networks. It's the online version of meet and greet.
Social netmiumation that person or member decides to share via his or her member profile, forum posts, file uploads, links, and other data. Registration is typically required, and most social networks do not require payment.
Portal Subscription Website
A portal subscription website aggregates content from outside sources. Portals are intended to build and feed an audience; they are specifically designed for SEO, email marketing, list building, and lead generation.
A portal subscription website is the Mequoda System nexus for audience development. It's designed to attract search engine traffic and links from other websites and, basically, build a paid registration base. The target portal user is passionate about the special- interest topic or topics covered by the portal and may initially encounter the site through paid search-engine results, links from other websites, email passed along by a registered user, paid ads or earned mentions in other media, word of mouth, or any of several other sources of targeted website traffic.
A portal site requires a stable of content providers that want to be associated with the portal. Often those people will want to be paid as contributing editors. Sometimes they'll write for the portal site for links back to their own blog sites; sometimes it will be syndicated content that has already been published elsewhere.
Then there are levels of portal breadth or sophistication. For example, Yahoo.com is a huge general-interest portal with dozens of subsections with information syndicated by other websites, magazines, newspapers, and other sources. It's clearly an aggregation play. However, most publishers interested in launching a portal subscription website are not looking to create anything remotely near the size of Yahoo.com. Rather, they tend to post bylined content derived from the publisher's own publications and other inside sources to supplement bits of relevant content pulled or syndicated from outside sources, including contributors and other subscription websites. The outside sources may receive compensation from the publisher or may simply be looking to generate increased traffic through links back to their own websites.
A portal is also designed to maximize online advertising inventory. To do that, the most successful portals treat registered and unregistered users differently. For the unregistered user, a significant potion of the website page template is allocated to converting visitors into registered users. Once a user has registered, the portal morphs to display content that is personalized for the user. Personalized content enhances user satisfaction and increases page views and time spent—the key advertising conversion rates that drive website revenue for the many information marketers who use their advertising inventory to sell their own products. State-of-the-art portal subscription websites offer users email newsletters, blogs, email alerts and RSS feeds that are all designed to directly and indirectly generate more page views and website revenue.
So portal subscription websites generate value from both the users and the sponsors. Users pay—not with money (all website content is free) but with time and information. They spend time viewing web pages, emails and RSS feeds, thus creating advertising inventory that can be used to sell the publisher's products (internal advertising) and/or sold to third party sponsors (external advertising) on a CPM (cost per thousand), CPC (cost per click) or CPA (cost per action) basis.
Blog Subscription Website
A blog subscription website model blends publisher- and user-generated content that is updated frequently (daily, weekly, monthly) and consistently with articles posted by one or more authors and corresponding reader comments.
A blog subscription website is generally (but not always) a personal platform, the product of a single author with a particular interest in or point of view on a specific subject. The articles or essays are brief—ideally no more than a single page—and reflect the author's personality. Readers who register become part of a community and are welcome to post comments.
The tone of a blog is primarily op-ed style and often a first-person voice; the author of the blog post is generally writing opinion about what he or she feels, believes, or thinks about issues on which the blog focuses—politics, the environment, celebrities, marketing, finance, technology, etc. Many authors also use their personally branded blogs as a device to boost their own visibility and create ancillary opportunities such as book deals, speaking engagements, consulting clients, editorial work in other publications, and so forth.
Blogs have become ubiquitous primarily because, from an execution standpoint, anyone—serious journalists or experts in a particular domain, as well as those who are less serious or less expert—can simply download a copy of WordPress or sign up at BlogSpot.com and easily launch a single-author blog at virtually no cost other than their time. None of the historical requirements for launching a publication, whether print or digital, apply. Consequently, there are millions of blogs.
On the other hand, blogs have evolved into something much larger than personal soapboxes. Publishers and other businesses have increasingly incorporated blogs into their online strategies as a method of getting messages out quickly and publicly, introducing a new product, sharing company news and information, and announcing upcoming events.
A Repeating Pattern
When you charge a fee to access the content within a subscription website, the site needs to provide specific and immediate benefits to your subscribers. The six premium models shown above are examples of exactly that. The three affinity (free) subscription website models serve to build audiences of interested users who may become paying subscribers.
Profitable Subscription Websites Are About More than Design
So you've gotten this far and you want to build a subscription website.
You just shovel your content up onto something pretty and wait for the money to roll in, right?
Of course it doesn't work that way, but it's astonishing how many ugly and/or dysfunctional subscription websites there are out there.
Part of the problem is that the best website "design" isn't really about design at all – it's about functionality. And while there are thousands of artists out there who think they know how to build a website, there are very few indeed who can also build a website that's specifically meant to enhance profitability.
And the website designer who actually has a process for creating a subscription website is rare indeed. That's why Mequoda has developed its own system and best practices, and teaches these techniques in our quarterly three-day course, Digital Publishing Intensive.
How to build a website: Step 1
Something that always strikes me when we teach publishers how to build a website is that the creation process is as much about creating a business model as it is about the best website design. Case in point: The very first thing you have to do is decide what kind of subscription business you want to be. That's what we just walked you through above.
What does your business model have to do with the design of your website? It dictates the entire infrastructure, that's all. Consumer Reports is a reference model where the audience pays the publisher for the information. Its architecture must provide a sophisticated consumer payment structure and a store.
Yahoo, on the other hand, is a portal with plenty of information, but it's all free to the consumer, so there's no store and no visible payment architecture, because Yahoo makes money from advertisers.
And of course, there are subscription websites that generate revenue from both paid content and advertising. Even there, we've identified three different models that might or might not apply to you.
Once you've chosen which of the nine subscription website models you'll deploy, you have to choose a brand strategy.
How to build a website: Step 2
What's that, you say? You only have one brand? Maybe you do – but maybe you really have more than one, or you should have! In the fictitious case study that we use at the Intensive, the publisher has a legacy niche magazine, just like many of our blog readers do. But that publisher, taking Mequoda's advice, created several new "brands" to launch her Internet enterprise.
These included a new daily blog, free to all readers, which is a second brand. Then there are the books she's written – a third brand. In order to unite all these "brands" and the related products, this publisher wound up with a multi-brand strategy. That means different logos, different design and different purposes on the website's pages.
Identifying the best website design for your organization is a lot harder than you realized, huh?
How to build a website: Step 3
To make life even more complicated, you need to keep in mind your people strategy: Who will build your subscription website, and who will actually operate it? Who are the stakeholders who should have input into the process? You might decide to keep management of your site in-house, or you might outsource it to an agency.
In fact, this part of the website design process means you'll be making critical hiring decisions – chief technology officer, online editor, ecommerce manager, and more. Best website design often has far more to do with HR than with art!
How to build a website: Step 4
Believe it or not … you're finally ready to start the actual design process. Because Mequoda advises small and independent niche publications, we advocate for choosing mentor sites in whose existing design you can find inspiration. There's no need for you to re-create the wheel!
And to reduce stress and aggravation, we also strongly recommend that all design be done in an art application, not in HTML, because it's so much easier to make the thousand and one changes you'll go through that way. Once the design for every single base page has been finalized – including home page, blog page or portal, store, magazine and more – then you can start creating in actual HTML. Trust us, we've learned this one the hard way.
How to build a website: Case study
If all this seems too theoretical, I urge you to check out our 90-minute walk-through below. It features Don Nicholas and Phil Ash, publisher at InvestingDaily.com and BusinessManagementDaily.com, who's been through the process multiple times.
And, as always, we encourage you to make additional suggestions for best website design and how to build a website in the comments below. We're always adding to our best practices for publishers, and welcome your comments!
Are you planning on building a subscription website? You can schedule a 30-minute needs analysis call with me to discuss the plans. To schedule your call, contact Ann-Marie via email or by phone at 617-886-5177.
—–
Editor's note: Jane Zarem and Chris Sturk contributed content to this article, which has been updated many times from its original publication date in 2006 as new business models emerge.
Related Posts
Posted in Subscription Website Publishing
9 Responses to "The 9 Most Profitable Subscription Website Business Models [+ Video]"
Leave a Comment