Website Archetypes: An Introduction to Subscription Websites
By Chris Sturk • 09/11/2008
Website Archetypes: An Introduction to Subscription Websites
Download a free digital copy of our Digital Media Podcast: An Introduction to Subscription Websites now
On October 12th we hosted a webinar entitled Building Subscription Websites: Six Proven Models for High Profit Publishing Websites. This webinar featured Don Nicholas, the Executive Director of the Mequoda Group, and Phil Ash, the Publisher of BusinessManagementDaily.com and InvestingDaily.com. These two experienced publishers shared their insight on building successful subscription websites.
The new Digital Media Podcast: An Introduction to Subscription Websites that is free for download is a small piece of that webinar. After downloading and listening to the free podcast, you can experience the rest of the content by subscribing to Mequoda Pro, or by purchasing a copy of the Building Subscription Websites CD.
Subscription websites have been discussed often recently, and have been the basis of a webinar, because their popularity and value are growing.
Due to the iPad alone there is restored interest in digital subscription products. The device has brought an intuitive design to the digital world that allows users to consumer content at will.
The amazing thing about this digital revolution is that the general public is excited about it. Consumers have accounted for the sale of millions of iPads already and the amounts of content they are consuming on these devices are more than they ever expected themselves, according to a research survey executed by Zinio and the Harrision Group on tablet-based technologies and eReaders.
Thankfully for publishers and content producers, the iPad has been operating with the notion that premium content is valuable and costs money to obtain. Of course the price has to be affordable and fair, but it's much better than the days of content piracy. This digital revolution is a great opportunity for publishers.
How Subscription Websites Relate
Based on examples we've seen, Apple is allowing publishers to sell subscriptions through the iPad if they have a subscription website in place. This isn't the only way for subscriptions to be offered, but it may be the most beneficial way for niche publishers to operate.
Those currently operating subscription websites may have started to see changes in the revenue model, which should be another aspect of subscription websites that excite publishers.
These changes include:
-Lower delivery costs that affect a company's bottom line.
-A big expansion in niche markets on the Internet.
-The continual credit card service model that makes renewal rates increase.
An Introduction to Subscription Websites
It's no surprise that many things can be done on websites. In fact, the image below shows the different website archetypes that we have come up with over the years. They are specifically pulled from our research of publishing websites and identified so that others can see the relevance in the approach and mimic a certain type if so desired.
In our Digital Media Podcast: An Introduction to Subscription Websites, Don Nicholas discusses the various types of websites that publishers can build.
One key elements of these different website archetypes that Don mentions is the quadrant they reside in. As you can see below, these quadrants include who pays and what type of site it is. This of course is detrimental to the success of online publishers and helps define the website that they hope to build.
The upper right quadrant in this image shows models where the audience pays for content. These audience members may be paying for specific products, tickets to live events such as concerts or games, or they could be paying for subscriptions. The object they pay for typically comes in a physical form. The subscriptions offered in this quadrant are usually available to be printed out from the PDF form.
As you may have known, subscription websites are not new. In fact, they have been around for almost a decade and were some of the first publishing websites to develop on the Internet.
The opposite quadrant in the image shows all of the content-based website models that house the content at the website itself. These are often subscription models that publisher utilize in order to generate revenue through a continuous method of adding content within their websites.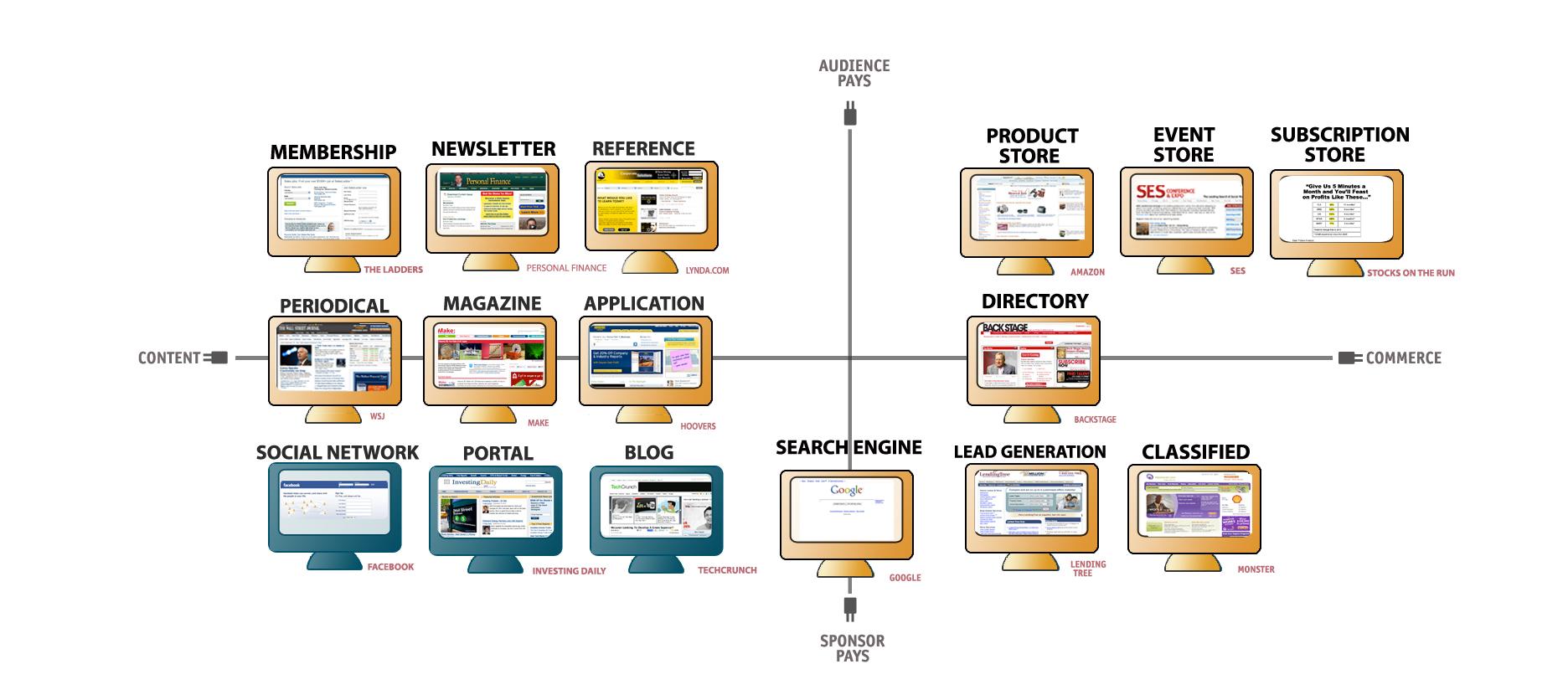 Download our Mequoda Digital Media Podcast: An Introduction to Subscription Websites to hear Don Nicholas speak about different website archetypes that include a variety of subscription websites. These website models are developing into valuable entities for publishers as they can sell subscriptions, reduce overhead costs, adopt a continuous renewal model that's pleasing to consumers and leverage their excess of content through new mobile devices like smart phones and tablet PCs.
The future is looking bright for publishers again. If you have a niche publication, a subscription website may be right for you. Start considering this option by listening to our Digital Media Podcast: An Introduction to Subscription Websites in order to learn about the different types of website archetypes.
Related Posts
Posted in Free Reports
One Response to "Website Archetypes: An Introduction to Subscription Websites"
5 More Ways to Increase Website Traffic and Email Marketing … | Internet Marketing News | Conversion Assistants Says:
October 29th, 2012 at 7:52 am

[...] Marketers, Twitter Tutorial on Maximizing Website Traffic, Web Advertising Tips for Google Adsense, Website Archetypes: An Introduction to Subscription Websites , Website Homepage [...]
Leave a Comment