The Mequoda Digital Magazine Market Study & Handbook
By Don Nicholas • 07/21/2015
The digital magazine market is exploding: Learn what consumers want and how you can meet their needs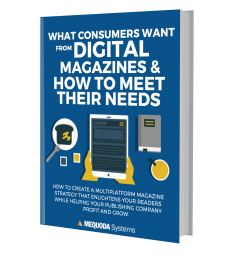 Claim your FREE digital copy of our Mequoda Digital Magazine Market Study & Handbook: Digital Magazine Reader Habits and Digital Publishing Best Practices now.
You have our promise not to sell or share your email address, ever! Please read our Privacy Policy.
This year, Mequoda's Digital Magazine Market Study & Handbook revealed that 36.8% of US adults report having read one or more digital magazine issues in the last 30 days.
Nearly 70% report having read one or more print magazine issues in the that same time period. With an average number of 2.37 digital issues read per person and an average of 2.91 print issues read per person, this puts digital magazine consumption at 43% of print magazine consumption and climbing rapidly.
Take this information to the bank … The Digital Magazine Market Study & Handbook polled 3,642 US adults with Internet access and found that 1/3 of them are reading digital magazines. This study delivers an in-depth look at the hearts and minds of digital magazine publishers' target market. These are some of the questions we asked our digital magazine readers:
During the last 12 months, how much have you SPENT on digital magazine subscriptions and single copies?
What's the most important FEATURE of digital magazines?
Which magazine EDITION is most important to you – tablet, print or web?
What's the most important ATTRIBUTE of digital magazines?
HOW MANY ARTICLES are included in your idea of the perfect digital magazine issue?
As you can see, this study holds a multitude of digital magazine statistics that can impact your bottom line. Of course at Mequoda, we don't believe in guessing, so this data also helps us form our Best Practices for Gold Members.
Get all of the digital magazine statistics—plus a collection of best practices codified from studying in digital magazine publishing market—in this FREE study. There are many fascinating insights into digital magazine readers in this study and handbook that you can apply to pricing, marketing and issue planning. Why not download it now and start making plans to leverage this data profitably?
Learn from your fellow digital magazine publishers
This study is more than just digital magazine statistics. We've added value by adding 11 chapters on digital magazine best practices and case studies.
The information in these chapters will put you on a path to creating a digital magazine strategy that enlightens your readers and helps your multiplatform publishing company grow and profit.
We start by defining the various digital edition types that exist, along with their pros and cons and give you both niche and mass media examples to analyze. We provide tips for creating the most coveted digital magazine editions and will give you a step-by-step process for launching a digital magazine.
We also provide helpful dos and don'ts for designing, pricing, producing and selling your digital magazines.
Digital magazine publishers need a plan
Finally, this digital magazine study and handbook delivers a valuable bonus: a strategic planning framework used by Mequoda for its Gold Members.
This SPF allows aspiring digital magazine publishers to develop a detailed business plan for launching a digital magazine. Of course, we don't believe in operating in silos, so this SPF is a multiplatform tool that takes into consideration all of your platforms and editions. This is an incredible value—as in, FREE—for any digital magazine publisher who isn't a Mequoda Gold Member, because you get the basics of our business planning and modeling services at absolutely no cost!
Use this SPF to develop a complete catalog of your entire business, from the cost of launching your app edition to advertising inventory to your library of back issues (did you even realize you should be digitizing them to create an entire new revenue stream?) to website page views to continuity revenues.
In short, the The Digital Magazine Market Study & Handbook is the perfect roadmap for digital magazine publishers—or those planning to become one. From digital magazine statistics, to the preferences and spending habits of actual digital magazine readers, to an inside look at how Mequoda builds robust multiplatform businesses for Gold Members, this FREE report is a must-read.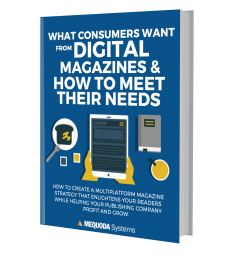 Claim your FREE digital copy of our Mequoda Digital Magazine Market Study & Handbook: Digital Magazine Reader Habits and Digital Publishing Best Practices now.
You have our promise not to sell or share your email address, ever! Please read our Privacy Policy.
One of the best things about the The Digital Magazine Market Study & Handbook is it comes from Mequoda, the leading multiplatform magazine publishing consulting firm. My team and I have spent thousands of hours researching and documenting the most successful digital magazine publishing strategies and processes, and we've added to our research the extra value of having actually helped hundreds of media brands, refining our Best Practices, strategies and business modeling skills every day. That's how you know you can trust the analysis and bonus information in this digital magazine study. It has been written specifically to help you …
Know the difference between magazine apps and gadget apps … and why it matters
Make smart choices in the features you'll offer in your digital edition, and which ones aren't worth the resources
Create an appealing, interactive magazine that delivers exactly what your readers want, expect and are willing to buy
Confidently choose which software and vendors to use in becoming a digital magazine publisher
Develop a detailed plan for promoting and selling digital issues and subscriptions
Become a highly successful digital magazine publisher
And because it's free, there's absolutely no reason to do without this invaluable guidance. You won't get a better bargain than that today or even this week … yet at the same time, the advice contained in this study is bulletproof – worth hundreds of dollars anywhere else but here! Download it right now!
I hope you'll read our digital magazine market study right now, and begin your path to greater profitability and an even more successful publishing career than you ever imagined.
Yours for digital magazine publishing excellence,
Don Nicholas
CEO and Founder
Mequoda Group
PS: Remember, this study includes current digital magazine statistics that will inform many decisions you make going forward as a digital magazine publisher, along with invaluable insights into the preferences of the digital magazine readers who will buy your products. Read it today, and start improving your bottom line tomorrow!
PSS: Wouldn't you like to know what your target audience wants in their digital magazines? Or how to price and sell digital magazines once you launch them? How much would you pay for that, along with all the other insights from your readers? Good news: You don't have to pay a dime! Download it FREE right now!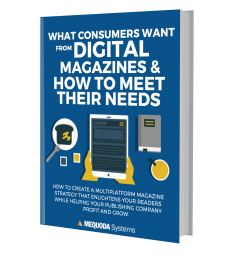 Claim your FREE digital copy of our Mequoda Digital Magazine Market Study & Handbook: Digital Magazine Reader Habits and Digital Publishing Best Practices now.
You have our promise not to sell or share your email address, ever! Please read our Privacy Policy.
Related Posts
Posted in Free Reports