Seven Online Publishing Secrets
By Amanda MacArthur • 09/14/2008
Gain immediate access to our free report Seven Online Publishing Secrets and learn tips and guidelines from the most successful online publishers
This free 25-page white paper Seven Online Publishing Secrets, Transforming Your Book, Magazine or Newsletter into a Niche Media Empire is a collection of Internet marketing strategy guidelines from the world's most successful online publishing experts. If you're an author, editor, website designer, or online publisher, Seven Online Publishing Secrets will forever change the way you think about how to make money on the Internet with online publishing. Over the past 10 years, thousands of companies have spent billions of dollars competing to figure out how to make money on the Internet.
While the dot-com bust of the 1990s wiped out many online publishing companies, others have thrived.
What made the difference?
About five years ago, we began to study and discover precisely what Internet marketing strategies work best—what techniques and practices distinguish the most successful online publishing companies from the mediocre and those that fail.
Seven Online Publishing Secrets—Using the Internet to Transform Your Special-Interest Publishing Brand into a Multiplatform Media Empire resulted from five years of in-depth research into the experiences of hundreds of highly successful (and not-so-successful) online publishing companies. A team of 20 seasoned Internet veterans— writers and reporters like you—cataloged case studies of websites and interviewed dozens of online publishing company executives to find out (and verify) what Internet marketing strategies really succeed. Here's what we found:
Internet marketing success leaves clues about best practices.
You can model and replicate these techniques in your own online publishing company and achieve similar results.
The most successful Internet marketing practices of these high-performance online publishing companies became the basis for a new methodology (the Mequoda System) that we have outlined in Seven Online Publishing Secrets—Using the Internet to Transform Your Special-Interest Publishing Brand into a Multiplatform Media Empire.
And it's available absolutely free when you signup for free email delivery of the Mequoda Daily, Don Nicholas' free email newsletter about Internet marketing, website design strategies and online publishing.
Online Publishing Secret #1
Choose and Leveraging the Right Content Platforms for Your Audience
In this rapidly evolving online publishing world, where the consumer is in control and has more information product options than ever before, publishers need to offer multiple media platforms to remain competitive. They also need to accept the idea that they must give away lots of free content in order to succeed. Free content is now a publisher's new circulation marketing program.
Online Publishing Secret #2
Choose the Best Online Business Models for Your Market
While most publishers launch a single website to meet unclear goals, successful online publishers understand that there are 12 discreet business models and launch a website network, capitalizing on at least 3 or more of those business models.
Online Publishing Secret #3
Choose the Right Keywords To Drive Website Traffic
Discover a simple online publishing process for brainstorming the 1500-2500 keywords that your users will use the most to search for the content that you have. Learn how to quantify the search activity that is happening every day for each of your targeted search terms. Learn how to analyze the search engine competition and use that data to isolate keyword phrases that can vault your website onto page one in a matter of days.
Online Publishing Secret #4
Create Websites that Convert Visitors to Subscribers
While most publishers allow designers to create complex and complicated sites that the average user can't begin to navigate, knowledgeable publishers understand that there are only 12 webpage templates that will carry 99% of the page views for their websites. These publishers not only understand that there are clear best practices for these 12 templates, but that these 12 templates are where all of their research, analytics and testing efforts should be centered. While the industry average for Web conversion rates is by far less than 1 percent, publishers who understand these 12 templates routinely generate conversion rates in the 3-5% range.
Online Publishing Secret #5
Choose the Best Email Contact Strategy to
Maximize Customer Lifetime Value
Successful publishers understand that their websites exist primarily to build customer loyalty – but they also understand the Web's role in increasing their most valuable asset– their active email database. For these publishers, email can generate 60 to 80 percent of all their revenue.
Online Publishing Secret #6
Organize and Integrate Online and Print Publishing Teams
While most publishers continue to load more responsibilities onto their exiting print staff and require them to learn new skills, those in the know are hiring dedicated writers, marketers and technical staff to run their online business units. These same publishers know how to integrate their print and online teams to leverage editorial assets, cross promote print, Web and email circulation and create advertising synergies for sponsors who are demanding multiplatform marketing solutions.
Online Publishing Secret #7
Manage by the Numbers and Maximize Online Revenue
While many publishers find themselves lost in a pile of numbers generated by Web analytics, email analytics and competitive tracking services, profitable online publishers understand the concept of management by exception. They isolate and track a handful of operating statistics using a Key Metrics Dashboard that lets them sleep at night and alerts them to problems and opportunities in their online business.
Here's a big promise: The Mequoda System, when executed with passion and accuracy, can transform any special-interest magazine, newsletter, book, website, blog, forum, TV show, radio program, or newspaper column into a multi-million dollar niche media empire.
Online publishing success begins by setting clear, obtainable goals. Of the more than 2000 online publishing companies we studied that made money on the Internet, seven best practices distinguished them from all others. Among the most common traits was a strategic management system for setting and supporting goals through day-to-day activities and measuring the success of the overall plan.
Read Seven Online Publishing Secrets—Using the Internet to Transform Your Special-Interest Publishing Brand into a Multiplatform Media Empire to learn more. It's available absolutely free when you signup for free email delivery of our newsletter, the Mequoda Daily.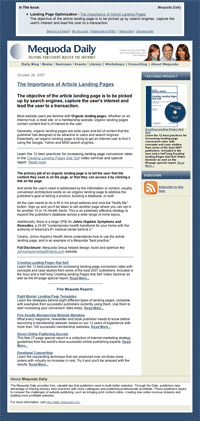 Be a more confident, successful publisher in just 5 minutes each week!
Start with Don Nicholas' valuable, free white paper:

Seven Online Publishing Secrets
And then each week you'll receive FREE, valuable case studies on:
Breakthrough Internet Strategies for Authors and Publishers
Proven Internet Marketing Sources, Programs and Tactics
Tips and Techniques for Designing More Effective Websites
"The Mequoda Daily provides informative, and inspirational ideas—large or small—that help me think through the myriad of challenges we face in our online publishing efforts."
—Ed Coburn, Publishing Director
Harvard Health Publications
"I find the Mequoda Daily refreshingly different! Numerous times I've read articles on other sites that only leave me with more questions, but no one to ask. Here, the wonderfully insightful topics and articles allow me to ask those questions on the spot. It's helping me to do my job better."
—Michele Bartlett
Circulation Director, DailyWord.com

Related Posts
Posted in Free Reports
7 Responses to "Seven Online Publishing Secrets"
Leave a Comment