By Amanda MacArthur • 09/06/2008
The Mequoda System, when run as a repeating cycle of management behaviors, creates an audience driven, continuous improvement media management system. To create the Mequoda System, the Mequoda Group studied hundreds of successful and not so successful website publishers to arrive at the seven best practices that make up the Mequoda System. This system helps publishers, Internet marketers and web designers learn how to turn their special interest magazine, newsletter, book, website, blog, forum, TV show, radio show or newspaper column into a multi-million dollar niche media empire.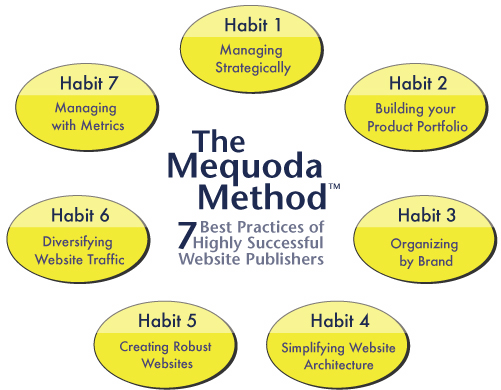 The Mequoda System is based on work Don has done that goes all the way to 1980 when John Klingel taught him to do print order modeling on a green accounting ledger. This led to the Lighthouse Publishing Model with my former partners Greg Jones and Stuart Jordan, who are both now very active members of the Mequoda Advisory Board. The Blue Dolphin Team took the system forward for both individual clients like Computerworld, TechRepublic and Morning Star and culminated with the launch of Blue Dolphin Magazines (now Zinio Print).
Related Posts
Posted in Glossary
No Responses to "Mequoda System"
Leave a Comment