Audio Conferences and Webinars: Proven Strategies to Maximize Profitability
Discover the secrets to creating and marketing webinars and audio conference programs that address customer needs and generate healthy profits.
Dear publishing colleague,
If you're in any kind of publishing today, you know that competition, financial pressure and online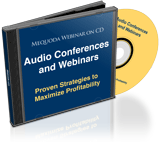 marketing are among the leading challenges for 21st century publishers.
To be successful, you need to publish on numerous platforms and recycle your editorial content in email newsletters, blog posts, membership websites and podcasts.
Webinars and audio conferences are an invaluable way for you to repurpose editorial content and generate significant revenue in the process.
But producing a flawless (and profitable) webinar or audio conference can be tricky. It's a high risk, high reward proposition.
Fact: When executed properly, webinars and audio conferences can generate up to an 83 percent gross profit margin. Plus, they can enhance your reputation for subject matter expertise, solidify customer loyalty and generate renewals across other platforms.
But deliver a poor webinar or audio program with insufficient content or inferior production values and you could lose money, damage your brand and diminish your subscriber base.
A webinar is a lecture or workshop delivered live over the Internet using text, graphics, audio, or video. A webinar can be a one-way webcast or can involve interaction between the audience and the presenters.
An audio conference is an audio-only communications session among three or more speakers who are geographically dispersed. Essentially, an audio conference is a group call, led by a moderator, during which numerous callers listen in. The moderator can enable all participants to speak to the group and ask questions, or mute some callers out and allow only the presenters to be heard.
In just 90 minutes, you'll discover:
What you need to start a successful audio conference or webinar program.
How to pick the right topics and find the best speakers.
The fundamental strategies for ensuring greater customer satisfaction and higher profits from your audio conferences and webinars.
How to market your audio conference or webinar to both existing customers and new prospects.
How to choose and work with webinar and audio conference services vendors, plus the inside scoop on those "free" teleconference lines.
What are the ideal days of the week and times of day for scheduling an audio conference or webinar to maximize participation.
How to create an online survey that encourages participation and assures valuable feedback.
Answers to your most important questions about producing profitable webinars and audio conferences
Get the answers to these questions – and more – when you attend Audio Conferences and Webinars: Proven Strategies to Maximize Profitability:
Audio conferences vs. webinars: Which should you do and why?
Free vs. paid vs. sponsored conferences: What will work best for your company?
What are the most profitable and acceptable price points for paid webinars?  Do early-bird discounts really work? Mastering these details can mean the difference between marginal returns and exceptional profits.
What's the best way to structure the offer, payment options and satisfaction guarantee?
How often can you send email reminders without overloading your audience?
What about bandwidth and other technical considerations?   What you must know to produce your audio conference or webinar without a technical glitch.
Should you accept audience questions in advance or during the presentation?
Is it acceptable or desirable to pre-record your webinar presentation?  We'll discuss the pros and cons.
About the presenters:
Kim Mateus (that's me). I lead the Mequoda Research Team and am responsible for content development for all Mequoda events, seminars, workshops and in-house training programs. I manage content development, production and marketing for all Mequoda white papers, webinars and live events, and co-host the twice-a-year, two-day Mequoda Summit, which explores current best practices for online publishing and marketing.
Leslie Davidson, president of Davidson Direct, specializes in audio conference and webinar production and marketing. She has managed these conferences for a diverse group of specialized information providers, including Bulldog Reporter, Inside Mortgage Finance, Modern Distribution Management, The Dark Report and Elsevier Business Intelligence, to name just a few. With 27 years in publishing, she knows what it takes to make money in this industry. Based on her experience producing and marketing hundreds of audio conferences and webinars, Leslie will provide best practices that will help you create and manage a profitable program of your own.
Leslie reflects on her experience in managing webinars and will expose the best practice strategies she has executed.
Scott Bradshaw is Vice President of Sales and Marketing at BeaconLive, which offers audio & web conferencing with full event management services. Scott combines his deep sales experience with his passion for customer service. So many of BeaconLive's customers see Scott as their internal advocate. As Scott says, "My philosophy is to not just talk the talk, but to walk the walk."
Scott speaks to the technical aspect of webinar and audio conference production, explaining multiple event style options, including audio, web, streaming, video and on-demand solutions.
Justin M. Clark is Director of Operations for The Dark Intelligence Group, Inc., which publishes The Dark Report and Dark Daily. These publications serve the clinical laboratory and pathology testing industry. Justin has primary responsibility for all the The Dark Group's audio conferences, including acting as liaison for speakers, tracking daily statistics, supervising arrangement of continuing education units (CEUs), creating and sending marketing, arranging content for all web pages, coordinating collaborative marketing agreements, soliciting sponsorships, and much more. Justin also oversees and manages the day-to-day activities of the organization, with a focus on the systems and procedures required to accomplish the company's missions.
Justin highlights how he recently spearheaded the creation of an automated system to handle all monthly audio conference registrations, a customized tool that allows DarkDaily.com to seamlessly accept and track registrations, process payments, and issue confirmation emails with invoices attached.
Four big reasons to buy Audio Conferences and Webinars: Proven Strategies to Maximize Profitability
#1. Travel budgets have been cut, but the need for training still remains.
Travel budgets have been cut significantly, but your employees still need education and training. Webinars and audio conferences are a great way to provide training to your entire staff for one low price, without the added travel costs or time out of the office.
#2. Webinars and audio conference programs are popular and profitable.
While client confidentially does not permit us to be more specific, we know of several print publishers for whom webinars and audio conferences have become a major profit center, out-performing just about every other product or service they offer.
Don't you want to get in on this lucrative revenue opportunity?
#3. This webinar will be interactive.
What is your most burning question about producing webinars or audio conferences? Email us with any questions you have after you watch the seminar.
#4. Producing a flawless and profitable webinar or audio conference program is not rocket science.
Get it right, and your webinars and audio conferences will enhance your reputation and generate new customers. But make a few (avoidable) mistakes and you could jeopardize the profitability of your entire program.
During this seminar, you'll learn how to master the finer points of producing and marketing audio conferences for increased profitability.
Cordially,

Kim Mateus
Member Services Director
Mequoda Group, LLC
P.S. I almost forgot to tell you about the money-back, satisfaction guarantee. It's simple. You risk nothing.
If you're dissatisfied in any way with our seminar -— if you're not absolutely convinced you received a minimum of 10 times the value for your investment — you'll get a prompt refund of your entire purchase price.
Related Posts
Posted in CDs and Transcripts, Webinars