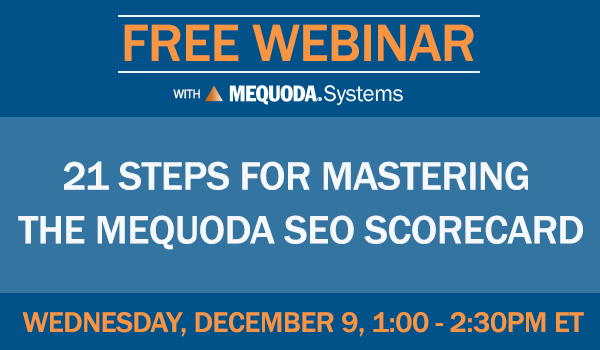 We hope to see you on a special Zoom webinar we put together to help you discover, track, and improve your top-trafficked posts.
Do you know yet, why optimizing your content is worth the effort?
Do you know how to identify your top-ranked pages in Google Analytics?
Have you ever tried using our SEO Scorecard, and do you know how to apply it to all new content you publish?
Do you know how to research keywords when developing content, and how that research can help you come up with topics to write about that people are proven to be searching for?
When you attend this FREE webinar, you'll get our Mequoda SEO Scorecard and a complete walkthrough of an SEO content audit, so you can learn how to apply each line item to your own posts.
You can use it yourself, or train your team to use it. And the webinar is free, not a tease.
The scorecard isn't for sale at the end, we're giving it away.
And we're doing it during our FREE webinar, 21 Steps for Mastering the Mequoda SEO Scorecard. In this webinar, we'll walk you through our system to finding and optimizing your top-trafficked blockbuster posts, as well as the methodology for creating new ones. We're giving the whole process away for free during this 90-minute webinar, with plenty of room at the end for questions. And yes, if you want us to do it for you and clean up your top-trafficked posts, we can talk more about that after the webinar.
In this 90-minute webinar, you'll:
Discover how to get more from your top-ranked posts that are already driving traffic to your site
Learn the ways you can transform your worse-performing articles into blockbuster posts that drive visitors to your site for years to come
Discover how to apply the methodology to your new content, including how to research keywords, and how that research will help you determine post topics that align with what people are searching for
Get the scorecard that our partners are using to create content that's not only increasing their search engine traffic but perhaps, more importantly, their email capture rates
We will walk you through a case study of one publisher who increased traffic by 56% to 12 of their best-ranked article pages, and improved conversions on those pages by 213% in just 30 days.
To get those results, they applied our SEO Scorecard to the content, which we'll teach you in detail during this webinar.
Register today so you don't miss out on this event, and please pass this along to colleagues and any friends in the industry who may benefit from this webinar. Seats are limited to the first 97 attendees to help ensure a successful Q&A session at the end of the webinar. Amanda and I look forward to answering your questions to help you relate our audience development methodology to your organization, mission, and goals. Register for FREE today.