The long tail approach sells books, too
All smart publishers know that the key to audience development is to give as much away as you can afford to—and then some. From the case studies we've been digging up lately, blog authors feel the same way too. Today we just wanted to share a few of the many authors who are doing a superb job at hitting the bestseller charts by practicing the art of the long tail.
The Chapter Post
Book: The Four Hour Body
Blog: The Blog of Tim Ferriss: Experiments in LifeStyle Design
I'm going to put it all out there right now. I love Tim Ferris. He's truly a book marketing genius, and I'm sure that Crown Publishing Group, a division of Random House, love the crap out of him. Tim Ferris knows how to get people to buzz about his books months in advance, creating a hype as strong as a new Stephen Spielberg film.
So it's no wonder that he gets this whole blogging thing, and the fact that you need to give some away in order for people to want more.
Here, Ferris is simply taking the first chapter of his book and posting the whole thing in in it's entirety online. He's also pumping it up with the table of contents. So he's giving you a full chapter of content, then telling you what else you'll get if you read his book. Of course at the bottom, he has links to buy the book.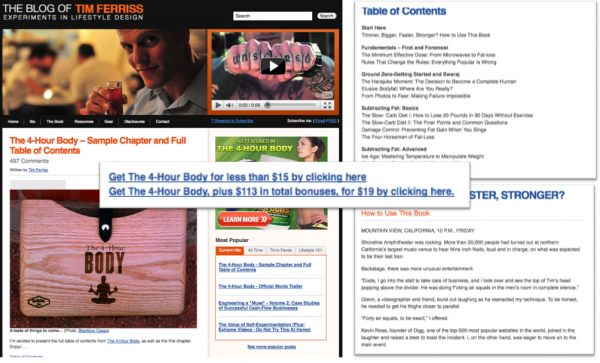 Effort: Simple, quick and low effort, because the content has already been written and paid for.
The Chapter Excerpt
Book: ReWork
Blog: 37 Signals Blog
37 Signals is a software development company who just happened to write and market a book so correctly that they're now a bestseller in both the US and the UK. The Chapter Excerpt you see here is them announcing the book. For this strategy, you're basically quoting yourself and then adding commentary to it, but you don't necessarily need to write an "announcement" in order to take advantage of the excerpt strategy. Instead, you can create a series of blog posts that pull excerpts from the book, where you can expand upon them. You can also use this strategy for books you want to review in your niche that aren't your own.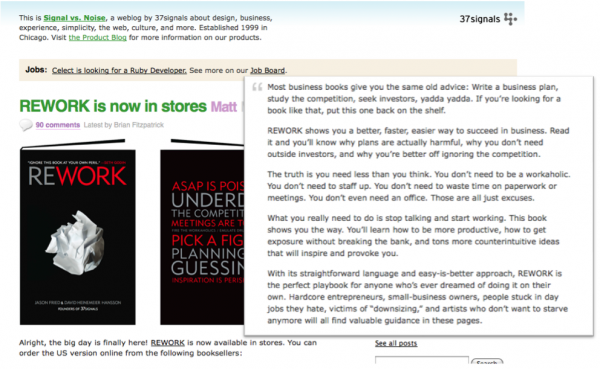 Effort: We consider this a medium effort, because what you're really doing is reviewing an excerpt from the book. You can see on the right here, that this excerpt is a good 150 words or so. To make it long enough for Google to index this post, all you have to do is an additional 150 words and then you've got yourself a blog post.
The Chapter Review
Book: Eat This, Not That
Blog: Men's Health Blog
So the Editor & Publisher of Men's Health, Dave Zinczenko has published a series books called Eat This, Not That, right through Rodale.
What they're doing here, is taking excerpts from the whole chapter to create a chapter review. The difference between this one and the last example is that instead of copying and pasting one excerpt and commenting on it, they're really speculating on the whole chapter here.
While Eat This, Not That does have its own blog, Zinczenko is smart enough to leverage his Men's Health audience to cross promote this particular book, which appeals to the same audience.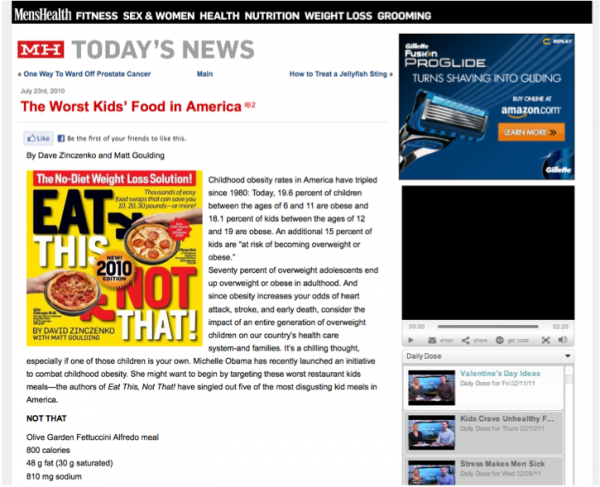 Effort: We consider this a high effort blog post because it's all mostly original content. You're really reviewing the whole chapter.
You might use this to promote a free white papers too. You might just take a chapter and write about all the things you took away from it, and then at the bottom of the article you'd say.. "oh hey, by the way, learn more about X Y Z in our X Y Z white paper".
So it's not super simple, but an easy way to repurpose content and put a new spin on it.
Don't worry, there are plenty more book-to-blog case studies to go around that are coming up in a future blog post. If you have one to share, let us know in the comments!