Sponsorships help secure revenue for online publishers
Many publishers believe that digital content needs to be free. Acting on this belief helps publishers experience bigger audiences and higher amounts of website traffic. To generate revenue from this process, online publishers offer advertisements and sponsorships on their website, through social media and through email newsletters.
The email aspect of sponsorships may be the most important one offered by publishers because its direct utilization of a popular communication tool can lead to sales immediately for the sponsor. And if nothing else, acknowledgement of the brand is very recognizable.
Are you offering email sponsorships? If not, here are a few tips to consider if you decide it's an avenue worth using.
-Allow for exclusivity on the email campaign you include the sponsor in. Doing so makes the arrangement more valuable to both the sponsor and yourself. Including this type of sponsorship in an editorial newsletter is ideal when alignment is created between the content and the sponsor.
-A Week in Review email can be used to highlight multiple sponsors at the same time.
-With any sponsored email you should include social media interaction so the sponsor will feel adequately represented.
The image below lists other suggestions for including sponsors, especially for the launch or relaunch of an online business.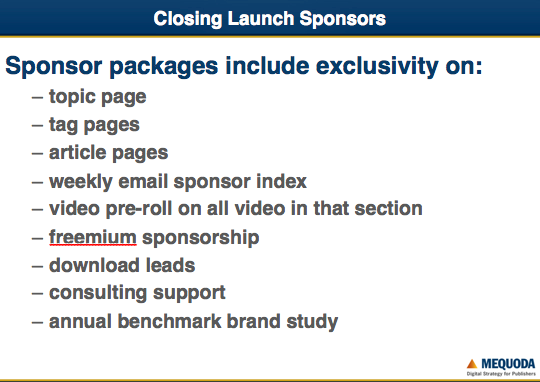 Do you need to learn more about securing sponsors? Join us at the Digital Content Marketing Bootcamp in New York City on January 24th and learn everything you need to know about running an online digital content marketing system.