Streamline your audience development process with these must-have editorial management tools
When you're writing content that you know like the back of your hand, being a daily online editor seems like a piece of cake. However, the truth is that as online editors, we pour our brains out into our blogs day after day. Having written over 150 blog posts already this year, I can look at a blog from four months ago and not even clearly recall writing it.
Content, especially when written on a daily basis, is not just a nice spread of words on a "page". They are a combination of thoughts, opinions and research that are somehow organized into a comprehensive, linear story that we tell on our blogs.
The big dirty secret of any daily editor is that coming up with original daily content is exhausting. And, when you're writing about anything that has to do with content from the web, it's easy to get distracted.
As an online editor that writes just a little more content than her brain wants to commit to, I dub the following tools the "holy grails" of content production. Every single one of these tools will help you do your job just a little bit easier. Even if you only try one, I fully expect a big hug at the next Mequoda Summit.
ORGANIZE your editorial process with Scrivener.
This tool ($45 bucks) comes with a great free trial, that measures your usage by the days you've opened it, instead of how long you've had it installed on your machine. So if a year from now, you only used Scrivener twice, you'll still have 28 days left on your 30-day trial.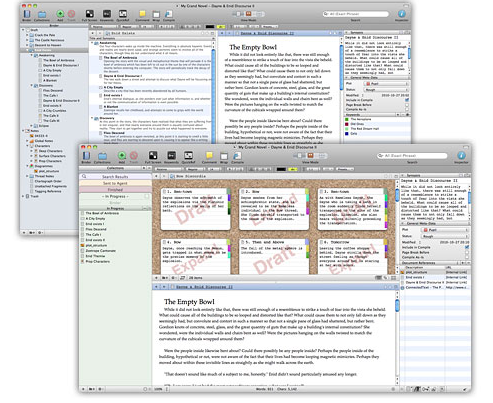 Think of Scrivener as your notepad, with tabs like you used to have back in high school. This tool is the absolute best if you're trying to write a free white paper, because it allows you to create a single document, while visually separating every chapter or section you want.
It's also great for keeping track of future blog post ideas. You can use it to write down all your current thoughts on a blog post now, and come back to it easily later on. Visually, this takes care of the exhaustion that online editors suffer from storing articles here and there. This tool lets you create a virtual notebook of all the content you're currently creating.
SPELLCHECK with After the Deadline
After the Deadline is a plugin for Firefox, Google Chrome and WordPress. This plugin is excellent for editors because it will spell-check, style-check and grammar-check any content that you enter into a field or form online. I have ATD installed right now, so when I'm done writing this article, I'll be able to click on the ATD icon in my browser and it will check my spelling, grammar and style.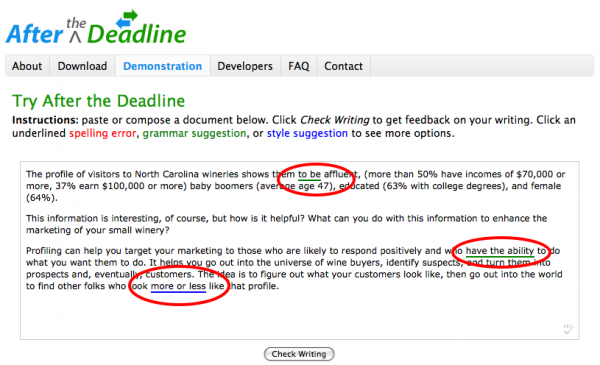 So whether you're writing an article or posting a comment, you simply need to hit the After the Deadline button in your browser and it will create the green and red underlines that we're so familiar with in our offline word processing programs.
FOCUS with Scrivener, WriteRoom or Microsoft Word 2011
Sometimes you just want to write, and not be distracted by everything else on your bouncing icons in your toolbars. My first method is to simply turn off your wifi and get writing. Sometimes I take off to a remote location that won't even have wifi, like a local park.
If you don't have that option, you can also try Scrivener, WriteRoom (Mac only) or the new "FullScreen View" in Microsoft Word 2011. All of these programs allow you to black out everything on your screen, except for what looks like a sheet of paper.
Add that to an internet-less environment and you've arrived in Focus Town.
CREATE SIMPLE SCREENSHOTS with Awesome Screenshot
At Mequoda, we use screenshots all the time, and I know a lot of other bloggers need to use them every once in a while too. Sometimes, it can get tedious to take a screenshot, bring it into Photoshop, add circles, save for web, and run through that whole process.
Awesome Screenshot is a browser plugin for Firefox Google Chrome and Safari  that allows you to capture, edit and dress up any screenshots you want.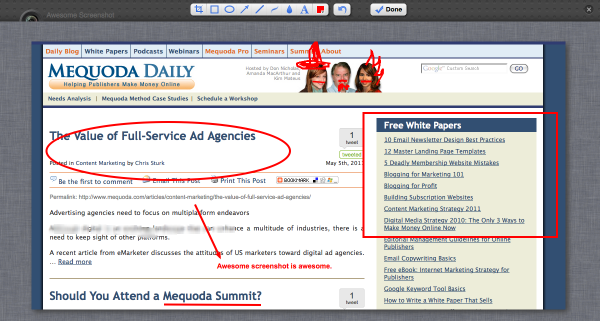 PLAN AHEAD with Blog Planners

In a world of Google Docs and computer calendars that sync across platforms, you might think that writing out a paper calendar would take more time, but that's just not true. Digital organization requires load time. Having a blog calendar right in front of you to look at and edit can be a welcome addition to your daily routine.
The Blog Planners from Productive Flourishing are simple, downloadable calendars for bloggers that allow you to make a pen and paper editorial schedule. It's updated every month, so every month you can come back and download that month's calendar template.
Do you have any tools you can share with the rest of us editors? Throw us a bone and leave them in the comments, would you?