What better way to sell magazines than to tease readers with articles and excerpts?
Knitting Daily, a crafting website that anchors Interweave Knits, is a Mequoda best-practice website. Over the next few months I'll be analyzing the editorial calendars of publishers, and given that the folks at Interweave have always been our golden children, we decided to start with them.
On KnittingDaily.com, a user is given unlimited opportunities to sign up for an email newsletter. The homepage has a floater upon first entry that offers a free eBook like Knitting Daily's Knitting Techniques for More Successful Knitting.
However, if the user decided to close the floater, they'd also get an OFIE at the top of the page that collects the reader's email address, in this case, Knitting Instructions for Knitting Accessories: 7 Free Patterns.
If the user enters a page from search, or pops into a page from the homepage, she's served with another OFIE on the article page. The OFIEs at the top of the pages, like all OFIEs on Mequoda best-practice sites, align with the content on the page. And if you navigate to a category page? Another OFIE.
Knitting Daily does not have, and has never had any trouble building an enormous email list with their current website conversion architecture. They have a super loyal community of more than 1.1 million knitters who have signed up to read email newsletters, engage in more than 30,000 threads in their forums and write more than 46,000 posts.
As I write this, they've had 327 new members join in the last 24 hours. Quite an active community, huh?
A mixed editorial and promotional calendar
So what the heck does Knitting Daily do well enough to build such a large list? Well, lots of things. They have the right architecture set up, as mentioned above, and they have super dedicated and enthusiastic editors like Kathleen Cubley, who leads the blog and greets readers in her email newsletters.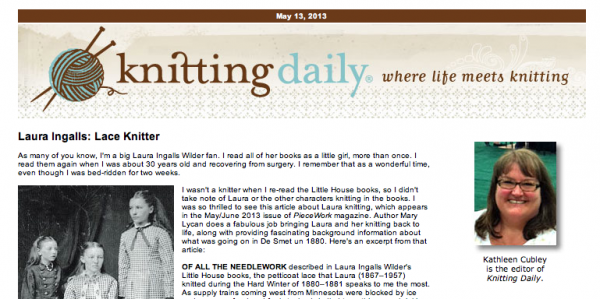 I met Kathleen for the first time in Loveland,CO when Interweave had Don and I out there to teach a marketing workshop. While I was up at the front of the room, I could see all of the managing editors working on their crafts while listening. There was Kathleen, knitting up a storm. I remember wishing I could sit in a conference and have a new scarf to wear by the time I walked out the door. What a trade, huh?
If you're a knitter, you probably already know about Knitting Daily, because, well, they've become a go-to source for their niche. So if you came to their site for the first time, by word of mouth or through one of their magazine ads (which promote their free ebooks — smart, huh?) then you may quickly convert into a Knitting Daily email subscriber through one of their tempting floaters, OFIEs or text ads.
Once that's done, they'll send you an email to download the report with a link that presumably also double-opts you into their email newsletter.
I always like it when a website tells me what to expect in terms of topics and frequency when I subscribe to an email newsletter, and Knitting Daily doesn't disappoint there. The always-thinking Interweave has an index of email newsletters, just in case you're not just a knitter, but also a beader or crafter and want to cross-pollinate your inbox.
Knitting Daily vouches for the following editorial calendar:
Knitting Daily: "The latest and greatest in all things fiber. From tips and techniques to trend-setting patterns, you'll find inspiration for all skill levels of knitting." (Monday -Friday)
Recommended Events: Be the first to know about knitting workshops, retreats, and shopping opportunities. (Occasionally)
Special Offers: Special offers and money-saving deals from Knitting Daily sponsors. (Occasionally)
Week-in-Review: The best of each week, including bonus blogs, bonus related content, and exclusive weekend highlights (Saturday)
Knitting Daily Shop: Exclusive deals, staff recommendations and product reviews on your favorite knitting products. (Weekly)
When we subscribed to their email newsletter, it looked like this:

Which prompted me to take a little look at their editorial calendar to really dig into the specifics of each day.
Repurposing magazine content like a champ
What I discovered is that 99% of the content that Knitting Daily publishes come from their print magazines and books. This is an excellent strategy for a publisher and one we recommend! Interweave is lucky to have so many fabric-related brands that Knitting Daily frequently promotes PieceWork, Knitscene, Interweave Knits, Interweave Crochet and Sockupied.
And when I say promotes, I use that word lightly. We all know the art of writing an advertorial, but Kathleen writes them so subtly that you'd never know, and by the time you're done reading, you want to buy what she's selling.
I analyzed the editorial patterns from April 6 to – June 6.
As you can see above, Monday, Wednesday and Friday are Knitting Daily's true editorial days. On Tuesday and Thursday they send out promotions for various things like events, magazines and webinars. Sometimes on Saturdays they send out email promotions too, although I never found a promotion on their blog. On Fridays, Knitting Daily subscribers also get a Knitting Daily Shop Spotlight.
This calendar, which is similar to our own, and looks like many publishers' email calendars who publish one post a day, works well for the one-two-punch method of email marketing. Create a problem or a need in a Monday editorial, solve it Tuesday with a promo for a product that helps. The same goes for Wednesday and Thursday.
We caught Knitting Daily implementing this well throughout the months. In one really specific case, Knitting Daily wrote a post on a Monday May 13 called Laura Ingalls: Lace Knitter, which is mostly an excerpt from the May/June 2013 issue of Piecework plus the artful storytelling of Kathleen Cubley that introduces the piece and makes you want to read from beginning to end.
On Tuesday, May 14, they sent a promotion for the May/June 2013 issue of Piecework. Because what better way to sell a magazine than by getting people hooked on the content the day before. Oh hey, yeah, I liked that, I want more of that..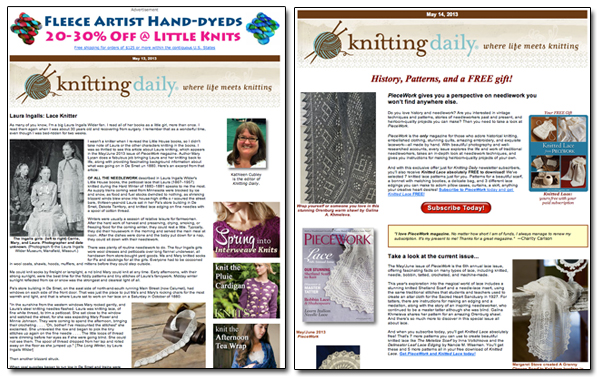 And good content to boot!
Although the email calendar above says that Knitting Daily is sending "product reviews" Monday, Wednesday and Friday, don't let that title fool you. Most days these are interesting, thought-provoking editorial pieces — they just happen to mostly consist of excerpts from books and magazines. The "review" is simply a way of saying that Kathleen always introduces the piece and wraps it up, usually with a link to the product or issue of the magazine. The editorial content in these emails is complete, and comes directly from the magazine, so you're getting a peek at the full show for free.
What a way to capitalize on a library of content, huh? Although I found no consistent pattern in those 60 days about what was being excerpted, I did discover a few good formulas:
Kathleen asks a friend to knit a pattern from one of their issues or store and write a journal about it, which she publishes.
The authors of books in the Interweave Store will write a flowery, inspiring introduction to their books, or Kathleen will pull an excerpt from it and work with that.
When new issues are about to hit the stands, Kathleen will post a "preview," often written by the magazine editors, which may also be printed in the magazine.
When there's a holiday, like Mother's Day or Father's Day, she puts together a list of patterns (from the store) that readers could make as gifts.
She offers how-tos which come directly from old and new issues of their magazines.
And each one of these is so craftfully introduced by Kathleen, that you still feel like you're getting a personal email from her every time you open the Knitting Daily email from your inbox. It has her face in the top right-hand corner of the issue.
In terms of advertising, Kathleen is a master of contextual promotions, always getting readers to read until the end of the email and then promoting a product in the last paragraph. While Tuesday and Thursday promotional spotlight emails are focused on their own products, their editorial emails have internal and third-party ads, often with banners at the top of the email.
So if I haven't convinced you to either take up the needles and some yarn, or start subscribing to Kathleen's emails by now, good for you. But if you ever wanted to master the art of repurposing magazine content, this is a good one to check out.
By the way, none of this information is proprietary. All of it can be, and was, found by looking at their website and subscribing to their newsletters. If you're interested in scoping our competitors, just go ahead and subscribe!