Google Currents can help digital publishers distribute content and build their email marketing lists
Mobile email and mobile website design have become topics of interest to digital publishers since the popularity and usage of mobile devices has grown.
In the past, I published posts about nine design elements for mobile email and three tips for keeping mobile email subscribers. After seeing how much interest there was on the topic, particularly relating to the first article, I decided to keep an eye out for new, exciting information to pass along on the topic of mobile email.
Since the past few articles have been about design and procedures, I wanted to take a look at converting mobile Internet users into email subscribers. To do this, I've decided to point towards a content publishing platform that's been quietly generating thousands of subscribers for some publishers.
The platform I'm referring to is Google Currents, a digital publishing application, similar to Flipboard, which allows users of tablets and smartphones to consume digital magazine content, trending news information, and content from their favorite blogs all from their mobile devices.
Google Currents has been receiving some updates as of late. It's been updated to support the new iPad's retina displays, bugs have been fixed, and the platform has gone international. Perhaps these new updates show that Google is focusing more on the app, and will continue to do so as growth in the mobile device markets increase.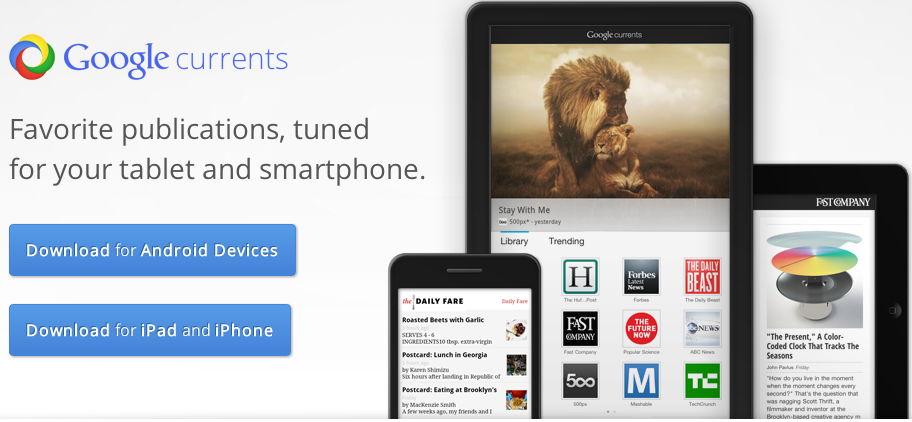 Fortunately for digital magazine publishers and bloggers, Google Currents is responsible for providing thousands of users with content. Currently, five UK publishers reported having over one hundred thousand subscribers. One of the publications, NME Live, is "averaging six and a half pages per visit, and showing a low bounce rate of 22 percent, " according to Jouralism.com.uk.
Getting started with Google Currents
NME Live doesn't currently have an iPad app, yet they are able to use Google Currents to provide a similar experience to audience members.
For digital publishers without apps, this digital reading app may be a formidable option.
To begin with Google Currents, you need a Google account and the RSS feed for your blog or website. If you have videos on YouTube, you can also include the link to your channel. While creating a new edition, you will be asked to name it, give it a description, and add images. You can also link your Google Analytics account with Google Currents, so you can track mobile statistics.
Google Current's relevance
Since mobile is expected to surpass desktop users, you need to be prepared to convert mobile users into email subscribers. With Google Currents you can highlight your blog content, Google+, Twitter, and Facebook by setting up sections for each. If you are aggressive with courting new subscribers, each page of your blog should have conversion architecture set up, and your social networks should call visitors to register.
Additionally, under the Edition tab, you can set your Email Collection to opt-in so you can collect email addresses directly from Google Currents. If you are clear with Google Current users, and you specifically share your privacy policy and inform them that by opting in they will receive email updates, you can then transfer the names and addresses you receive from Google Currents to your email file.
Have you tried publishing on Google Currents yet? Please share your stories below.