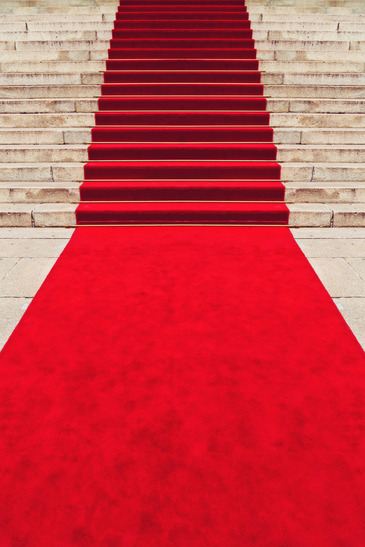 Give your top blockbuster posts a spa day on a regular basis in order to keep them on page one in Google
Every month, if you're great at SEO, the majority of your website traffic comes from search. That's great because it means you can spend less on paid traffic, like PPC. It also means you likely have some key players driving all that free traffic.
For example, our Gold Members enjoy the majority of their search traffic from a handful of posts. In some cases, it's more than a handful, and in those cases, their top articles drive more than half of their website traffic.
If you've been wearing your SEO hat, you might be in the same boat. When you nail a good keyword with a great article and Google approves, you tend to get a considerable amount of traffic. Nail a few more, and your traffic could double or triple over the course of a year just based on a few key players.
These articles are what we call Blockbuster Posts.
Blockbuster posts are typically highly ranking articles on the first or second page of Google that have been there and stayed for a long time, usually years. The most successful blockbuster posts show up in the first few positions of page one in Google and receive the majority of clicks when someone Googles the keyword we've targeted.
When we're focused (or sometimes just lucky), they were intentional. This means we wrote a blockbuster post by picking keyword fights we could win and had a good idea that they might become successful based on their monthly search volume and low competition. And then, when it ranked, we all high-fived and clanked glasses.
However, for most publishers, they're happy accidents.
Either way, when Google drops them from the front page of Google, you notice. We notice. Sometimes it's the result of an algorithm update, but since we work with respected magazine publishers and not fly-by-night content farms, it's usually the result of newer, better, more shared content coming up and replacing it.
Blockbuster post maintenance
Since losing even one blockbuster post can have such an impact on our site traffic, we have a maintenance plan for them.
Depending on how many we have, these Blockbuster posts get updated and republished on ninety day, biannual, or yearly rotation.
Quarterly – If you have a limited number of blockbuster posts, say 30 or less, 90 days feel free to refresh and republish them every 90 days.
Biannual – If you have closer to 50 posts that drive the majority of your traffic, update them every six months.
Yearly – Larger publishers with more blockbuster posts, will schedule theirs to be recycled and republished once per year.
Step One: Create a blockbuster report.
On at least a quarterly basis, our Analytics Director and her team create a blockbuster report for Mequoda Gold Members. This simple report—which you can create by exporting your top trafficked posts from Google Analytics—lists the top 100 articles that are driving traffic to your site. In some cases, this list may be larger, depending on how much traffic is being generated.
Step Two: Organize your blockbuster report.
At Mequoda, our editorial calendar is organized by topic. We have four main blog categories, which we publish on the same day every week. For example, on Mondays we always publish articles about Multiplatform Publishing. A publisher might have 20 topics and rotate though them, covering every topic over the course of 20 business days. That's fine too.
If your editorial calendar looks similar, I recommend organizing your top blockbusters by category. Then, add a column for the date and go into each article and find the last time it was published. This will help you prioritize which articles to recycle and republish first.
Below is an example of a simple blockbuster report after it has been sorted by traffic, organized by topic and the date has been added.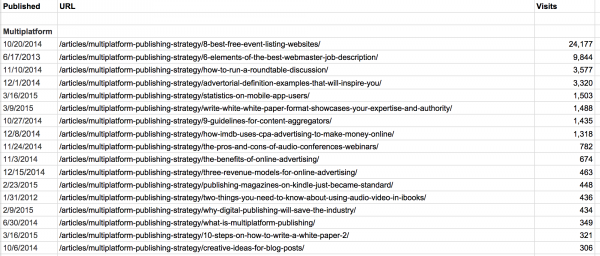 When you begin to slot these articles into your editorial calendar, you might find it helpful to do some color coding.
For example, we update our blockbuster posts every six months, so when one has been updated less than six month ago, I highlight them in red. If we've decided not to update a post (because it's not evergreen, a duplicate, or not relevant to our audience anymore) I highlight the whole line in red. In orange, are the posts I plan to slot into the editorial calendar. These just help me quickly slot them into our quarterly editorial calendar once I'm done.

Step Three: Create a plan for recycling blockbuster posts
At Mequoda, we publish one new (SEO'd) post per day, and recycle one blockbuster post. That means every time I develop our quarterly editorial calendar, I'm penciling in 48 new articles and 48 blockbuster posts. We have about 100 blockbuster posts, which is why we chose to update them biannually.
If you publish less than twice a day, you could rotate one new post and one blockbuster post every other day, or pick an editorial schedule that works for you.
Step Four: Update a blockbuster post
So you've discovered your most loved posts, and you've scheduled an appointment for them to get a makeover in your editorial calendar. When the calendar day shows up, and you're ready to give your blockbuster a facelift, tackle these areas:
Title: Try not to tinker much here, it's a blockbuster post and getting clicked in search for a reason, whatever that may be.
Subhead: If your subhead isn't optimized for search yet, do it now.
Body: This is where the majority of your work will happen. Read the article thoroughly to check for any miscellaneous dates, broken links, or outdated research. Try to make this post as evergreen as possible so it will be easier to update from now on.
URL: Hopefully you future-proof your posts and don't use any numbers or years in your URLs, but if you do, now is the time to update your URL and use a permanent redirect plugin on the old one.
Footer: We always add "This article was originally published in XXXX (year) and is frequently updated" to the bottom of our recycled blockbuster posts. Note: don't use the full date, just the year, because Google tends to pick it up as the publish date by accident, which basically defeats the purpose of everything we're trying to do here.
SEO: Be aware of your keywords within the article and try not to mess with them. They are, after all, part of the reason you're ranking in the first place. Apply any new SEO rules, too. For example, Google is all about proximity phrases these days. So if you haven't already, add in some related keywords, and different variations of your existing keywords. We're not robots, so there's a good chance you've done this already.
Links: Make sure you're linking to at least three other articles on your site. So if I'm writing a post in the realm of multiplatform publishing, I'd probably link "multiplatform publishing" to our post that defines it. If we're talking about subscription websites, I might link "subscription pricing" to our post about how to price subscription websites.
Step Five: Publish and promote your blockbuster post
After your blockbuster post is republished, it's appearing as a new or updated piece of content to Google, which in our experience can help it stay ranked on page one in Google, or improve its ranking if it has slipped off page one.
Something else you've added in the process is the set of internal links. We've found that adding a few internal links to posts tells Google that they are more robust because they link to more content. This strategy has continued to help keep blockbusters on top.
Finally, republishing your blockbuster posts reminds you to promote them in social. We recommend the 12x12x12 – writing 12 unique social posts for each blockbuster post. Schedule them out for 12 days, and then again for 12 months. This way your blockbusters are promoted at least once a month for the next year, keeping it abuzz and gathering new likes, retweets and favorites in the social sphere, which sends signals to Google that you're content is hip and happening, and deserving of page one.
What are your blockbuster posts? Share them in the comments with any feedback or questions you have for updating them!