Discover content tendencies found in our top performing article posts
Do you know what your top performing articles are?
If not, and you have an analytics program, you can easily figure out which article posts receive the most traffic. After discovering this information, you can analyze the content to determine similar characteristics top articles share. Additionally, you will understand the topics your audience values the most. Creating more content on these topics will further help satisfy your audience.
How to find top content articles
For users of Google Analytics, it's quite easy to find your top content. To begin, go into one of your reports and select the Content category. While there, select the option for Top Content.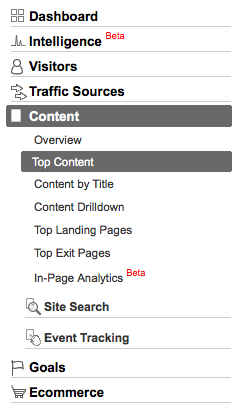 During this stage of the process, go to the bottom of your content performance results and filter the results for pages containing /articles. This will retrieve the top ranking articles and show all the associated statistics for them.

[text_ad use_post="15040″]
Consistencies in content
After retrieving this list of top content, I went through each page and discovered traits that were shared through most of the articles.
First, I noticed that many of the articles contained numbers in the headline and lists of content within the body copy. This type of article has been successful because it clearly outlines in the headline what will be found within the article. The list format also provides the opportunity for strong SEO.
An example of one top content article that fits this description is: Email Marketing Tips: 10 Email Feedback Loop Lists.
The next component shared by top content articles is the word "best". This word is intriguing to audiences by boasting strong, relevant information.
An example of one top content article that includes "best" is: The Best Audience Development Job Description We've Seen.
The last component of our top content articles is member comments. The inclusion of user generated content furthers the conversation surrounding the article and is rewarded in search engines. Some of our most trafficked articles have over 20 comments from users.
An example of one top content article that has a lot of user comments is: Subject Line Spam Trigger Words. Note that this article has 28 comments.
Overall, it's important to delivery the content your article's headline promises. If you say you'll provide eight best practices, do so. If you are offering the "best" tips, make sure these tips are reputable and tested.
What characteristics do your top content articles share? I'd love to hear from you.