Are you and your employees harnessing the power of social media?
Over 50% of employers prohibit the use of social networking sites by employees while on the clock.  Are they missing the boat on a valuable source of referrals? Maybe, but for online publishers and marketers it is another important way for users to find and share your content.
The majority of content discovery, as much as 70% according to Nielsen, are referrals from search engines and portals like Google, Yahoo and MSN. With social networking sites like Wikipedia, Twitter, Facebook and blogs making up almost 20% of users relying on social media sites to find reliable information.  This is too large a number to ignore.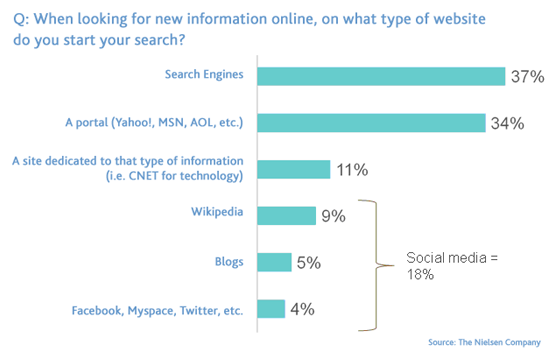 What are "socializers" searching for online?
A socializer, according to Nielson, spends over 10% of their online time on social media, feeling that there is too much information online.  They're using social media as a guide to navigate through the abundant information available on the internet.
We thought you'd like to know what socializers are searching for online.
According to Chitika, Twitter users are searching for 1) News, 2) Movie, 3) Tech and 4) Medical websites.  Facebook users were clicking through to 1) Tech,  Lifestyle and News tied for second, and How-to sites came in third.
This is where niche online publishers can stand out in the crowd. As a small niche publisher, the competition may too great to achieve a page one Google rank on your own. This is where word of mouth (and inbound links) take on new meaning.
How can you tap into that additional 20% of users relying on social networking sites to find reliable information?
It is vital to get on the social networking bandwagon if you haven't yet.  For B2B publishers, Twitter and Linkedin are great places to start. For B2C publishers, Facebook and Twitter can be easily incorporated into your social media strategy.
With so much information available, users have begun to use social networking sites as a filter.  In short, they trust what their friends have to say, are more likely to believe it, and more importantly, follow through to content they are recommending. This also creates a better quality referral.