If you host an annual event, then you're not only wading in the editorial business, you've also drifted intentionally into the events business. Paid events require a significant amount of promotion (see: marketing dollars) and all events need the word-of-mouth boost that any successful learning extravaganza inherits.
Choosing original topics and sought-after speakers may be your first priorities for developing a blockbuster event, but promoting it certainly comes next. And this is where you decide whether or not your event requires its own Facebook page, or if your promotions will work fine on your main brand page. If you're considering creating a page for your event, you should have the following:
An event logo with strong individual branding
An event that repeats regularly
A photographic strategy so that each event has it's own stocked photo album
The staff available to manage an event page in addition to your main page (to avoid lying dormant in between events)
The major benefit to having an event page is the fact that you can promote it at your event, so that when it reoccurs every year, you have a fan list of extremely qualified leads. Also, your attendees are able to "tag" your event in their status updates and in photos, which may send further traffic from their circles. This keeps your page active weeks and months after the event.
Farm Progress has a wildly popular event called The Farm Progress Show that attracts thousands of people each year. With their page, Farm Progress gets to keep the public informed about their upcoming show months in advance. In the off-season, the page is kept updated with blog posts and updates related to the event. Past attendees often post open questions to both Farm Progress and to the community.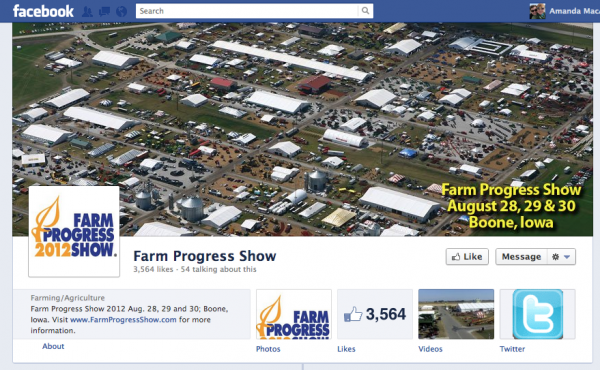 HOW Magazine has a Facebook page for their well-branded HOW Design Conference. During the off-months they ask questions to pump up potential attendees, interview speakers, and link to external blog posts on related design topics.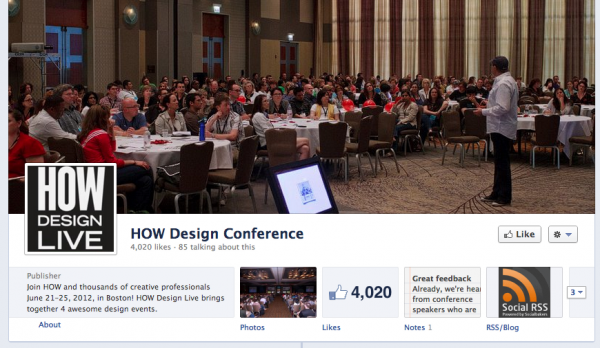 As I mentioned, having the ability to tag an event in a status update offers that word-of-mouth strategy without needing to do a thing.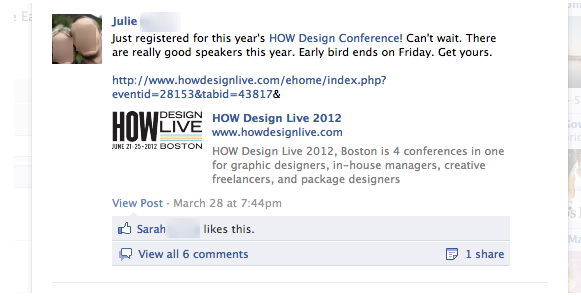 Interweave's Knitting Lab event has its own Facebook page which stays active by polling fans, asking questions, posting contests, and promoting related Knitting Daily content.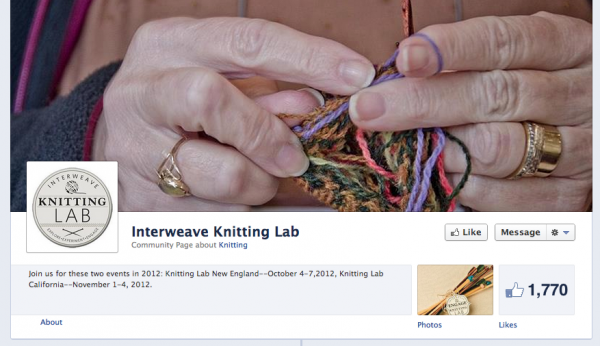 Moderators even asked fans to help pick the next location for their event, and often ask open-ended questions that probe interaction from their loyal fans all year log.
As you can tell from these best-practice brands, it takes work to maintain an event page. If you're already dedicating a significant amount of time to your brand page, you should realize that what you're posting to an event page will be different, otherwise you're likely to lose fans quickly who don't appreciate cross-posted content.
And before you blast off, you might want to take a look at the new Facebook Group pages. Groups have been redesigned to work similar to a page, except they now act a little more like a Facebook page, except with the benefit of making your group private (only to attendees), adding a list of events, and sharing documents. Also, you're able to send messages to all of your group members. So, if your event is a little smaller, a Facebook Group might be a great alternative, especially for sharing presentations and frequent events with past attendees.
Do you have an event page on Facebook? Care to share your strategies and success stories in the comments below?