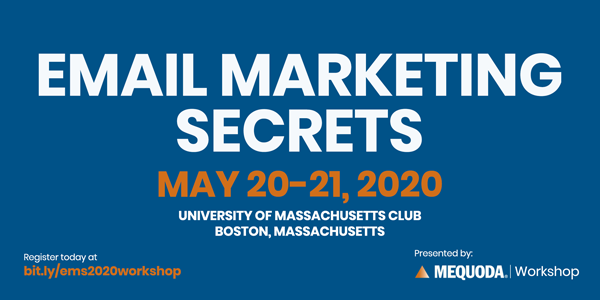 Have you registered for Email Marketing Secrets: 2020 Workshop yet?
If not, today is a good day to do so. Not tomorrow, because tomorrow you'll be busy thinking about other things, like how to make your business more money and sell more subscriptions.
But if you register today, you'll already be on the right path to do exactly what you need to do: make your business more money and sell more subscriptions, when you attend our Email Marketing Secrets: 2020 Workshop on May 20-21 in Boston.
This two-day email marketing secrets workshop is strategic and tactical, a very effective way to master all aspects of email marketing—learn all the secrets and, upon successful completion of this workshop, you'll be certified for your email marketing knowledge and expertise as a "Mequoda Email Marketing Master"!
Our Email Marketing Secrets: 2020 Workshop is about busting all the myths out there that can derail your email marketing program—or can even destroy it:
Myth #1: Email is an outdated form of communication and is dying.
Myth #2: Your customers are annoyed to get email from you.
Myth #3: Your customers get really annoyed if you contact them more than once/day.
Myth #4: The only way to boost revenue and performance is to develop totally new messaging every time you send email to customers.
Myth #5: You don't need to worry about list hygiene, as long as your email messages contain easy-to-use unsubscribe links.
Where do I start, to explain how these common myths about email are exactly that—total myths?
If you're running any online publishing operation, email communication is key to your success—"email is dead or dying" headlines are unfounded, as we've seen total email users increase year after year, and that trend is expected to continue in the years ahead. Vast majorities of consumers and professionals prefer email communication for lots of things like engaging with brands and content and purchasing products or services.
Fears of SPAM have spawned myths about using email to contact your customers regularly and often. When you deploy an opt-in strategy that confirms and qualifies your email customers in the first place, you can be assured that your list is full of self-identified interested people!
Email comes with many challenges, too, and message fatigue can happen (as with any marketing messages through any channel).
When you suffer email messaging fatigue, you can freshen your messages with variable copy, new subject lines, new offers, different images and graphics, or even a new or different email "from" display name. You should always have plans for new copy development so you can test new approaches, but your email communication strategy doesn't have to be about completely new messages every time—in fact, content repurposing has been a key publishing strategy even before the Internet!
And one of the persistent myths about email lists is that simply offering unsubscribe links in your email messages is all you have to do to ensure a clean list—think again! You should be monitoring your in-box delivery rates by email platform; measuring the length of time non-openers stay on your email file and acting accordingly; and blocking or regularly cleansing your list of known SPAM accounts.
Yes, email communication for your publishing operation is not uncomplicated—and that's why you should attend our Email Marketing Secrets: 2020 Workshop! You'll learn every secret about email marketing and get full certification of your knowledge and expertise when the workshop is over.
I'd tell you to "mark your calendar" for this event, but if you only do that you might miss out—you can save $500 today if you sign up right now.
Please don't wait to sign up for this essential event for any magazine publisher who wants to grow audience, revenue, and profits—and to capitalize on the latest industry trends and business intelligence for developing a magazine publishing juggernaut that is the envy of other publishing professionals.
Can I count on seeing you in  Boston for this event May 20-21, 2020?