How to set up Google Authorship, iron out the kinks, and future-proof your search results
Google Authorship is Google's new way of helping their algorithm figure out who is most credible on the web. Naturally, you need to have a Google+ profile in order to claim Google Authorship, but the perk is that you get a fancy little photo next to the articles you write, like so.

Posts that have a photo next to them have higher click rates, so that's one good reason to claim your authorship. The next is that Google will eventually use this as a major part of their algorithm, once they figure out who the major players are.
Approximately a kajillion times a week I get an email from the team about a client who's trying to figure out Google Authorship, so we thought it was about time I put something together for the greater good of all Mequoda clients and beyond.
The point of Google Authorship is to connect your Google+ profile to the articles you write on your blog. So whenever a blog you write shows up in Google, your face is next to it.
Setting up Google Authorship
If you have an email address on the same domain as the blog you want to claim, it's very easy. For example, if your domain is applepiemagazine.com and your email address is alice@applepiemagazine, great!
First, create a personal Google+ profile (not a page!) and fill it out completely.
Here are your next steps, according to Google:
Make sure you have a profile photo on Google+ with a recognizable headshot.
Make sure a byline containing your name appears on each page of your content (for example, "By Alice Apple")
Make sure your byline name matches the name on your Google+ profile (this part is very important!)
Now go to: https://plus.google.com/authorship, type in your email address, and you're done!
If, however, your email address does not use the same domain as the one you're trying to connect, there's another way to go about it. This is fairly common at larger publishing companies where you use the higher level domain rather than your specific magazine's domain.
If this is your case, here are Google's next steps:
Create a link to your Google+ profile from your webpage, like this:

  <a href="[profile_url]?rel=author">Google</a>

Replace [profile_url] with the your Google+ profile URL, like this:

  <a href="https://plus.google.com/109412257237874861202?
   rel=author">Google</a>

Your link must contain the ?rel=author parameter. If it's missing, Google won't be able to associate your content with your Google+ profile.

Add a reciprocal link back from your profile to the site(s) you just updated.

Edit the Contributor To section.
In the dialog that appears, click Add custom link, and then enter the website URL.
If you want, click the drop-down list to specify who can see the link.
Click Save.
Typically, these links are added to your author page in your bio. You may update it to say "find me on Google+" or something less confusing than a random link that says "Google".
Authorship can take anywhere from a day to a couple weeks to kick in, and it's not uncommon for it to kick off if you discontinue publishing regularly. It also won't always show up for every article. I don't know what algorithm they use to decide which articles get photos next to them or not.
Future-proofing your search results with Authorship
Another thing you might notice in a listing with Authorship enabled is that it shows how many people are in your Google+ circles.
Do you think that at some point Google might give higher rank preference to those who actually use Google+ and have bigger "circles"? I'm guessing probably yes.
If you look at these search results for "how to code" you'll find that they're ordered by the number of people each author has in their circles. Coincidence? Perhaps, but the first article is over four years old.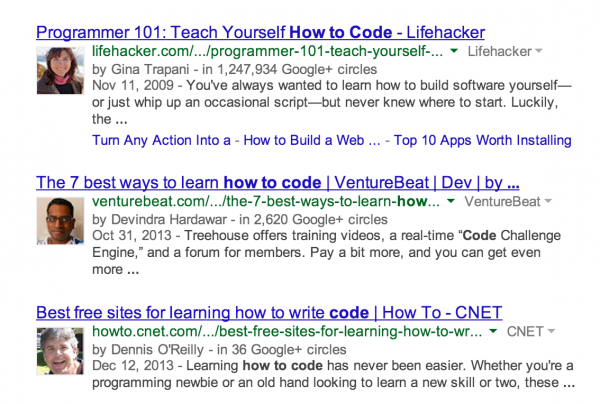 Kinks and qualms with Google Authorship
If you've implemented Google Authorship and are still not showing up next to your listings in search results, check these few things:
Does your Google+ profile name match your byline exactly? One of our publishing friends had trouble because Google+ wouldn't let them add Dr. to their name, but their byline required it. The workaround here is that Google+ lets you choose a nickname, which is where you can add titles like these.
Did you set your profile to be visible in search? In the profile discovery section, you can set your profile to be visible or not visible. If it's not visible, Authorship won't sync. Make sure the "contributor to" section of your profile is visible also, and that there's a checkmark next to your domain.
Did you try to hide the link in your profile? If you had to add a link manually to the profile on your blog, don't try to hide it with CSS or white text. I don't know how they do it, but they know, and they won't sync it.
Is your author page indexed? If Google can't crawl the page you added your code to, they can't sync it.
Is your profile photo large and clear? Google is very picky about this. No half-head shots, cropped faces, hat heads or far-away scenic shots. Just your face and nothing more.
One other weird quirk is that Google looks for the byline link "by Alice Apple," so if you write in an article that you just read another great article "by George Pear" and link those words, it may confuse authorship also.
If you have any other questions or come across any quirks I'd love to keep this discussion going. Let me know in the comments! And if you have any extra tips, please share!