Google Insights for Search can help you develop a stronger keyword research strategy
When abiding by a keyword research strategy, online editors are required to produce content based around a specific editorial calendar. This will ensure that the necessary topics are covered in an organized manner.
An editorial calendar is designed by considering your content and products. Further developing those topics, by conducting keyword research and building your keyword universe, will help you present the most targeted content possible.
After your keyword universe is developed, and you begin to create content based on it, you may run into the conundrum of "what keywords should I target if I'm writing about [insert one of your topics here]."
All online editors reach this point sometime; it may be due to writer's block, excessively covering topics or not knowing your keyword clusters very well. Either way, there is a solution for online editors.
Google Insights for Search
According to its webpage, Google Insights for Search is for people looking to "gauge interest in pertinent search terms." Using it will help you discover keyword phrases that resonate the best with your audience.
Are you currently using Google Insights for Search when you implement your keyword research strategy? If not, and you are unfamiliar with the process, below is a brief, step-by-step tutorial for Google Insights for Search.
Step: 1 – Begin the search for the best keywords. For this tutorial, I took a look through my keyword universe within the "landing pages" cluster. I wanted to promote our Million Dollar Landing Page Templates free report, so I selected a few different keyword phrases to enter into Google Insights.
After I decided upon the keyword phrases to research, I went to the Google Insight website and inserted the keyword phrases.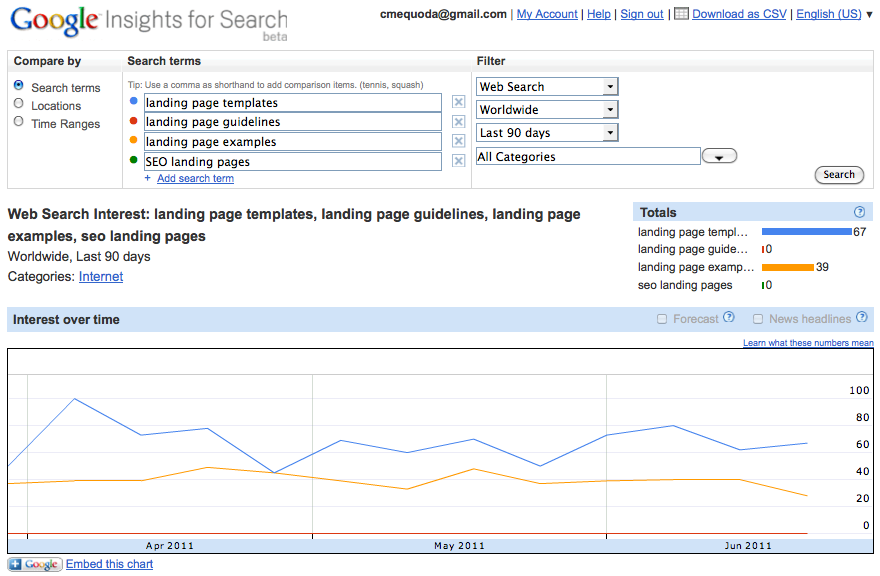 [text_ad]
The above image shows a comparison of the four keyword phrases "landing page templates", "landing page guidelines", "landing page examples" and "SEO landing pages" over the last 90 days. As you can see, only two of the four keywords had any amount of search volume.
Between "landing page templates" and "landing page examples", the greater volume is had by "landing page templates". Therefore, my article should focus on the term "landing page templates".
Now, you may be thinking that "landing page templates" would automatically be the keyword phrase to target since it is in the title of the free report. Remember, using Google Insights for Search is about finding the keywords that resonate with recent searches while indirectly helping you target long-tail keyword phrases. In this specific instance the keyword phrase within the title of the free report was found to be the most popular out of the keywords I searched, but it will not always be this way.
Additionally, since "landing page examples" does have search volume, it may be worth targeting that phrase in a future article.
Step 2: Use the keyword in a targeted SEO article. Now that you know which keyword is currently more popular with your audience, that keyword can now be the focus of an article post, promoting the Million Dollar Landing Page Templates free report.
Another tip for using Google Insights
While in Google Insights, try searching the name of a keyword cluster. In this case, I search the term "landing pages", and set the time ranges for the 12 months.
Towards the bottom of the screen, you can find a list of the 10 top searches that are associated with the main keyword phrase.

If any of these keyword phrases are relevant to your core audience, you should consider adding them to your keyword universe if they aren't there already.
There are so many different aspects to a successful keyword research strategy – all of which lead to building a bigger audience based on research and data. To serve our audience better, we have compiled all the pertinent information of a successful keyword research strategy into five modules.
If you would like to learn all about these five modules in a step-by-step manner, join us for our webinar Keyword Research Step-by-Step 2011 at 12:30pm ET on July 12th.