Google is rolling out Real-Time Search, which means it's time to put your game face on if you want to stay at the top of your search engine rankings
Real-Time Search is getting ready to be rolled out by Google, and we can't say it's going to effect your current landing page rankings, but it's certainly going to push you down the list unless you start producing more newsworthy content.
In this new feature, (which you can see in Google's video below), searchers will see "real-time" results, coming from social networks like Twitter and Facebook, plus blogs and news services.
Amit Singhal says on the Google Blog, "Our real-time search features are based on more than a dozen new search technologies that enable us to monitor more than a billion documents and process hundreds of millions of real-time changes each day. Of course, none of this would be possible without the support of our new partners that we're announcing today: Facebook, MySpace, FriendFeed, Jaiku and Identi.ca — along with Twitter, which we announced a few weeks ago."
What this really means for online publishers and content marketers is that it's time to put your game face on.
It means that before any listings that you've conquered on Google will be shown, you may be soon be getting trumped by the new real-time results.
Singhal writes, "First, we're introducing new features that bring your search results to life with a dynamic stream of real-time content from across the web. Now, immediately after conducting a search, you can see live updates from people on popular sites like Twitter and FriendFeed, as well as headlines from news and blog posts published just seconds before."
As for when and how these results will display, Singhal says, "when they are relevant, we'll rank these latest results to show the freshest information right on the search results page. Whether it's an eyewitness tweet, a breaking news story or a fresh blog post, you can find it on Google right after it's published on the web."
Unlike Bing, who has already rolled out this feature and gives real-time results for any search on their search engine, Google is more selective of the keywords that will display real-time results. That means that if you're targeting "Christmas Cookie Recipes" in the middle of July, there may not be many real-time newsworthy results competing above you.
Also unlike Bing, it disrupts the original results by dropping them below the real-time results. Bing gives searchers a separate page for real-time results.
If you want to see what Google's Real-Time results look like, try this link. Here's what I got when I opted for searching for the very newsworthy Tiger Woods today.
Guess which results top TigerWoods.com? That's right: gossip on Twitter.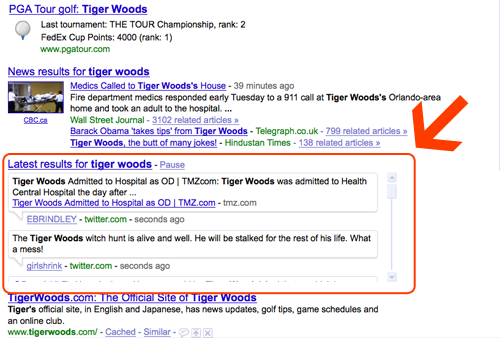 The moral of the story is that having current, newsworthy content is more important than ever, if you're in an industry that is constantly changing.  Get on Twitter and tweet your brains out. Get your blog into Google News and keep your blog constantly updated. Be the leader in your industry.