There are lots of social media management apps out there, but here's why we like Hootsuite for smaller niche publishers.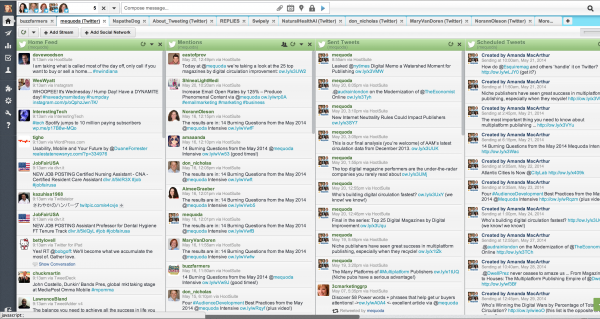 HootSuite is a (mostly free) online web service and app that helps manage all of your social media accounts from one place. I say "mostly free" because they offer free accounts, which many people can do everything they want with. Businesses may find their (still affordable) Pro version to be more of what they need.
If you manage social media for a publishing business, then you're more than likely using a social media dashboard already. Using a tool that's meant to manage a business account is the first step toward building a more effective social media strategy.
Although we typically recommend Hootsuite, there are several great social media managers. In fact, Twitter now owns one, TweetDeck, although it accommodates non-business users the most effectively. Sprout Social is another I've been testing and recommending lately. It's fantastic and capable, but missing one crucial feature of Hootsuite: a drag-and-drop calendar. It's also for larger publishing teams and comes at a premier price point of $59-$99 per user, per month, instead of $8.99 per user, per month, for Hootsuite, with similar features.
For all of the social media best practices we teach at the Intensive, Hootsuite has been our go-to for making it all happen.
I'm going to do my best to explain why we love it, and I don't even need to lay out a full disclosure, because we're not affiliated with Hootsuite in any way, even though my Hootsuite love might make it sound that way.
1. Hootsuite is pretty cheap. Especially for the smaller niche publishers we work with, the Hootsuite price point is just right: $0 for the first user and $8.99 for each additional user with Pro features like more extensive reports. All of the primary features are included in every package, whereas Sprout Social makes you opt in to the $99/month plan just to have auto-scheduling capabilities.
2. Hootsuite has comprehensive scheduling. One of the strategies we teach to publishers is how to extend the life of an article. For every article we write, we also construct up to 10 different Tweets using 10 different formulas to promote it. We schedule them out immediately and then for the next week and six- to 12 months. Hootsuite enables us to do this easily.
3. Hootsuite has robust auto-scheduling. When you have a bunch of posts to send out in one day, you can auto-schedule them, and Hootsuite will determine the best times to send them out. Additionally, I use their Hootlet bookmark in my browser daily. All you have to do is click the button in your browser, and it will turn the page into a social post, which you can edit, schedule, or auto-schedule. Some people use Buffer for this feature alone, so I love that it's built into Hootsuite.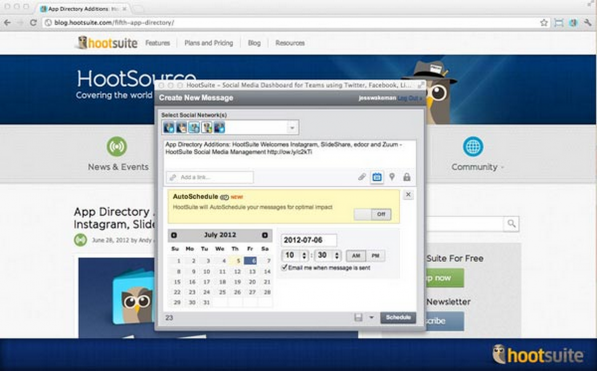 4. Hootsuite has a drag-and-drop calendar. The calendar is one my favorite features. You can see all of your scheduled Tweets in one place, and if they happen to overlap – or you don't like where a post was auto-scheduled – then you can drag and drop it onto a different day and time.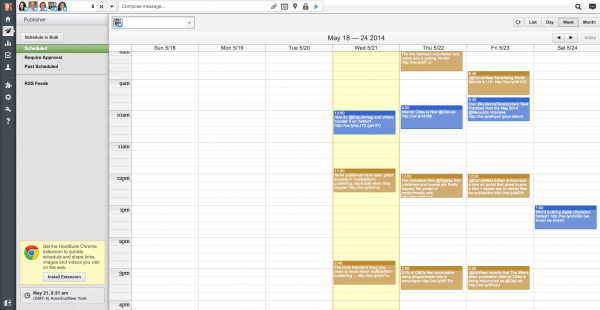 5. Hootsuite works with multiple social networks. Although I find most social dashboards to work best with Twitter and less so with other social networks (Facebook especially), Hootsuite integrates with everything you need: Twitter, Facebook, G+, LinkedIn, you name it.
6. Hootsuite is a web app. This means you can access it on any computer, anywhere. They also have mobile apps, which make it easy to post, schedule, or fix things on the go.
7. Hootsuite allows multiple accounts. Publishers often manage multiple social media accounts. Newspapers often have entire accounts dedicated to each section of their newspaper, while general interest magazine publishers might have them for different topics (celebrity gossip, cooking, health, etc.)
8. Hootsuite allows multiple users and tasks. And if you have multiple social media accounts, you might also have multiple users managing them. For a few bucks more every month, you can add new users and delegate tasks to those users. So, for example, you can have someone managing the customer service aspect, while another handles marketing. When an angry subscriber chimes in, you can assign it to your customer service guru to put out the fire.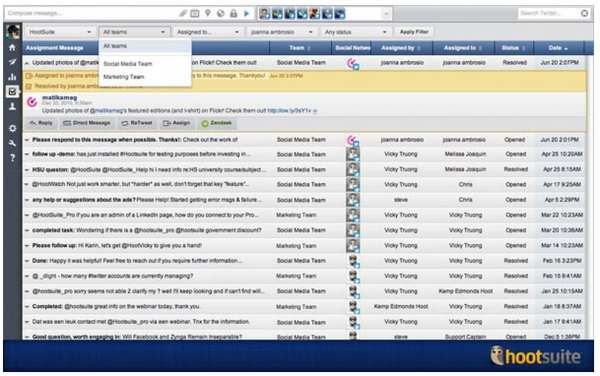 9. Hootsuite is organized however you want it to be. The Hootsuite dashboard has a small learning curve if you've never used a column-based interface before, but it can be customized according to your preference. You can create a tab that shows only columns of replies to each of your social accounts, or you can create tabs for each account.
10. Hootsuite helps with reputation management. You can track keywords and hashtags in Hootsuite in the same main interface, so, for example, if  you want to see whenever someone on Twitter posts about a certain topic in your niche, you can. Then you can respond and do some audience development.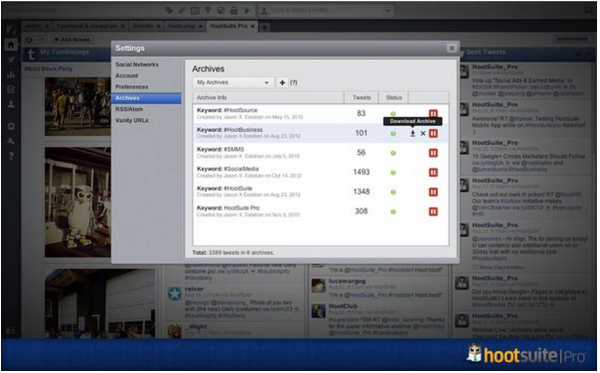 Hootsuite offers dozens of great features, but for publishers, the above are what I consider to be key to our daily social media lives.
I should also mention that they offer analytics and reporting, although it's not one of my favorite features because even with a Pro account, you still need to pay for the most robust reports. With that said, the free ones will at least tell you which posts performed best and provides basic demographic information.
As I mentioned, at our Intensives we often talk about social media management, and Hootsuite tends to be the tool of choice. I personally recommend Hootsuite, but I am unbiased and always looking for the best option. If you have a tool you recommend, please share it with me in the comments!