Find your brand evangelists and let their creative interests build website traffic
Artists, photographers and other creative-types often employ a space on their wall with something called an "inspiration board". It's generally a collection of clippings from magazines, print-outs of things they've found online, photographs and keepsakes that inspire their creativity.
Pinterest is today's most rapidly growing, visually-stimulating social network and it's built on the concept of these inspiration boards. In fact, if you had to take an inspiration board and create a digital representation, it probably wouldn't get any better looking than the way that Pinterest is designed.
At its roots, Pinterest is a bookmarking site like Digg or Reddit. When a user visits a website and likes an idea (a recipe, craft project, book, product, etc.) they're able to "pin" that idea on a board they've created on Pinterest. The image acts as the headline, although users are able to add captions, and the image almost always links to the original article. The only time it wouldn't is if the user uploaded an image themselves. Pinterest doesn't currently allow users to add links to the images they upload.
And this is why you care…
Pinterest just clocked in at 11.7 million unique monthly visitors last month. Like other social networks, every user on Pinterest has a group of friends or followers. In their main feed, they can see what their friends are pinning. They can then "like" or "re-pin", and the functionality works exactly like a "like" would on Facebook and a "retweet" would work on Twitter. The more likes and repins, the greater visibility your post will get. It's also likely to be featured on the public Pinterest boards, much like the "Front Page" of Digg.
And this is how other publishers are handling it…
The nice thing about Pinterest is that despite the likeliness of spammers coming to try and muck it up, it would be fairly hard for them to be very successful. Affiliate marketers have certainly found a niche here, posting links to products with their affiliate codes in the URLs, in fact, that's exactly how Pinterest monetizes the network.
Remember though, that in order to gain visibility, your friends need to re-pin your posts. So in order to have any influence you'll need to gain followers, just like you do on Facebook, Twitter, or any other social network.
StyleBistro has an aggressive brand-centric approach which appears to be working well for them. They only have a hundred or so followers to their main brand account, but popular boards like StyleBistro Fashion Week, Editor's Picks: Hair, and Celeb Engagement Rings all have over 200 followers each. Oh, did we mention that people can subscribe to your boards, too?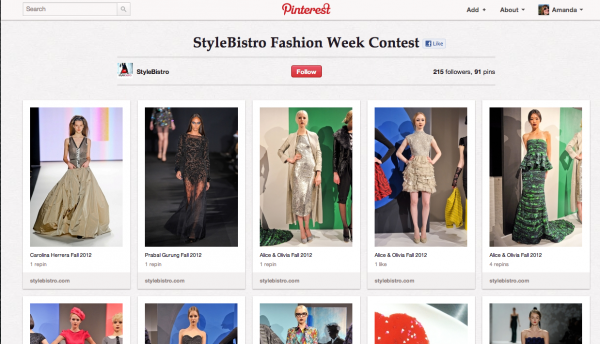 How to get started…
Install the Pin It plugin: If you run a website where users might be inclined to "pin" your articles, you might want to take a look at the Pin It plugin for WordPress. AddThis also has the functionality with a little elbow grease. Adding this button not only makes it easy for people to "pin" your articles, but it also makes sure that a link back to your website is always included. This slims down the popular error where users pin the link to your image instead of your article.
Look for inbound links: You might not even know that people are already pinning pages on your site. If you want to know which links are leading back to you, just use this formula to find out:

http://pinterest.com/source/yourwebsite.com/
Ask editors to get involved: Like most social networks, a strategy almost always works best with a personal profile. If you run a food, art, or craft-based publication it's likely that your editors are already on Pinterest. If they are, collaborate on a strategy with them for interjecting their favorite projects or articles from your site. Work on a brand-strategy as well.
Consider using featured photos: Even B2B publications are getting some love. The trouble is that someone can't "pin" an article without a featured photo. Which means that if they try to pin it, Pinterest will try to use unrelated photos on your homepage like your logo, someone else's logo or even an ad image. Not exactly what you want showing up.