This keyword research tip provides you with information on how to use the Google Wonder Wheel to build your audience
As an editor, I find keyword research interesting.
It is something that blurs the line between wordsmithing and psychology; the activity of doing keyword research allows you a glimpse at how your audience thinks while conducting searches online.
For online businesses, understanding the thought process your audience shares is necessary if you want to properly serve them.
The Google Wonder Wheel is one method used in the keyword research process. This free tool enables writers, editors and keyword specialists to discover closely related phrases their audiences may be searching for.
Additionally, the Google Wonder Wheel allows you to build your keyword universe as you may find keyword phrases that you weren't aware of prior.
To begin, let's take a tour of the Google Wonder Wheel.
How to use the Google Wonder Wheel
Step #1: Enter your keyword phrase into Google.
For this example, I am going to use the keyword phrase "landing page templates". We released our new free report entitled Million Dollar Landing Page Templates a few weeks back. Searching for related keywords on this term allows me to take note of any new keywords that I can target while promoting this free report.
Step #2: Select the Google Wonder Wheel feature. This option may be on the left nav of the Google search page, or it may be found under the 'Show Options' tab.

Step #3: Evaluate the results. Now that we have the results, you can see what Google suggests as related keyword phrases.
For our search query of "landing page templates", here are how the results appeared.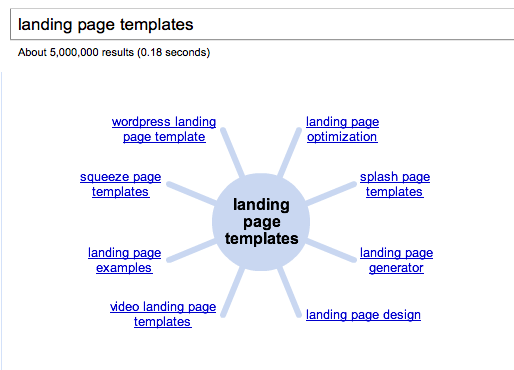 After considering these keyword phrases, I've decided that a few of them relate to my Million Dollar Landing Page Templates free report.
Due to this, I am going to create promotional items that target these keywords and add new keywords to my keyword universe while promoting my free report.
A promotional strategy for finding new keywords
Now that I have some additional keywords I can focus on, I have a few new options:
First, I can research these keywords to determine how often people are searching them and what the competition is.
If any of the words have a manageable Keyword Competitive Index (KCI), I can continue with my promotional aspects.
Next, I can take the chosen keywords and enter them where appropriate in the body copy of the rapid conversion landing page.
Finally, I can use those keywords as a main focus in a press release discussing the free report. Optimizing the release for the new keywords and submitting it to free or paid press release distribution websites will help attract the search engine bots' attention.
I have used this method for added exposure within Google News many times. Coding the link from the press release to the free download will help you monitor metrics for the release.
Does this strategy for doing keyword research sound helpful to you? If you'd like more information on keyword research, join us on July 12th for our new webinar Keyword Research Step-by-Step 2011.