Say goodbye to selfish social media marketing and say hello to its free-loving hippie cousin
When marketers hopped tracks from the outbound to inbound marketing trains, many seem to have forgotten that the only thing consumers still want to know is what's in it for them. You can't go around telling people what you do, how great your articles are, or how successful your company is because honestly, who cares?
With social media, you have limitless opportunities to connect clients, customers, editors and resources in the blink of a tweet. You can publicly compliment someone while driving traffic to your website and even generating revenue for a product or event. This week, try these three approaches and I guarantee you'll see a different response than you did previously. Be sure to post your results in the comments, too.
Internal love: Start @-ing your editors when their blog posts are published
Hate to say it, but if your editors are on Twitter, they're now officially your Twitter brand evangelists. Hopefully, they're already happy to tweet articles that they're writing (why wouldn't they be, after all) but now it's your turn to take the next step.
By calling out editors in your tweets, you're not only reminding your editors to tweet their articles, but you're also giving them an easy way to simply hit the "re-tweet" button. If you write something heartwarming like, "Our fabulous food editor @StacyTheEditor just tried out @SomeRestaurant and loved the pork belly bit.ly/linkylink", it'll also make them happier to do it.
BusinessWeek has no trouble showing love for their editors at all.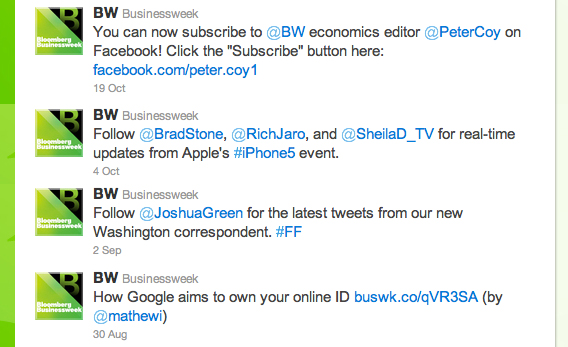 The results of this method will be increased traffic to your website, because you will gain the additional audience that your editors bring with them. You'll also be benefiting your existing audience by qualifying your editors as valuable resources.
External love: Tell them when you write about them.
Want to know the best way to boost traffic to your website? It's through "likes" and "tweets". SEO is a long-tail approach that will benefit your website for years to come, but if you want love on an article now, you'll need as much social sharing as possible. And besides, a few Facebook likes can kick an article in the SEO pants all the way up to page one anyway.
So do you know how to get the most amount of likes and tweets on an article? Write about everyone but yourself.
The quickest way to someone's heart is through a compliment, and there's no greater compliment than a public blog round of applause through your blog article.
So… The next time you write an article (which targets a niche keyword of course), make sure that you write it in a case study style. Whenever you're trying to make a point, be sure to use an example from a professional or business in your niche. Don't choose anyone too huge, try to stick to the folks that are likely to appreciate your write-up about them.
The Facebook Strategy
Once you've written the article, post it on the Facebook page of everyone that you mentioned in the article. A nice little personal (not generic) message about their inclusion in the article will be helpful. Give a brief sentence or two about why you mentioned them.
Your big question: Can I post via my business page? Yes, and just like a personal account, all you need to do is "like" the page before it will give you the option to post on their wall. Nine times out of ten, in my experience, it will also let you post a link. I mean, how thrilled would a talented knitter be, to see a post on their wall from Knitting Daily, giving them public props? Or an artist, a photographer, an interior designer or anyone else for that matter?
As an editor for SwipelyWorks, I have no better example than their daily blog and the first time I tried this strategy. For a blog that launched only a month earlier, 84 likes is pretty significant and it all came from the strategy mentioned above. It also garnered a few comments too, which we know is hard to come by these days.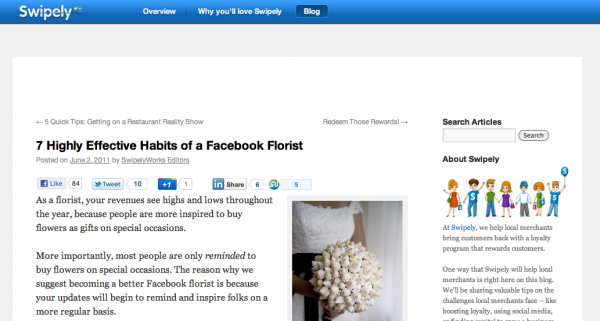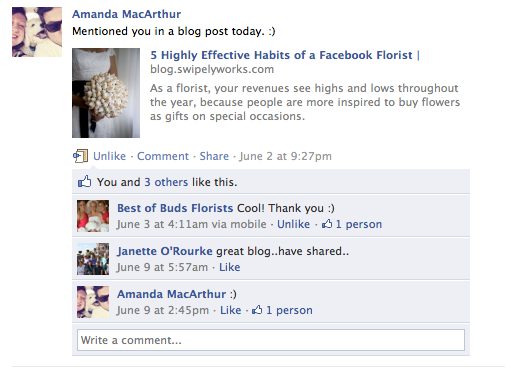 Now wait for it.
When done properly, their fans will begin to flock to your Facebook post, congratulating and reinforcing your kind words. The "likes" on your article will build, and the Facebook comments on your article will grow.
The more people you mention in your article (with a decent little complimentary case study), the more walls you can post it on without feeling like some kind of marketing jerk.
The Twitter Strategy
Rinse and repeat, except this time, simply @ them in your tweets to the article. At BuzzFarmers, every client post gets some added social love using this technique. The result is an abundance of retweets by the small businesses and restaurants that are being written about, and an influx of traffic to the articles.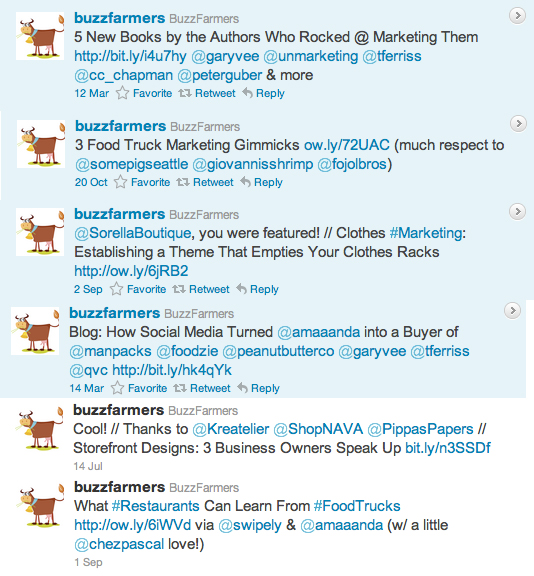 Beyond all this marketing hype, it's just about good old-fashioned karma. It's nice to give shout outs to the people and businesses who deserve it and that's how this strategy was discovered but also why it works. As a large business, you can make friends quickly by helping out the little guys. If you love an artist, a product, or a service, write about it. And when you do, let them know.
Sharing love: Tell everyone about them.
You know that you can't just talk about yourself on Facebook and Twitter, so what happens to those links you're posting to other people's websites? If you're not @-ing the author of the article your posting about or the company you're linking to, you're missing out on serious opportunities.
For your test (mentioned at the beginning of this article), I recommend only tweeting about businesses and people who are on Twitter, and always using their @ name in the tweet. Saying that an article was "via @soandso" isn't enough though, you should throw in a little compliment too. Not only because it's nice, but also because it'll get more retweets.
Healthcare Resources Online is no stranger to this. Almost every time they tweet about someone's article, there's an active @ within the tweet. The results? Lots of "thanks for sharing" tweets and even more re-tweets.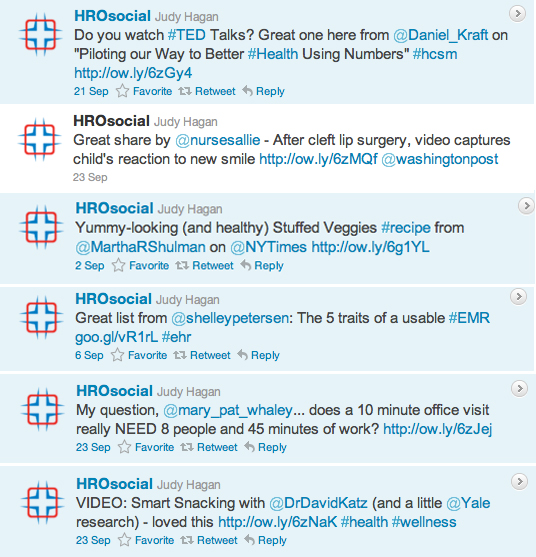 It's true, social media marketing can be obnoxious, but we can still rekindle the kumbaya vibe once portrayed by the social media community. It's not so different, we just love each other a little more publicly. The only real difference is that we can measure it now.