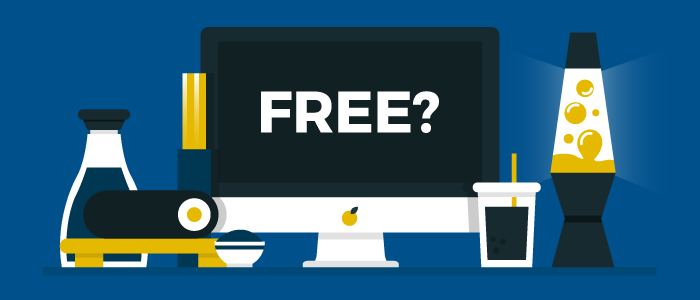 Do you know what your freemium conversion rate is? Email is by far, the most profitable marketing channel most publishers use. So it's no surprise that building an email list is one of the most important items on a publisher's to-do list (or at least it should be.)
At Mequoda, we've been singing this song long before brands started creating content on their blogs, and much longer than "content marketing" has been a buzzword. We've been preaching freemiums to the choir for as long as we've been in business, and our skipper Don Nicholas has been trailblazing that path even longer.
That's why freemiums are part of our backbone. We don't launch a digital magazine publishing system without an arsenal of freebies to use upon launch to start building an email list. Our publishing partners average a 2% email capture rate, but the industry as a whole is closer to a dismal 0.01%.
If, during a given month, you have 100,000 unique visitors arrive at your website (according to Google Analytics or a comparable measurement tool) and 2,000 of these unique visitors become new email subscribers through your freemiums (according to your email management program or service), your freemium conversion rate is 2% (2,000/100,000 = .02 or 2.0%).
We tend to think publishers have this task way easier than brands. When you subscribe to an email newsletter from a brand's blog, you might suspect that content isn't their priority. You'll download a freebie and may get subscribed to an array of marketing emails instead of receiving the type of content that caused you to sign up in the first place.
[text_ad]
On the other hand, people subscribe to a publisher's free content because they know they'll be getting more high-quality content. Even when they receive promotions, it will be related to the content they're reading (like, say, a magazine in the same niche).
It's not easy to convince someone you'll be sending them great content in exchange for their email address. People get enough email as it is, and they don't give up an active email address quickly. That's where incentives come in, and it's why freemiums are so important. If you don't have any freebies to give away when someone signs up for your email list, here's a list of our best posts about building them, promoting them, and improving your freemium conversion rate.
How to Use Website Architecture to Collect Email Addresses
This is our bread and butter; it gives you a quick rundown of how to capture more email addresses by building email capture into your site template in the most visible places.
35 Steps for Building an Email List With Freemiums
From the initial stages of keyword research, to building, launching, and promoting your freemium, this post offers a complete roadmap.
The Reason Why a Rapid Conversion Landing Page Exists
Don't slap your freebie sign-up form on a blank page with some fields to fill in. Add content as long as a traditional sales letter to help boost its rank in Google.
7 Ways to Create a Freemium That Attracts New Email Subscribers
This post shows you all the different ways you can recycle content into free reports and ebooks that you give away.
7 Types of Freemiums Publishers Give Away to Build an Email List
In an update to the previous post, this post gives publishers seven new ideas for creating brand new freemiums that go beyond ebooks and free reports, and include free tools and event presentations.
 10 Steps for Refreshing a Freemium During an SEO Slump
If your freemium attracts a lot of search traffic but has started to wither away, this post describes how you can give it a boost and get it back into traffic-generating mode.
The Best Advertorial Definition & Examples That Will Inspire You
In this post, you'll learn about how Stuart Hochwert of Prime Publishing created sponsored freemiums that generate tens of thousands of dollars, and he doesn't even need to create any of the content himself!
Use Website Floaters to Increase Email Conversion Rates
The most effective way to promote your freemium, with the highest conversion rates, are floaters.
The Anatomy of an OFIE: How Smart Publishers Collect Emails
Right behind Floaters, you'll want to make yourself familiar with Order Forms in Editorial. As mobile browsing takes over, OFIEs may take the place of the Floater when it comes to conversions.
Understanding the Freebie Content Business Model
If you have just one or two freemiums, meet the publishers who have ten, twenty, or more, and build their email lists that much faster because of it.
A Surprising Promotional Email Template That Builds Email Circulation
Discover how other publishers build email circulation by re-promoting new freemiums to their existing email lists.
I would love to hear your tips and ideas related to creating and promoting freemiums and what your freemium conversion rate is. Please leave a comment below.
This article was originally published in 2016 and has been updated.