Increase website traffic by using this handy tool to start Twitter conversations
As always, I've been researching new social media productivity tools that publishers can use to spend less time and be more affective at social media marketing.
One of my newest tools that is incredibly impressive is InboxQ.
If you were at the Mequoda Summit earlier this month, you would have heard me talk about how important it is to reach out to people. Waiting for people to come to you isn't going to gain you any new followers anytime fast. The more willing you are to reach out to new people, the bigger of a net you'll be able to cast.
My general philosophy is that we're on Twitter to be a resource. We do this by providing content for our subscribers. The next big step for being a valuable resource is to answer questions, and most of the time people wont be coming to you for an answer. Instead, you have to think outside of the box.
In my workshop at the Mequoda Summit, I suggested that publishers use Search.Twitter.com to look for specific questions. When the publisher sees a question they can answer, they can quickly answer and provide a link to a full article on the topic.
Someone asked in the workshop, if people would think that you're spamming them when you do this. My general rule of thumb is that if you're answering their question, they're not going to be mad about it. Just make sure that you're answering it with your resource.
So InboxQ automates this process for businesses. It comes in the form of a free browser plugin for Firefox and Google Chrome. When you start a "campaign", all you do is enter the keywords you want, and then InboxQ will deliver questions asked on Twitter that are using the keyword. From my own experience, I'd recommend using more specific keywords.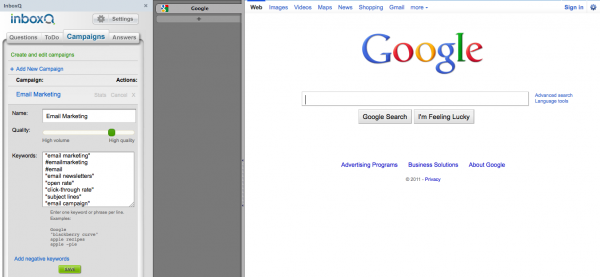 So once you've set your campaign, you'll now see (again, in the left column) all of the questions pertaining to the keywords you're looking at. In my search above, I started a campaign called "email marketing", which looks for people asking questions on that topic.
In my results, I see questions like:
What is the average click through rate for an email marketing campaign?
We are starting our email marketing very soon. What would you like to hear about and what would you not want to hear about?
Do you think there will be more Earth Day or Easter deals in email over the next few days? #emailmarketing
Is any local person producing a subscription based email newsletter? i.e. One that people actually pay for? #tweetni
Do you share your email newsletter via your social media channels? i.e. Tweet your newsletters out? #cmgrchat
Just got a B2B email newsletter and there is absolutely no way to click through to the website – what? Think I'll skip their tips.
First of all, that last "question" above is more of a statement, but gives us invaluable insight as publishers as to what the reader opinion is, without actually asking for it.
The rest of the questions are all things that we at Mequoda could respond to. Maybe we just give them the answer they're seeking, or if we have an article that answers their question, we might send them that too.
What I also love about this tool is that you can mark questions as "to-do's" so that you can come back and answer them later. InboxQ will also keep track of all your answers as well.
This really is an excellent tool that I'd recommend to publishers. Editors always cringe when I give them the "answer questions in twitter" to-do but this tool makes it a piece of cake.