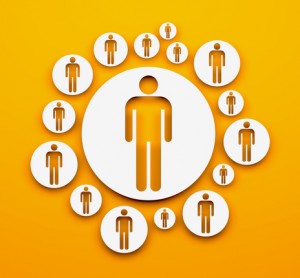 During the Mequoda Summit West 2012 we spent a lot of time listening to everyone's social media hopes, dreams, successes and frustrations. After tossing around everyone's most successful and least successful campaigns, one publisher noted that the ones that worked seemed very narcissistic. After a chuckle, we came to the consensus that social media is narcissistic, so catering to those tendencies with social media's most active users may in fact create the best response rates.
There are social networks that share everything from your minute-to-minute activities, to your credit card spending, to your photos, to your travel information. It's no wonder that, like a reality show, feeding into people's egos can be a brilliant way to build an audience.
And that's what we found to be a popular consensus at the Summit. The strategies that worked the best do in fact feed into the narcissism of social media. So now that we've put it all out there, let's get into the examples shared that brought us to this conclusion.
1. A photo contest that rewarded users with their picture in the magazine
One publisher noted their most successful traffic-driving campaign was a contest that didn't even provide any sort of monetary prize. The prize was simply to have the user's picture featured in the magazine. This contest was a big win for the publisher, and all they did was ask people to send or post photos to their Facebook page (which were related to the publication).
Not surprisingly, this is a popular strategy of TV marketing these days too. Shows like Glee feature a "Gleek of the Week" on-air every week to their most active social media fans. Fifteen minutes of fame seems to go a long way for getting users really engaged. Creating a user-generated issue of your magazine like Budget Travel did for their 10th anniversary (which was neither cheap nor easy) might be the golden ticket here if you're brave enough.
Also, after looking into it, I actually found quite a few magazine publishers using a variation of this strategy including CMYK magazine: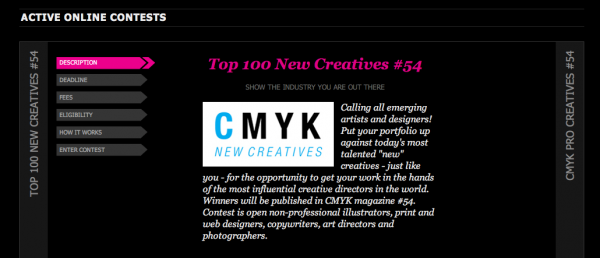 2. Posting partial content to prequalify users
Another savvy marketer shared that she's using snippets as teasers on each of her company's Facebook posts. Instead of using the post field to say something generic, she's actually pulling a sentence or two from the article. We discussed that this may actually pre-qualify users, since they're not responding to a snappy headline, but real content instead. Are these users more likely to take the next step when they reach the site, since they were baited with more intent?
This plays narcissism on the side of the user who's so overloaded with Facebook updates that only the "best" make the cut. You're catering to their need for more information before making a clickable decision, and in return you're getting lower bounce rates because you've pre-qualified your most active fans.
Again, upon research I was able to find a variety of publishers using this strategy, including the Wall Street Journal: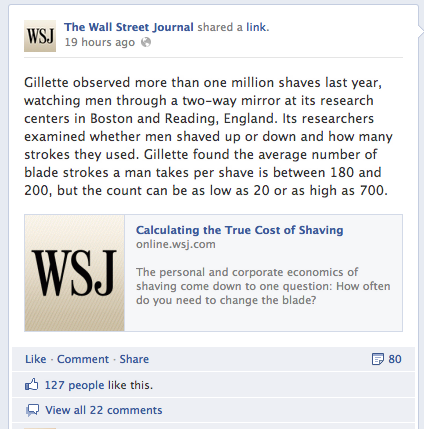 [text_ad]
3. Using the new timeline feature as a resource
Narcissism isn't only on the end of the consumer, either! This particular discussion was just that, a discussion. Since Timeline is so new, there's no real way to say what kind of impact this has other than branding, but it's certainly up for grabs.
Basically, the idea is that you could use Timeline to map out the history of your publication. One B2C marketer suggested adding old magazine covers to different years, so that when a user looked at your "history", they'd see an  index of nostalgic magazine covers.
Shockingly enough, I could already find publishers using this strategy, including The Spectator, who populates their timeline all the way back to 1828 when the magazine was founded, and includes every new managing editor and political stance they had through the years. Definitely worth looking at.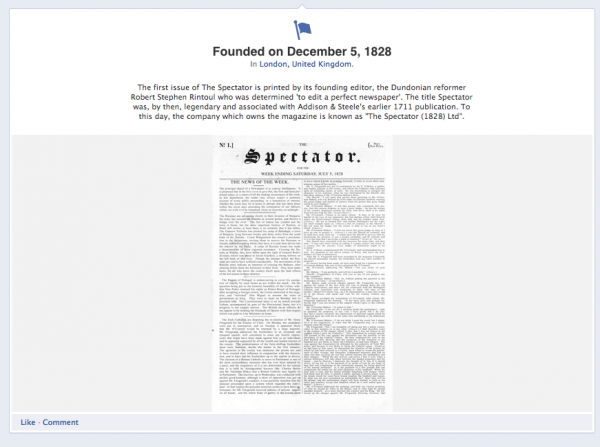 4. Generic ads and interest boosting "likes"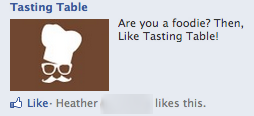 Another big topic discussed was that many are witnessing big brands creating generic Facebook interests (those topics users put in their profile as things they like to do) and then populating that feed with content from their publication.
For example, someone from a car magazine might create a new topic called "muscle cars" and when someone adds that they like muscle cars to their personal profile, it would not only auto-magically link to the page, but the user would also get updates from that page. Basically, every interest can also be a page, which can be updated by whoever claims it. If you cover a very specific niche, this might be an interesting thing to test.
This same strategy goes for getting people to like your page through Facebook Ads. One publisher created an ad to the tune of "Do you like [insert niche]? Like us!" and generated tens of thousands of likes with this generic campaign. This taps into the narcissism angle, because you're basically claiming to be all-knowing on a specific topic (and you are, yes?) and they want to share what they "like" with their Facebook friends.
5. Using @ to get re-tweets
Other publishers attested to the fact that giving virtual high-fives on Twitter was a great way to get re-tweets and build their audience. By "mentioning" industry experts in their tweets, the expert was more likely to mention them and re-tweet, thus getting the publisher's brand in front of an additional audience of possibly tens to thousands of more like-minded Twitter followers.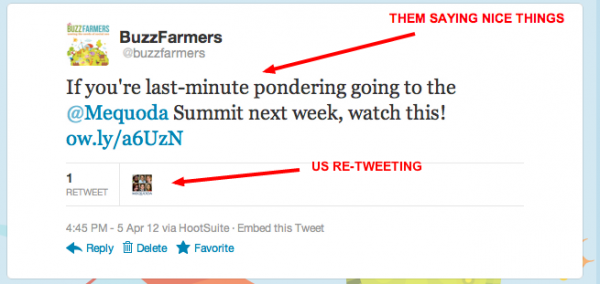 Since we talked so much about how publishers are using social media, it'd be a shame to leave out all of the other useful feedback mentioned at the Summit. Here's a slice of that giant two-day open discussion:
Twitter has been the most helpful for publishers looking to build a new audience for traffic, while Facebook is better for engagement. Scheduling tweets has become the norm (with something like Hootsuite) but there's a very black and white set of results. Regardless of B2B or B2C, some publishers are seeing great success while others simply are not. Coming up with a solid strategy is still the greatest challenge.
Facebook has been the least helpful at building audience, because many publishers are finding the people who subscribe to their email lists are the same who subscribe to their Facebook page. They may be generating revenue from these users, but most of the revenue is coming from email, not Facebook.
YouTube has proven little success for driving traffic for even the savviest publishers, due to YouTube's infrastructure that tries to keep users on YouTube. Publishers are using links in video descriptions, adding links to white papers and category pages in their sidebars and everything YouTube allows, but is still not a major traffic generator for most.
Pinterest strategies are still being carefully developed due to the respect for proper copyright. B2C publishers see the most opportunity, but B2B's aren't shying away just yet, after seeing what the Wall Street Journal is doing with their 4,095 followers, using a mix of images and pull-quotes.
Google+ is at the top of everyone's mind, but has been the least successful is sending traffic back to anyone's sites. There's a big mix of folks who are hopeful about what's rolling out in the next few months, and those who see it yet as another platform to master with little return as of now.
So now it's your turn. What's working for you? What's not working? Weigh in on the discussion by leaving your thoughts in the comments.
—
Originally published 4/17/12