It's no wonder Mother Earth News saw a 39x increase in revenues with such enlightened email tactics in design, strategy and community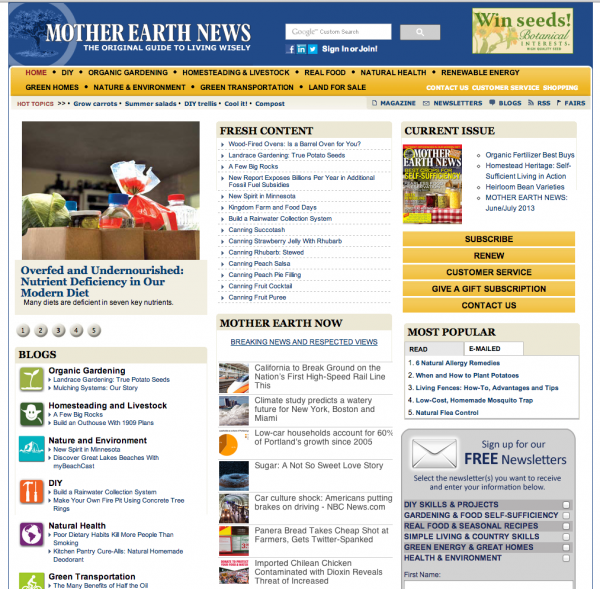 When Don and I first started talking about me analyzing the Mother Earth News email calendar, he called Bill Uhler, Director of Operations at Ogden Publications the "Pope of the Internet," and "the most organized guy" he knows.
He said conjuring up a visual representation of their editorial calendar would be a piece of cake. What he didn't tell me, or what I didn't infer from the "Pope" reference, is how well thought-out and enlightened their email plan really is. Brilliant, really.
Beyond what turned out to be a very strategically rotated email calendar, I found myself most impressed with their email template design and community-building tactics.
If you're not familiar with Mother Earth News, their tagline is "The Original Guide to Living Wisely" and their content is primarily about building a sustainable, self-reliant lifestyle.
Some of their newsletter topics are Gardening and Food Self-Sufficiency, and Real Food and Seasonal Recipes. Beyond food, they send out email newsletters about Green Energy and Great Homes as well as Simple Living and Country Skills. If you ever wanted to live off the grid to start farming and gardening for yourself, this publication would help you do that.
Mary recently gushed about how they increased revenues 70x in the past decade by giving away free content, optimizing it for search and then converting their many unique visitors into email subscribers by giving away free reports when they arrive. Yes indeed, they're using the Mequoda Method. We're so proud.
But it's after they've turned those visitors into email subscribers where they really excel. Mother Earth News has a knack for taking the next step and converting email subscribers into magazine subscribers, product buyers and event attendees. Let's talk about their super effective trifecta of design, strategy and community-building.
1. Design:
The Difference Between an Editorial and Promotion Email at MEN
Mother Earth News uses the snippet email template Monday, Wednesday and Friday to cover each of their topical editorial emails which are sent bi-weekly, alternating morning and afternoon time slots. All of the editorial emails look the same stylistically.
They have room for sponsored ads at the top of the email, in the right-hand rail and through hand-written ads that look like snippets at the bottom of the email. These snippets are labeled as advertisements like they're supposed to, but they but blend in seamlessly with the rest of the template. I think "native advertising" is what the kids are calling it these days?
In the ad slots that have no sponsors, they simply promote their own products. And there's always a call to action for their magazine at the top of the right rail, ready to be clicked.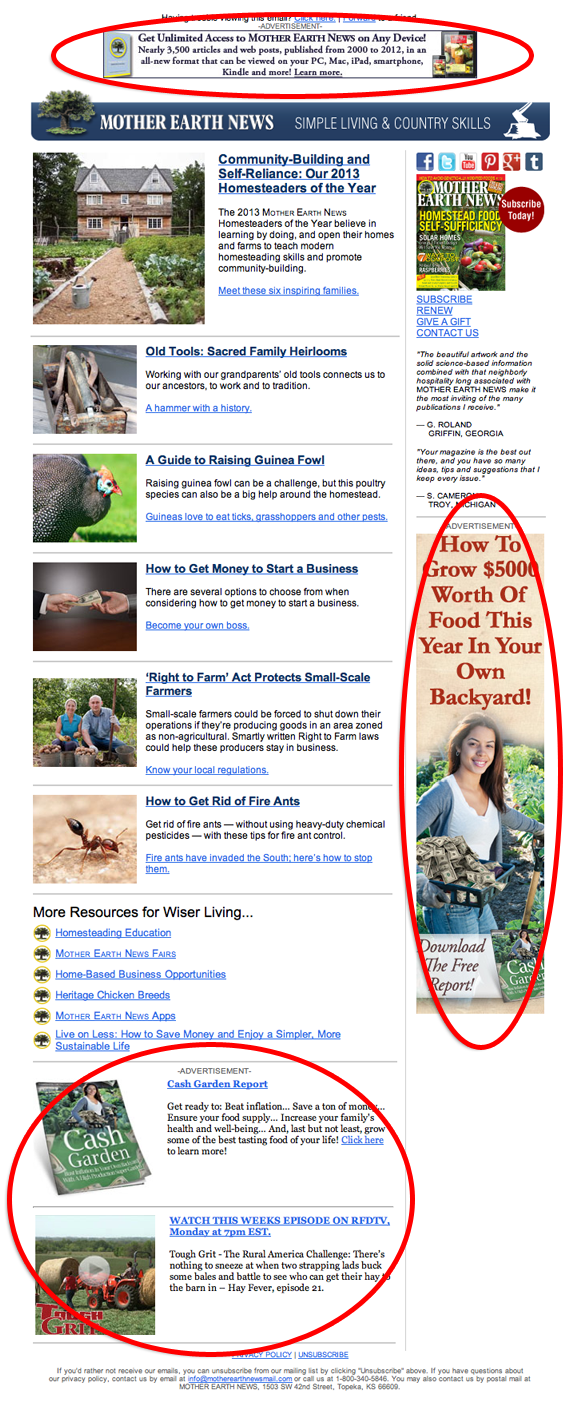 My favorite thing about their editorial template, in terms of generating revenue, is the way they've integrated native advertising. The reason why Google ads work so well is because they're contextual and text-based. This is just the natural progression of contextual advertising and MEN does it well.
Promotional emails at MEN are sent with the most regularity on Mondays and Tuesdays, however there's one email that was always sitting in my inbox at 7am every Monday morning and that's the promotion for their traveling Mother Earth News Fair.
On other days I got the usual mailings to subscribe to Mother Earth News, Mother Earth Living and Grit, but you can tell by the consistency of their Fair email that it's deemed most important.
The Fair emails are, actually, very much like editorial emails. In fact, they're very much like landing pages.
In the Fair promotional email template, they feature a news update about the event as their lead.
Then, below it, they have descriptions of the different workshops at their events that link to their respective pages.
If they didn't have such an obvious promotional header (perfectly designed if you ask me) you'd think this was an editorial email until you started clicking the links. Every link in this email is promotional, which makes it a logical extension of their event site but styled in an appealing editorial kind of way.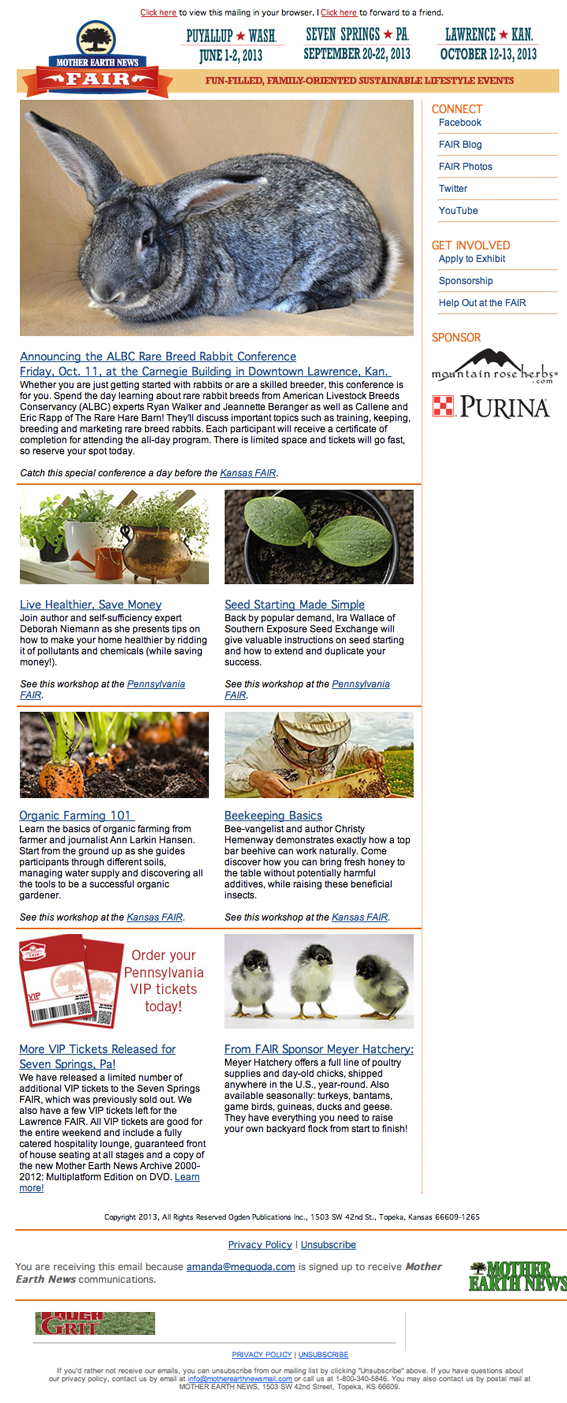 And when it comes to straight up promotion-y promotions, MEN uses a familiar format and rotates between long-form promotional copy and short copy.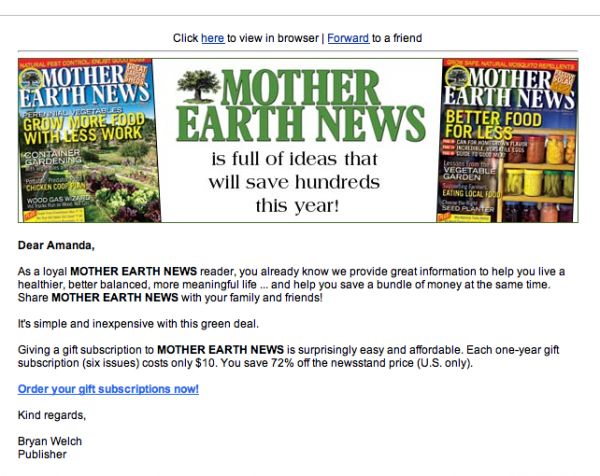 2. Strategy:
Email Schedule and Frequency
MEN excels at converting visitors into email subscribers and then converting those subscribers into buyers by having a fairly nailed down editorial calendar. For the last several weeks, this is the email calendar I've been able to cook up.
It is, in theory, a four week calendar mashed together for the sake of simplifying.
There are six editorial email newsletters, but only three go out every week.
One week you'll get Health, Simple Living and Green Energy emails on Monday, Wednesday and Friday.
The next week you'll get Real Food, DIY Skills and Gardening emails on the same days.
Beyond that, they also rotate between sending in the AM and in the PM on opposite weeks.
The only email sent with exact precision is Monday's Mother Earth News Fair promo, which arrives at 7am every Monday.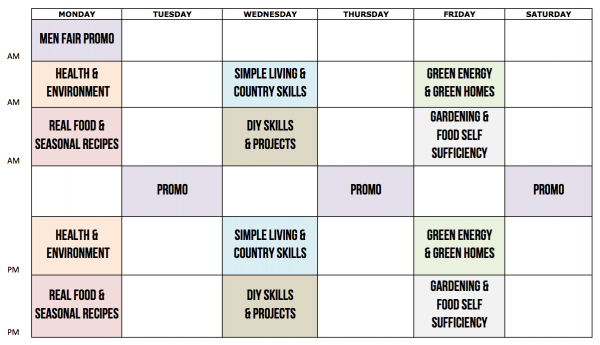 How MEN Emails Make Money
Their emails have a good run of banner advertising that are 3rd party sponsorships, mixed with a good array of product-oriented (internal) sponsorships. In terms of selling advertising, it appears that they sell all the slots they can, and use their own products fill up the remnants.
It's a nice sponsor / product revenue split actually, because while some publishers get rich selling just their own products, MEN has no trouble using their own inventory to fill ad slots and do both.
On Mondays they sell tickets to their Fair, and the rest of the week they're sending promos about their different magazines and products. If they sent me a third-party advertisement, I never noticed it.
In their editorial emails, they're selling ad space in the form of banner ads and native advertisement. I'd love to know the difference in price between the two ad slots now that native advertising is becoming a premium sponsorship opportunity.
3. Community-Building:
A Nice Bonus
Something that I witnessed during my time as an email observer was their innate ability to build loyalty with readers. For example, as member of the Editorial Advisory Group email list, I was sent an email asking me to vote on the upcoming cover and sell line. They have several other "Advisory" groups that ask their readers to weigh in on surveys that help them create better products.
On another day, when MEN sent out an email with an incorrect link, they sent it out again, starting the subject line with "Oops! We fixed it."

There's nothing I enjoy more from a brand or publication than a little humility. Trust me, I've sent out a broken link once or twice and have sent out a rogue email exactly three times (I know these exact numbers because I've had exactly three mini heart attacks!) Saying "Oops" is OK in my book. Anyone responsible for hitting the "send" button on emails that go out to thousands of people deserves a deep tissue massage at least once per month.
Overall, I think their calendar is strategic. By rotating AM and PM emails they're able to see which ones perform better. And, by rotating topics in a bi-weekly fashion, they are probably keeping email subscribers on their lists longer by not bombarding them with multiple emails per day, even if they're subscribed to all six.
As I mentioned earlier, I'm most impressed with their email templates. They offer solid options for advertisers in their editorial template, and make do with the space when they don't sell it by leveraging their own products. And my favorite out of all this is their Fair promotional email which looks so editorial that you can't help but click the links. Publishers who produce events can learn a lot by studying those emails (I'm taking copious notes!).
What have you learned from what MEN has built into this intensely strategic email plan?