New York magazine may have discovered that aggressive segmentation and cross-pollination are the keys to a large and profitable email list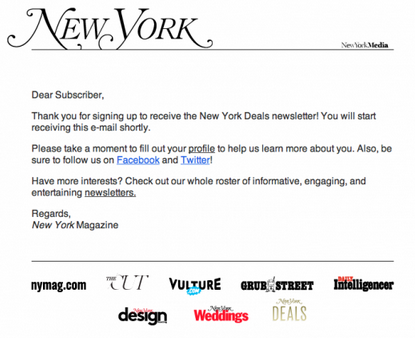 New York magazine has become one of our favorites around here. And not just because their iPad app is one of the more impressive ones we've seen, but also because we keep watching them innovate.
Lately we've been analyzing the email calendars of our favorite magazine brands to discover any trends in consistency timing and promotional efforts. We decided to do New York this week because they have a robust editorial calendar, and until I started this case study, I didn't realize just how robust, or how smart.
Now, let's get started.
Getting on their email list
One thing that I always find with non-Mequoda magazine publishers is that they hide their newsletter subscription boxes. On the homepage of NYMag.com, the focus is most definitely on the content first, then, often bolded in red, calls to action that ask the reader to subscribe to their magazine.
As a digital native, I see the words "subscribe" and think e-mail newsletter, although I don't think I'm part of the majority with that one. New York most definitely is referring to their magazine subscription with this term, which is highlighted in red in several places on their homepage.
Being a smartypants, but not being able to find anywhere to subscribe to their email newsletters anywhere on the homepage, I scrolled to the bottom of the page. There, in 10ish point font in the footer was a link dubbed Newsletters.

But, hope isn't lost. New York gets it done on article pages which is where most users either start or end up anyway. On individual article pages you can count on a pop-up for a freemium that asks for your email. On their niche blogs, like the Daily Intelligencer, they have email sign-ups in the right side bar. Great.

The New York Magazine editorial email calendar
New York has a large collection of email lists, 13 to be exact. And to be on all 13 of them means that you'll hear from New York anywhere between five and eight times per day.
Below you'll find their editorial emails, six of them. That's right, six out of 13 are editorial, the rest are promotional. More on that later.
I'm most interested, from an outside perspective, as to why they chose the times they did for different editorial newsletters. You'll find that all of their editorial newsletters are sent between 3:30 pm and 5:30 pm.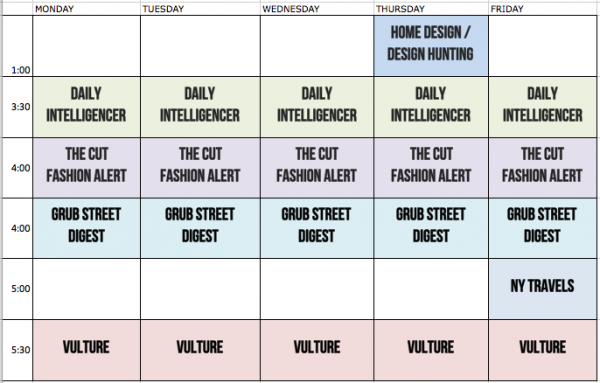 Here's all you need to know about these emails:
DAILY INTELLIGENCER (DAILY, M-F)
This is their newsy newsletter. It rounds up the local daily news stories in business, real estate and everything else that happened in New York (the city, not the magazine) that day. They call this a "late afternoon digest", but it's actually the earliest editorial email they send, at 3:30 pm. A skyscraper ad on the right-hand side of the email is the only one you'll find.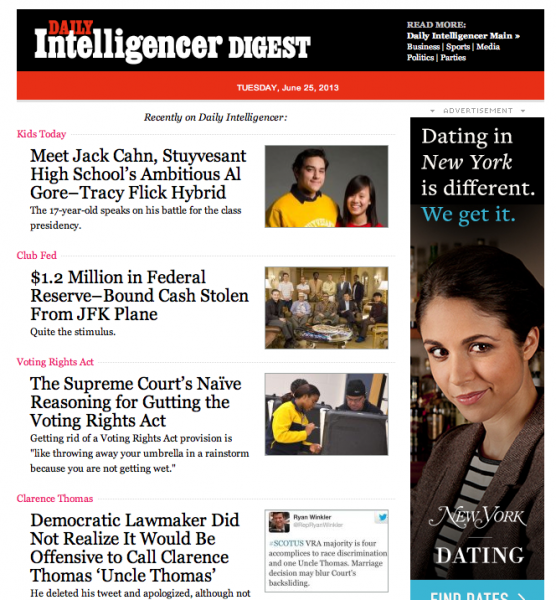 THE CUT FASHION ALERT (DAILY, M-F)
This daily newsletter features updates from their Cut blog which dishes the latest fashion, beauty and shopping news. It's sent Monday through Friday at 4 pm. The square ad in this newsletter switches between promoting a sponsor and promoting a New York magazine app.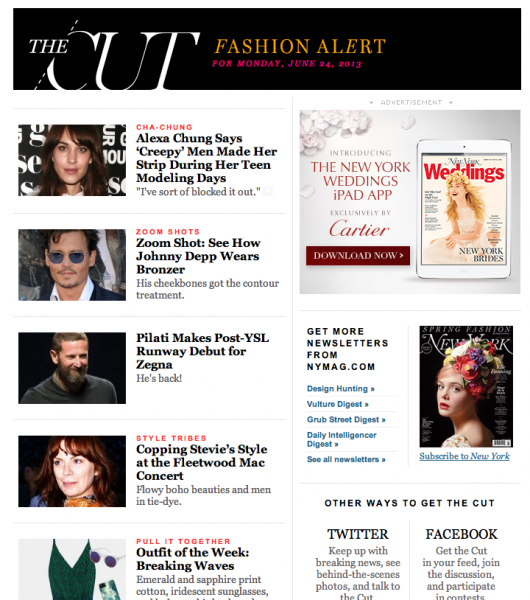 GRUB STREET DIGEST (DAILY, M-F)
This foodie newsletter covers everything that happened that day on the Grub Street blog. All of the newsletters sending times were consistent except for Grub Street. The most consistent time I could find was 4 pm, though I had several that entered my inbox at 6 pm and one even at 7 pm.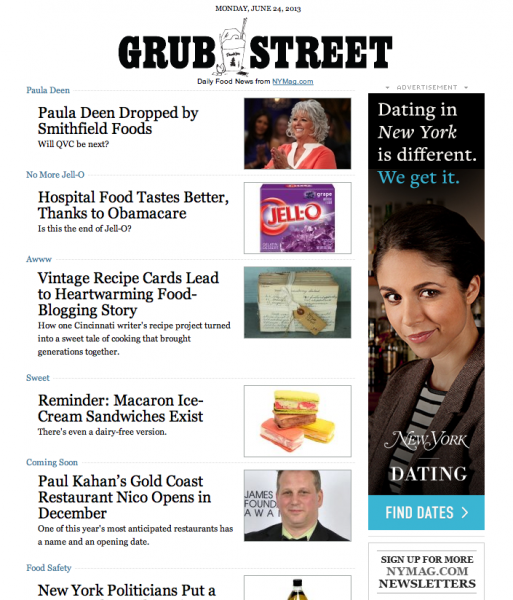 HOME DESIGN (WEEKLY)
This weekly newsletter gives "inside access to the city's most exciting homes, design studios, and parties," written by New York magazine's Design Editor Wendy Goodman. On the right-hand side of their email newsletter you can see that they have the standard skyscraper, but below they also have a product of the week, which goes to what I assume is a second sponsor although it doesn't explicitly say "advertisement" above the second one.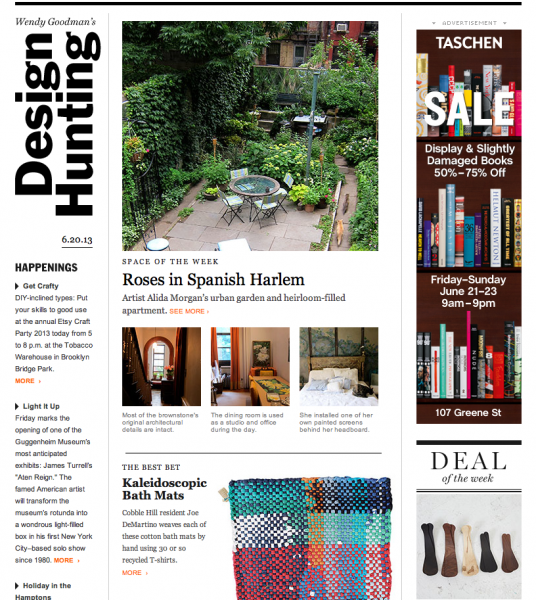 NEW YORK TRAVELS (WEEKLY)
This weekly newsletter is semi-promotional in that it features on main sponsor who gets real estate in the right nav and also above the fold. This email is sent on Fridays at 5 pm, the perfect timing for an email newsletter that covers weekend travel escapes. This is the most cohesively sponsored email I've seen. They have two ad positions and both of them are exclusively owned by the sponsor. And you can tell that they're hard at work on this email because there's a direct call-to-action at the bottom for interested advertisers.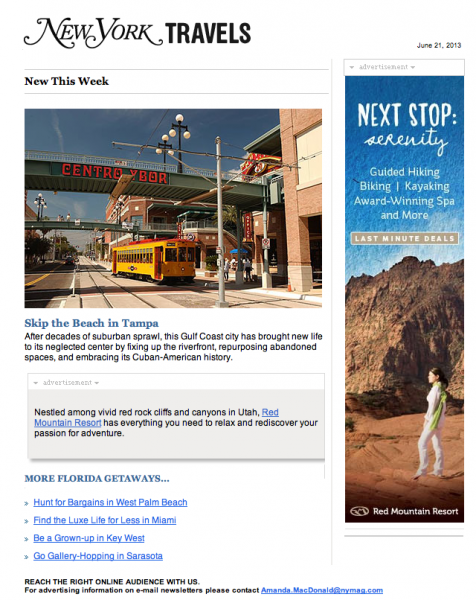 VULTURE (DAILY, M-F)
Vulture is their version of an entertainment update, sent every day at 5:30 pm. They also send a promotion under the same "from line" on Tuesdays at 3 pm.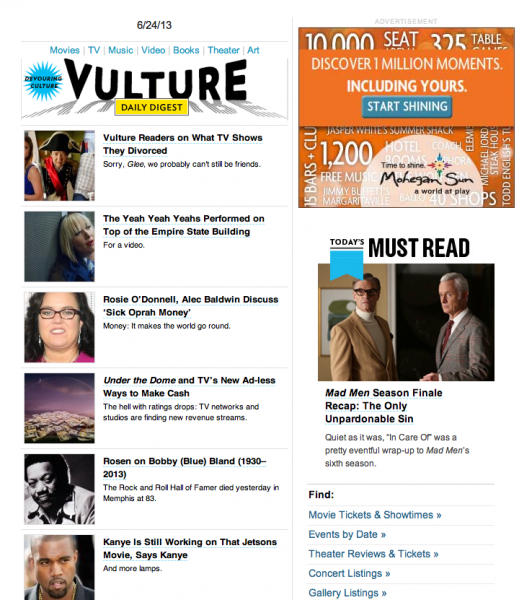 Editorial emails don't take much advertising. Most have one large skyscraper ad to the right, and one contextual ad within the content for a sponsor. The New York Travels newsletter sells both ad spots to one sponsor, which is a practice we recommend. Exclusive sponsorship to an email or website category brings in higher ad revenues and sponsor loyalty.
The New York Magazine promotional email calendar
I tried to find consistency in their promotional calendar but it just wasn't there. What I did learn is this:
Most promotional emails are sent between 10 am and noon, as opposed to editorial emails which are sent between 3:30 pm and 5:30 pm. The one exception is the New York Deals newsletter, which gets sent out at 4:40 every day.
Vulture has a fairly regular editorial calendar at 5:30pm, and their Vulture promotions are sent earlier in the day, on Tuesdays at 3 pm.
Sponsored, non-editorial emails cross-pollinate at times. On one Wednesday I got two emails at noon, one from A-List and one from Special Offers. Both used the same image to promote Cartier wedding bands. Strangely enough, I didn't get the same promotion from their Weddings list.
In their descriptions for the Events, A-List and Special Offers lists they use the phrase "No particular schedule" and they mean it. You can count on the emails being sent between 10 am and noon, but they're sent on totally random days.
They do favor Tuesdays and Thursdays. The only day I didn't receive a promo was Sunday.
New York Deals is the only consistent promotion. It gets sent at 4:40 pm every Monday through Friday, which makes it oddball timing for a promotion according to their typical morning calendar.
Nine percent of promotional emails sent promoted a New York Magazine product (such as the digital magazine); the rest were promotions, usually with an image or copy provided by the sponsor.
Cross-pollination is a win
I don't have any proof of it, but I'd bet that a big asset in all of their email newsletters (otherwise why would it be in all of them) is the ad block that promotes the other email newsletters. Here are some examples of how they promote other email newsletters within the emails they send out: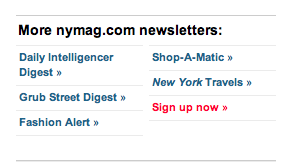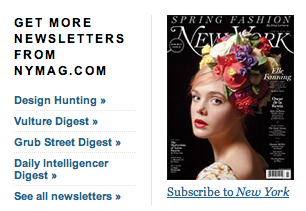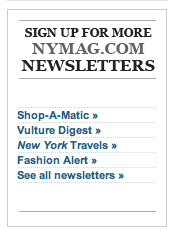 We've seen this same strategy at Interweave across their craft brands. Because let's face it, we all have more than one interest or hobby, right? So why wouldn't be subscribe to more than one email newsletter from a brand we love?
New York also cross-pollinates ads for their apps in place of a sponsor. This ad for the Weddings app was featured in an email issue of The Cut.
Other things I noticed:
Anything non-promotional sends out using the same "from" name as the name of the newsletter.
Anything promotional sends out with the "from" name New York Magazine, even though they have names for their promotional newsletters: Events and Special Offers. This may be intended to use brand recognition and increase open rates on these types of emails.
What you can learn from New York
The one other thing (other than cross-pollination) that I think New York does especially well is segmenting their lists; also, hiding the fact that most of them are promotional. Who needs boatloads of sponsors in your editorial emails when you've got seven promotional emails, right? Especially when on any given day you might be sending out three or four of them.
Maybe that's not exact, but out of all the email segments I've received from New York, only six of them were editorial. The rest were all promotions and one was a cleverly disguised advertorial. So, six out of 13 email newsletters are, I think, promotional emails. At least most of the time.
Their NY Travels newsletter I found to be a great example of email marketing. It puts into practice something we're always trying to teach: Sell exclusive sponsorships in your email newsletters. Let them have the whole shebang. The only thing more valuable than an ad in an email is exclusive sponsorship of the whole email.
The only thing I'd have changed about the email you saw earlier for NY Travels is that their featured article is about beaches in Florida and their sponsor is Red Mountain Resort in Utah. Sort of a disconnect, no?
Instead, create excitement with the article and then encourage that excitement with a related sponsor (like a resort in Florida) to make for happier sponsors and also happier readers. After all, you're doing them a service by helping them find the "tool" (hotel) they need to accomplish the "task" (visit Florida).
Is there anything else you picked up from their emails and editorial calendar? Let's discuss in the comments.