Why StumbleUpon might be just as important to your social media strategy as Facebook and Twitter
Late last night, Garrett Camp, Founder and CEO of the bookmark-sharing social network StumbleUpon announced on Twitter that they "just surpassed Facebook as the #1 source of social media traffic in the US".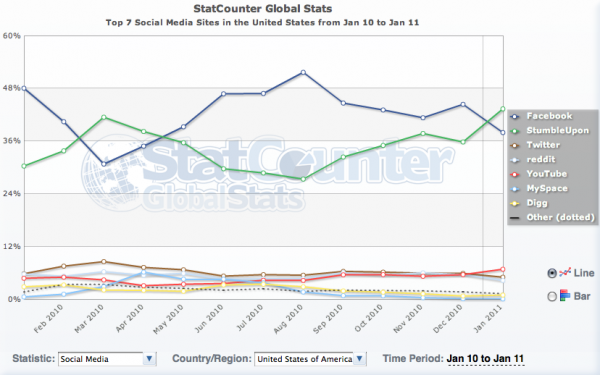 StumbleUpon has been around just about as long as Twitter and was considered by ReadWriteWeb as "The Silent Social Media Success Story" with over 10 million users.

Both a bookmarking site and search engine, StumbleUpon prides itself on "people-generated search", which they define like this:
"Using a combination of human opinions and machine learning to immediately deliver relevant content, StumbleUpon presents only web sites that have been suggested by other like-minded Stumblers. Each time the 'Stumble' button is clicked, the user is presented with a high quality web site based on the collective opinions of other like-minded web surfers."
[text_ad]
I've personally seen StumbleUpon be a large traffic generator for many sites, especially for small niche businesses that might not have gotten seen due to their lack of a beefy online reputation like larger blogs have.
The results in StumbleUpon, as a search engine, are sites that other people have submitted. More than that, the results are tailored to preferences that you've developed as you've used the system. If you're not getting the exact results you want, then you need only do a few more searches to tailor future results to you.
Beyond this, it acts as a time-waster (much like Facebook) by letting you "Stumble" pages that you're not searching for, but might find interesting anyway.
Want to read a random article about Travel that other people on StumbleUpon thought was great? Simply hit "Stumble" in the travel section and you're on your way. Want another one? Simply "Stumble" again.
If you're already using social bookmarking sites like Digg to distribute your articles, StumbleUpon is another one to add to the arsenal. Like most communities, it's appreciated that you share more than just your own articles, so prepare to join another social network.