So, you're the keyword checker in your publishing company. Maybe you're the editor, who writes blog posts and optimizes them for the web. Or maybe you're the analyst who compiles the keywords for the editors and copywriters to use. Either way, your sacred title of keyword checker comes with great responsibility to help your business improve and get more traffic from your research. And not just new content either, so keep reading.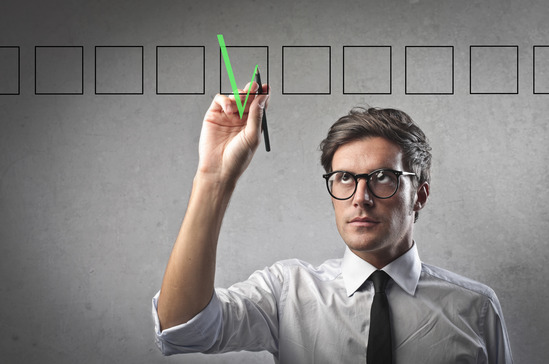 Keyword checker task #1:
Find out what keywords your competitors are using
All online publishers and content producers should know who their biggest competitors are. Go to the websites of your biggest competitors and pay close attention to the source code, topics they cover and search tags. Many of these pieces of content will relate to your audience as well. It will be obvious if they're not optimizing at all, and you'll quickly know whether or not you have an advantage.
Ahrefs.com is the "best tool to spy on your competitor's keywords". Ahref will let you use up to five queries as an unregistered user. Create a free account to get 15 queries per day. Just enter a competitor's URL, click the "Search Keywords" button, click on the "Keywords" tab underneath the Organic section and bask in the glorious data.
Keyword checker task #2:
Find out which keywords you're already ranking for
Google Analytics (or the tool that you use for analytics) is your first go-to because it's the most accurate. We use Google Analytics and it's pretty easy to find your top keywords. Start with Standard Reporting > Traffic Sources > Overview.
Alexa offers a list of your top keywords, measured by how impactful they are to your website. Alexa also tells us whether our top keywords are increasing in search volume, or if they're dying off. A news organization that posts more timely content is likely to see much steeper decline rates as some news gets old and new stories gain traction.
SEMrush.com gives you top keywords that drive traffic to your site from the perspective of PPC. This is valuable because you can see how much the keywords you're ranking for organically (free) are worth as paid ads placing a sort of monetary value on your SEO efforts.
For more on this, read how to find your top keywords with Google Analytics.
[text_ad]
Keyword checker task #3:
Find out new keywords you could be ranking for
The best part of building your Keyword Universe is that you can do it for free. You can use the Google Keyword Tool to compile your keywords. Then, you can export that list into a categorized spreadsheet. We choose keywords based on "exact match" to get more accurate search counts. If you're a Mequoda Pro member, watch Keyword Research Step-by-Step on demand for a detailed outline of how to do this.
Keyword checker task #4:
See how hard it is to rank on those new keywords
Perform a search with quotes around your keyword to display exact term search results. Google likes to mix in relevant keywords in a basic search. By performing an exact search, you'll narrow your results to just other articles and pages that are targeting your exact keywords. Ideal keywords for us typically have less than 100,000 competing pages. This goes for any publisher launching new websites.
Keyword checker task #5:
Compile a list of all the new keywords you want to use or pass on to your editors
A keyword universe is comprised of every word that can bring awareness to your website. These keywords are found through the above methods and need to be the phrases your potential audience is searching for, and ones that categorize the content on your website. If you add a keyword phrase into your Keyword Universe then you should have corresponding content about it on your website.
Mequoda's Managing Editor Chris Sturk says, "Frankly, if you don't have a keyword universe, you need to build one for the most efficient audience development online. A keyword universe will put all your keywords in one location and help with your SEO process. It will direct all of your organization members to the most important words associated with your online content. All online editors should have a copy of the keyword universe in front of them while planning and writing editorial content."
Have a meeting with your content producers, editors and all employees that understand your core content. Show them your new, robust keyword universe and let them sift through keywords to determine which ones make sense. Also, have these individuals brainstorm in order to determine any possible keywords your keyword universe is lacking.
Keyword checker task #6:
Identify unoptimized blog posts on your site that could be optimized
Once you've passed the keywords to your editors, they'll be able to start writing great content based on your keyword research. Still, there's probably tons of blog posts already on your blog that aren't optimized at all. Go through your blog and try to match old blog posts with new keywords that you can re-title. If you re-title them, go ahead and re-promote them on social media too – that will give them a refresher in the eyes of Google and you might start seeing new traffic to the site based on old content with sparkling new keywords.
Do you have a unique strategy for checking and implementing keywords? Share your methods in the comments…