The rise in mobile is increasing email usage
Email evangelists have a new reason to step up onto their soapbox and preach the good word of email.
Not to say there was ever a doubt, but with the growth of social media, added attention to paid media and attempts to constantly optimize all website content, some online publishers may overlook their email programs while prioritizing time.
However, new data from Return Path emphasizes the value of a medium once thought to be on the decline.
The "Mobile, Webmail, Desktops: Where Are We Viewing Email Now?" study takes into account data from April 2011 to September 2011. The study "examines rapidly shifting trends and provides recommendations to help marketers better understand their increasingly complex landscape for communicating with customers and prospects."
These following three reasons from Return Path illustrate why email's growth is important, and how it will likely remain this way for years to come.
Three reasons to maintain focus on email marketing efforts
The use of mobile devices to view email grew by 34%: With more mobile devices in the market, the viewing of email on these devices may continue to grow in the years to come.
Additionally, opens associated with desktop and webmail have decreased by 9.5% and 11% respectively.
iPads are being used more to view email: Tablet devices, particularly the iPad, have changed the way content is consumed in a relatively small amount of time. One such instance is the iPad's effect on email. According to the study, email views on the iPad increased by 73% throughout the duration of the data collection. The launch of the iPad 2 helped these numbers climb consistently.
Mobile email is used more than desktop and webmail every day of the week except Monday: Due to its portability, mobile email is being used more than any other platform, especially on the weekends. Desktop email is used more only on Mondays, assumingly due to the start of the workweek.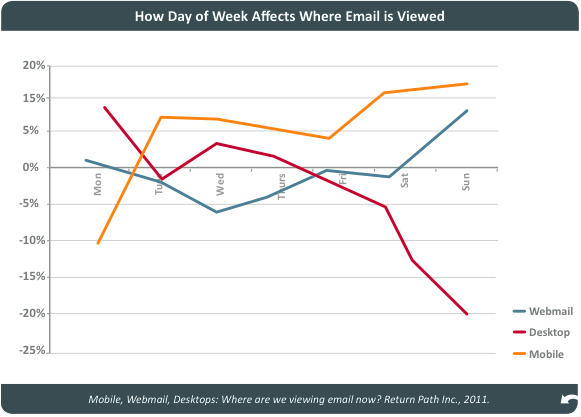 Taking advantage of email marketing opportunities in 2012
Due to increases in mobile email usage, it's important to forge a plan for email campaigns in 2012. Here are a few tips to keep in mind.
Tip #1: Remain top of mind. People receive a lot of email, so the point here is to stay relative and on the mind of your readers. We all want our open rates and conversion rates to remain steady or increase. However, simply getting your email to an inbox helps the recipient remember your brand, even if they aren't always actively engaging with your content. Keep a consistent email calendar throughout 2012 to stay at the top of your audience's mind.
Tip #2: Stay social. If you aren't providing email content that links back to your blog and incorporates social media interactivity, you need to do so. Do not forget the calls to action so readers know you want to hear from them.
Tip #3: Content selection. Provide content through email that your audience cannot get in other places, or content that is given to email recipients before others. This provides an incentive for recipients to remain on your email list.
Tip #4: Optimize your content for mobile. Consider the mobile device usage methods; smartphone screens are smaller and tablets are used for interactive, media-rich consumption. Insert those qualities into your email campaigns when possible.
How do you plan on altering your email strategy to better accommodate mobile in 2012? I'd love to read your thoughts in the comments below.