The art of audience development blogging requires great service journalism wrapped around a best-selling product
While audience development blogging can take many formats, I teach my clients three basic templates to begin a new blogging program. A typical blog calendar might go for as little as four weeks to as many as 26 weeks. It might involve just a handful of best-selling products, or as many as 50. The process of developing an audience development master calendar always starts with identifying the organization's bestsellers, or potential bestsellers. Most of my clients are selling information products: magazines, newsletters, website, videos, books, event and dozens of other lesser used formats. Some are selling other people's products: travel, investing, and even consumer-packaged goods. Content marketing, the art of using content to sell products and services, can be used effectively to sell anything from Pampers to jet planes.
My three favorite blog formats
The news alert is always the anchor effort in any audience development blogging program I develop. The research is simple: we identify the core topics that are tied to our bestsellers, create Google alerts for each of them, and use that research to create a value-add news story that is both "ripped from the headlines" and directly related to the best-selling product I ultimately desire to sell. Whether the topic is negotiation, the brother of Jesus, or knitting socks, I can always count on Google alerts to give me a news peg to start my cycle.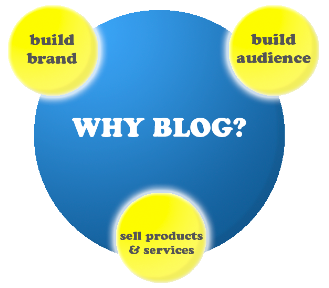 Next, I go to the tried-and-true product review format. Because I will promote the same product many times over the course of a year, I will always niche down and choose some part of the product to review for a given blog post. If I'm reviewing a book, it might be a chapter. If it's a magazine, I'd review one of the articles. If it's a how-to video, I'll focus in on a particular technique or tip and support it with a video clip.
For my third effort, the gloves come off. Now it's time for some bare knuckled selling. Using any number of classic direct marketing sales letter formats, I am now going to write a blog effort designed to convince the recipient to take action and buy my product or service today, or to complete a lead generation form for a more complex sale.
Harvard Program on Negotiation in beta
To see the above formats in action, you can simply subscribe to any of our Gold Member websites and experience them delivered to your email inbox. You will see many variations on the above theme, but most of my clients continue to use some combination of the above three classic formats.
Our latest program is in beta for the Program on Negotiation at Harvard Law School. I love using it to teach, as the three efforts are currently running back-to-back on Monday, Tuesday, and Wednesday. While Harvard has hundreds of information products, you'll find that less than 10 bestsellers are regularly promoted, led by their flagship event, Negotiation & Leadership.
While the staff running the blog at PON is new, there is a veteran marketer at the wheel. My spouse, Gail Odeneal, took over marketing for PON last fall and is slowly working her magic on all their programs. As you may know, Gail and I met almost 30 years ago when she hired me as a direct marketing consultant. At the time she was running direct marketing for IDG's internal agency. Gail also served as my Chief Marketing Officer at Blue Dolphin Magazines where we launched 47 Mequoda Systems in 2001 and 2002. And as anyone who knows us will tell you, Gail and I get along best when I'm working for her. Some things are just meant to be.
Happy Blogging!