Last chance to save when you join us next Wednesday to learn about Twitter from BusinessWeek, Dream of Italy, and USAToday
If you've been using Twitter as a social media marketing channel in your business, or if you're considering using it as a new marketing tool, we've put together an event for magazine, newsletter and newspaper publishers.
In fact we have three guest speakers from each, who will be joining us and sharing the strategies behind their own Twitter efforts.
While Mequoda will also be presenting case studies and research, here are just a few questions that we've asked our guest speakers to answer from their own experience using Twitter:
How are you using Twitter in your online publishing business? Customer service? Marketing? Lead Generation? All three?
Has Twitter proven itself as a legitimate marketing channel? How?
What have been your successes and failures using Twitter?
What tools do you use to track your Twitter success? What do you consider "success"?
What key metrics do you track? How did you determine what to measure?
How often do you update? What types of tweets do you send?
How are you tweeting differently from others in your niche?
Our guests of honor
We have three guest speakers we're proud to announce for this webinar.
We've brought together magazine, newsletter and newspaper publishers who are serving their niches impressively with their use of Twitter.
Representing MAGAZINES, we have Shirley Brady, Community Editor, BusinessWeek.

Shirley Brady is BusinessWeek.com's first community editor. Before joining BusinessWeek in June 2008, she was a writer and editor for the trade magazine CableWorld, where she launched and managed its Web site, Cable360.net. Shirley joined CableWorld from Time Inc., where she was a New York-based writer for People magazine and the Hong Kong-based travel editor for TIME Asia. She also has worked in TV, including writing and producing weekly series for TVOntario and Discovery Channel Asia.
Follow Shirley on Twitter at @shirleybrady and @bwbx.
Representing NEWSPAPERS, we have Brian Dresher, Acquisition Marketing Manager, USATODAY.com.

Brian Dresher is part of USATODAY.com's Online Marketing team and he's responsible for customer acquisition initiatives, which include content distribution partnerships, RSS, widgets, podcasts, video, instant messaging, and social networking. As a result of these efforts, Brian has helped to bring new users to USATODAY.com and subsequently increase traffic on the site.
Most recently, his efforts have been focused on increasing USATODAY.com's presence on Twitter and Facebook. By working with USATODAY.com staff to effectively and productively participate in those communities, Brian has helped to increase USATODAY.com's brand awareness, user engagement, and traffic.
You can keep up with Brian's latest updates on the DC-area, running, traveling, USATODAY.com, and social media by following him on Twitter at @bdresher.
Representing NEWSLETTERS, we have Kathy McCabe, Editor, Dream of Italy.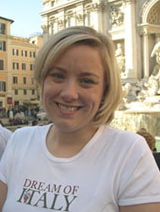 Kathy McCabe is the editor and publisher of the award-winning subscription travel newsletter, Dream of Italy. McCabe founded the print and online publication in 2002. The newsletter covers everything from villa rentals and cooking schools to museums and shopping for the discerning traveler to Italy. Dream of Italy has been featured by USA TODAY, National Geographic Traveler, U.S. News and World Report, ABC News and more and McCabe has shared her travel expertise with numerous media outlets.
Tweeting as @dreamofitaly, McCabe has made been named one of "50 Great Travel Tweeters" by The Telegraph (U.K.) and "50 Travel Twitterers You Should Follow" by Elliott.org.
Twitter for Publishers will be held for 90 minutes on July 29th at 12:30 PM Eastern, and you can have as many colleagues in the room with you as you want—which will decrease the average admission cost for each person you invite!
Register now to attend Twitter for Publishers at our final early-bird price, which expires TOMORROW.
By the way, if you can't attend, you can order the CD instead!