Stuart Hochwert, CEO of Prime Publishing, shares a successful strategy for gaining page rank
It isn't just speculation that user generated content helps drive ranking…we've seen the proof.
Stuart Hochwert, CEO of Prime Publishing and a Mequoda Gold Member, recently shared an interesting story of his success with user generated content.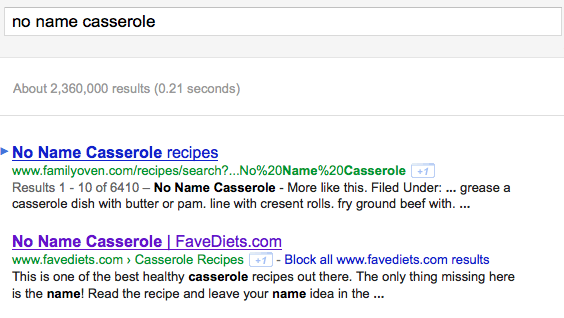 In this instance, his team asked newsletter readers to help name a recipe. By starting the conversation and asking interested parties to respond, the article quickly had 27 comments. These comments propelled the article to the number two position in organic search results for the targeted keyword phrase.
To learn more about this, and the FaveDiets website, I asked Stewart a few follow-up questions…his answers are below.
Who reads FaveDiets and what's in it for them?
Our main recipe food site is RecipeLion.com. We started FaveDiets.com 18 months ago as a site for 'ordinary recipes made lighter'. It is not a diet or health site, just a site where you can find and make healthier and/or lighter recipes. A consumer can search for recipes, download free recipe eCookbooks, subscribe to our free email newsletter, watch our free recipe and how-to videos on our site and YouTube and interact via social media.
How does FaveDiets make money for you?
Of all of our 18 craft and recipe websites, we have the toughest time with FaveDiets.com. We are putting the final touches on a re-launch campaign for Q1, 2012. That said, we are advertising supported.
Where did the idea for the post originate?
Our editors look at weekly open and click reports to see what readers like and don't like. Our editor Matt Kaplan saw something that caught his eye.
Where did the content originate?
Matt Kaplan took a recipe from our sister site RecipeLion, made some ingredient substitutions, made the recipe, modified the instructions, photographed the recipe and inspired the readers with a healthier version of a popular recipe.
How did you communicate the success to your team?
We have been focusing on trying to generate more comments on all of our sites. This 'No Name' concept where the readers help us name a project or recipe was tried on another site we operate a week before with much success. Each editor prepares a weekly report using statistical analysis each Tuesday. Every Friday each editor prepares a weekly report showing goals achieved. The individual site reports are shared with the entire team. Matt jumped on the idea he learned about in a Tuesday report that was then discussed at the food team's weekly editorial meeting. Our food and craft teams meet weekly, with the meeting run by the food or craft editorial director every Wednesday. Matt further tracked his success in organic search and the screenshot was then shared by me with our entire editorial team via email.
What is the take away for other Mequoda operators?
I think consumers are afraid of making the first comment. So, we must be creative to make the consumer feel comfortable to generate that first comment and then others will flow much easier. That said, organizations must communicate success and failures quickly and with a plan of action. We insist on weekly written reports and goals to help our team learn from each other and keep on track for required inputs and outputs.