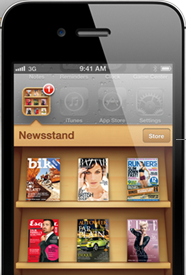 Retail can be used to boost your audience development efforts, because newsstands come with their own marketplaces
There are seven major Audience Development models we have identified: search, social, syndication, email, retail, paid advertising, and direct mail. Today, I'm focusing primarily on retail, and using Green Gardens Network as an example. If you're new to Mequoda, please take a moment to familiarize yourself with Green Gardens Network (GGN), our composite case study, and CEO Rose Harper, the embodiment of all our clients whose "example" we use as a teaching tool without revealing real publishers' names or data.
Most people associate newsstand sales with revenue generation, but it can be a significant channel for building an audience. Generally, newsstand sales aren't a major source of revenue compared with subscriptions and sponsorships, but they will help create brand awareness, contribute to audience development and drive subscriptions.
There are two types of newsstand distributions – print and digital.
For print, newsstand distribution flows through two distinct channels: wholesale or direct. Wholesale goes after the entire range of distribution opportunities, including major retailers and airports. For example, WalMart is the biggest retail outlet for newsstand magazine distribution in the United States. Getting your magazine into WalMart and other mass distribution stores requires going through a wholesale distributor. Generally, wholesale distribution is used by larger publishing companies such as Hearst and Meredith.
Many smaller, or niche publishers, choose the direct distribution option. This channel includes bookstores and specialty channels (such as Whole Foods, and Home Depot), outdoor stores, craft stores, and garden centers.
Many publishers who are sinking a lot of money into their print quality consider direct distribution because it is a lower risk, and a lower draw, as a way to begin distribution. The remit rate and efficiencies are markedly higher, but you are going to miss the important distribution channels such as WalMart.
For publishers launching a mass market title that relies on advertisers and rate base, going the wholesale route is necessary. Independent publishers who want to grow organically are better off starting with direct distribution.
Digital newsstand sales can also provide some benefits. If someone with a tablet wants a magazine, they are almost always looking for it on a digital newsstand or app store.
Being on a digital newsstand gives publishers a marketplace that 20% of their subscribers find them on. That's a percentage to take seriously. The most popular digital newsstand is from Apple (technically now their app store since they dissolved the newsstand), but Amazon (Kindle) and Google (Play) also have digital newsstand options.
In the case of Green Gardens Network, for print distribution, Rose Harper will be using a direct distributor. Her strategy is to get the Green Gardens magazine into specialty bookstores as well as garden centers and even places like Home Depot that sell many garden tools and products.
In digital, Rose will be offering single copies for sale through all the newsstands. This gives her the best opportunity to be found by readers who prefer a tablet experience.
If you'd like to talk more about turning your retail channels into audience development channels, let's talk.