Online copywriting secret: Rapport precedes influence
When Walter Cronkite died last year, he was remembered by many as "the most trusted man in America."
For nearly 20 years as a TV news anchorman, Americans turned to him as both a reliable source of information and a comforting avuncular figure. No journalist since "Uncle Wally" has been so revered for his integrity and influence, and none probably ever will.
The television personality I admire most these days is Oprah Winfrey. I've never watched more than 10 minutes of her TV program, so I'm not an expert.
But I've read that she has overcome the pain and prejudice associated with being poor, female, black, overweight, and a victim of childhood sexual abuse, to become a college grad, TV host, actress, producer, publisher, billionaire, philanthropist, and arguably the most influential woman in the world.
How did that happen? How do a few very special people gain so much trust and influence?
I believe the answer is "rapport." The word is defined by Webster as "relation, connection, fellowship, camaraderie, understanding." I call it a feeling of harmony between people.
What's rapport got to do with online copywriting?
Imagine you're a guy looking for romance, so you try this as a strategy: Every time you meet a woman, the very first thing you do is ask her for a kiss. You might get lucky once, but most of the time, you're more likely to get your face slapped.
Or suppose your opening gambit is to immediately talk about yourself and boast of all your virtues and achievements. How well does that work for closing the sale?
Now suppose, instead, when you meet a woman, you put her at ease, you have a nice conversation, perhaps enjoy some refreshments, and get to know each other slowly. At the end of your first "date," your chances of getting a kiss improve immeasurably.
That's because you've established rapport. You've developed a sense of connectedness that results in a level of trust.
There's general agreement among copywriters that after the headline, the most important part of a sales letter is the lead paragraph. So is it best to use the lead to immediately ask for the sale? Is it effective to begin your sales letter by enumerating the benefits of your product or service?
The better approach might be to demonstrate to the reader that you understand his problems and feel his pain. Or that essentially, you're just like him.
Here's a portion of one of my favorite sales letters that begins by getting rapport with the reader. Note the "letter within a letter" copywriting technique.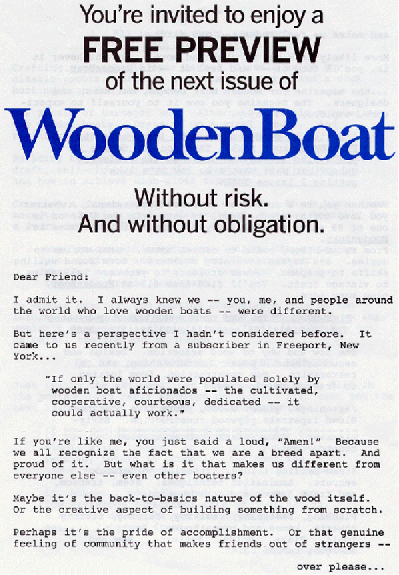 Try to make your sales letter landing page an interesting, engaging, believable story told by someone your prospective customer can relate to and appreciate. If you're asking her to spend valuable time reading your pitch, you owe her a good read.
Plus, a compelling story will move her smoothly along to the purchasing decision. (You might even get a kiss.)
That's the magic of rapport.
—————
Peter A. Schaible is Mequoda's Chief Copywriter. For more of his unique perspective on copywriting, you can subscribe to his complimentary series on Targeting Your Prospective Customer by Type: How to Position Your Brand to Trigger an Emotional Response, available at www.SunDanceNewMedia.com. No obligation. No upsell.
—————