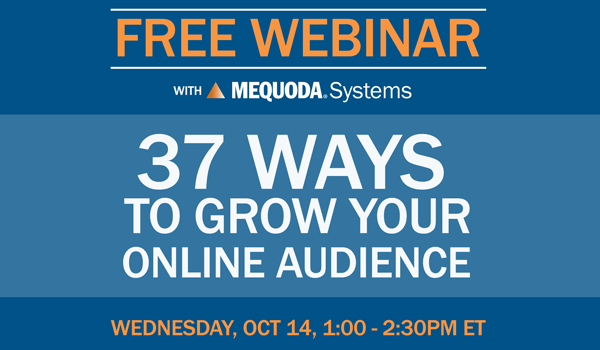 Next Wednesday, we hope to "see you" on our audience development webinar. After all, we developed a FREE webinar based on your most-asked questions!
Do you want to know proven organic and paid programs publishers are using to build a large and engaged web and email audience?
Would it benefit you to know how to use free subscription offers, email capture architecture, web and social traffic drivers, brand building tools, and audience import programs to generate an engaged list that aligns with your content?
Did you know that a simple Internet portal is a key to online audience development and that there are myriad ways in which it can be leveraged to build a large and loyal audience?
On October 14 at 1:00 PM ET, join us for our FREE webinar, 37 Ways to Grow Your Online Audience, where you'll learn how to use organic and paid programs to build an audience that is five or even 10 times the size of your largest paid subscription audience.
We'll provide a condensed summary of the key methods publishers are using today to build their digital audiences and increase their email subscriber files. In this 90-minute webinar, you'll:
Discover the email capture elements that capture the most amount of new email addresses
Learn the sophisticated conversion architecture and other programs our partners use to build large databases of free email subscribers who engage daily with their content
Find out how one publisher is getting 70% of their organic search traffic from just 5% of their posts, and why that's a good thing
See how other publishers are using the most popular social media networks to convert followers into email subscribers
Discover modern email frameworks, online tools, and social ad techniques that few publishers even know about
We'll share real-world examples of audience development programs used to grow a bigger audience and more online revenue by the publishers we know intimately.
When you attend this FREE webinar, you'll get a checklist of proven, profitable online marketing opportunities to build your audience, from America's leading publishers.
Register today so you don't miss out on this event, and please pass this along to colleagues and any friends in the industry who may benefit from this webinar. Seats are limited to the first 97 attendees to help ensure a successful Q&A session at the end of the webinar. Don and I look forward to answering your questions to help you relate our audience development methodology to your organization, mission, and goals. Register for FREE today.