The upsides and downsides to the tablet statistics floating around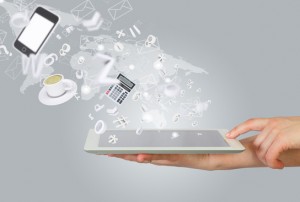 Tablets have no doubt shaped the future of reading. From digital magazines to eBooks, publishers have embraced the technology almost as much as readers have.
From bottomless reflowed pages to video advertising to text scrolling seamlessly past stationary images – and all the other tablet magazine best practices Mequoda has identified since the tablet debuted – the world of the tablet magazine is far exceeding what publishers could only dream of before April 2010.
If you've been following the news, you know that over the past two years, tablet sales have declined. The boom was in Q4 2013, and began to decline around the same time last year.
We don't think the decline in sales is any indication of less digital consumption, though. Just the opposite. When roller blades were invented, they surely saw a big influx in sales too. Then, once everybody had a pair, they stopped buying them. Sure, in a few years they'd decide they needed a new pair, but they certainly weren't going out and buying a new pair every year. How many pairs of rollerblades do you actually need?
Learn the secrets behind today's most rapidly growing niche publishers. Download a FREE copy of How to Develop a Multiplatform Magazine Business Plan, and discover how large your magazine business could become and how much of an investment will be required to build your business to maturity.
The same goes for tablets. If you're like me, you've probably upgraded your phone every one to two years, because it's basically your second right hand. Anything to make it better is a welcome enhancement. Tablets, on the other hand, don't need a lot of improvements, except in speed and disk space over time.
Most people I know have only owned one or two iPads, but they've owned every edition of the iPhone since 2007.
When smartphone sales dwindle, maybe start to worry. People might be reverting back to pen and paper. They might start riding horses too.
Just kidding, but think again—what can Apple come up with that they haven't already? Will our phones start our cars? (Actually they already can), or will they take the dog for a walk? (Sheesh, covered that too.) If you can think of a feature that a smartphone doesn't have, that you think it should, definitely leave a comment because I'd love to know!
Here's what actually matters, in regard to digital magazine consumption—the tablet statistic you actually care about. Also, read our list of our favorite digital magazine industry reports.
According to our Digital Magazine Market Study, over the last 12 months, there has been a spend from US adults on digital magazine subscriptions and single copy issues of $17.20 per digital magazine consumer, bringing total spending on digital magazines to more than $1.3 billion in 2015.
Also according to the study, 36.8% of American adults have read an average of 2.37 digital magazine issues in the last 30 days. This means that 77 million adults have read an average of 184 million digital magazine issues in the last 30 days. It also means consumption of digital magazines has now reached 43% of print magazine consumption and is climbing rapidly.
In April, MPA's Magazine Media 360° released its overall Q1 report, in which it recorded a 10.2% year-over-year spike in total visits, and total traffic for digital magazines at 1.73 billion, up from 1.55 billion in the 2014. Mobile consumption skyrocketed 65.3% , accounting for much of the surge.
Fourteen of the top fifteen (and 45 of the top 50) highest grossing Lifestyle iPad apps are magazine brands. Four of the top five highest grossing Health & Fitness iPad apps are magazine brands. Eight of the top ten highest grossing Food & Drink iPad apps are magazine brands.
The MPA also found that users with both mobile and tablet access spend 23% of their engagement time reading magazines on their smartphones. That's good news, all right! But what about tablets? That number is 75%. Now those are tablet statistics to believe in!
Readers who are new to cross-platform publishing spend an average of 114 minutes reading their magazines, and those who are early adopters spend a whopping 126 minutes with magazines. Print-only readers? Just 84 minutes. (I should note that the flipbook type of digital magazine is an exception because of the cumbersome and inferior user experience, resulting in typical engagement of 10 minutes or less.)
A recent study from GfK MRI Starch Advertising Research found the average level of reader recall for both print and digital ads last year was 52%. The most effective digital magazine ads were recalled by more than 80% of readers, in line with the most effective print ads, GfK said.
A Pew study showed that 73% of tablet owners read in-depth articles at least sometimes, including 19% who do so daily.
In terms of gender, tablet users are more or less split down the middle – 50% male and female. There are no statistically significant variations on either side to suggest more men or women use tablets. Additionally, 59% are college graduates. See more tablet user statistics we compiled.
Conclusions for publishers 
If you don't already publish your magazine in a digital format, you should get started on the process yesterday. Your readers will spend more time reading your content and they're willing to pay for it.
The more time your readers spend on magazines, and the more impact advertising has on your readers, the more magazine publishers can charge for advertising. We may finally be able to convince publishers to stop giving away ads in digital editions to print advertisers. And because digital magazine subscription prices are often higher than print prices (from the bad old rate-base days of $8 subscriptions), publishers can make even more money!
All told, the future is looking bright for magazine publishers, especially those who publish in both print and tablet formats.
And what about you? Do you have any interesting and amazing tablet statistics to share?