Some reputable industry researchers believe tablets have reached a critical mass
For the digital magazine publishing industry, an increase in tablet ownership is quite favorable. The larger population of tablet owners, the bigger the potential is for digital magazine publishers, and brands offering other digital products.
Recent data continues to portray the positive direction of tablet usage. In a recent news release from comScore, Mark Donovan, SVP of Mobile said, "Tablets are one of the most rapidly adopted consumer technologies in history and are poised to fundamentally disrupt the way people engage with the digital world both on-the-go and perhaps most notably, in the home."
This statement comes as comScore boasts that tablets have reached a "critical mass". Will some of this new data help develop a specific result or bring more sustainability to the tablet market? In some ways it may.
First, the market penetration has grown by 13.9 percentage points over the last year. This is the result of one in four smartphone owners using a tablet device during the month of April 2012.
A further look into comScore's reporting shows that the tablet audience is almost three times more likely to watch video content on their device compared to smartphone users. This is a clear indication that tablet owners seek media-rich experiences, and the larger screen makes this type of viewing easier.
Learn the secrets behind today's most rapidly growing niche publishers. Download a FREE copy of How to Develop a Multiplatform Magazine Business Plan, and discover how large your magazine business could become and how much of an investment will be required to build your business to maturity.
Secondly, eMarketer is predicting increases for the number of iPad users in the US, stating that younger (under 12) and older (over 65) consumers are a big part of this increase. By the end of 2012, the prediction is that there will be 53.2 million iPad users in the US, which accounts for 22.2% of total Internet users, and 76.4% of all tablet users. By 2015, 90.8 million iPad users are predicted in the US, accounting for 35.5% of Internet users and 68% of all tablet users.
If these predictions become reality, by 2015 more than a quarter of the entire US population will own an iPad.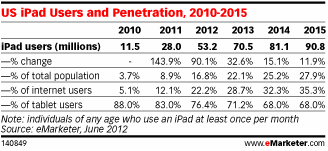 Advertising success on tablets
As we already know that video content is more watched on tablets, it's worth taking a look at the value of other content forms – including advertising. It's been shared in a past article that most tablet users noticed ads, while over a quarter held a favorable opinion of the ads.
It was thought that the size of the tablet screen, coupled with its capabilities, made the devices stand above smartphones in the advertising realm. However, some new statistics from Jumptap shows otherwise.
While examining the click-through rate of mobile devices, the Kindle Fire (7") received the highest CTR at 1.02%. The iPad (9.7") and the iPhone (4") followed, with 0.90% and 0.84% respectively. As you can tell, the iPad is a bigger device than the Kindle Fire, yet it had a lower CTR. The Samsung Galaxy Tab, which was the biggest device in the survey at 10.1", ranked fifth with a CTR of 0.53%. Clearly, size does not matter when it comes to advertising engagement on mobile devices.
What do you think about tablets reaching critical mass? Please share your thoughts in the comments below.