Digital Magazine Marketing: 7 Ways to Promote your Digital Magazine
By— Don Nicholas • 10/01/2018
Missed opportunities can lead to slumping digital magazine circulation
If you're making plans for your own digital publication, it behooves you to also plan how to make money from it with strategic digital magazine marketing.
After all, buying a list and mailing a big direct mail package, in hopes of getting a bunch of people to subscribe as we all did in the old print days, is rather like trying to sell 21st-century tablets themselves at an old-fashioned general store where hardware, ladies' hats and pickles all shared the same space, and the proprietor fetched everything on your list, then wrapped up your purchases in brown paper and twine.
Consumers are telling us loud and clear what they want—are you listening? How much would you pay for that information? Download a copy of our 2018 Mequoda Magazine Consumer Study for FREE instead, to find out how you can improve your digital magazine rapport with subscribers.
In those days, really big publishers could afford to advertise on TV, or in other magazines and newspapers. But most niche publishers relied on direct mail and the occasional bind-in or blow-in card. Not exactly a rich mine of marketing opportunities, was it?
But when it comes to digital magazine marketing, you have many more options than you did with print. Some of these ideas may seem obvious, but I suspect there are at least a few you might not have thought of before.
1. Digital Magazine Marketing With Your Website
Naturally, you already have a website where you drive traffic via organic search, convert visitors to email subscribers and sell your numerous products, right? Don't forget to sell your digital magazine app and web magazine there, too – believe it or not, I've stumbled across quite a few otherwise savvy publishers whose digital magazine is mentioned nowhere on their site!
The Economist uses the bottom half of their screen to promote "full access" to their magazine, which includes the online and app editions.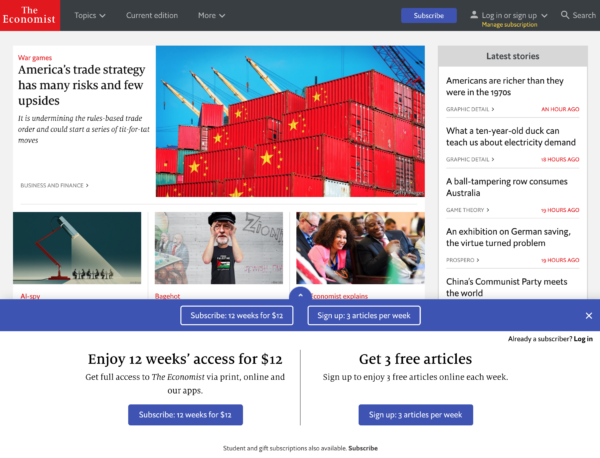 Right on the homepage, they promote the current issue of their magazine which links to specific feature articles. This gives the premium magazine content high visibility for potential subscribers.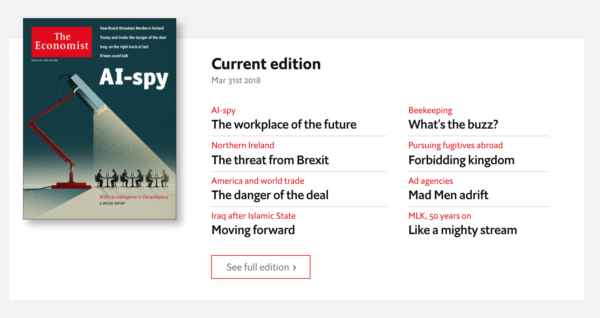 Similarly, The New Yorker makes their digital editions front and center. Directly below the masthead on their website, they feature their digital magazine app and the archive that readers get access to when they subscribe. The text reads, "All magazine issues since 2008 are now available in The New Yorker Today app. Download now."

In the niche publishing space, look no further than our client the Biblical Archaeology Society, who features the all-access pass to their web library on their homepage below featured content.

2. Digital Magazine Marketing with Email Ads
Just like offering digital subscriptions along with print on your website, you should always include an offer in your emails. Yankee never misses an opportunity to let you know about their subscription, which includes their digital library, in every daily email newsletter through the use of display and text ads in between articles.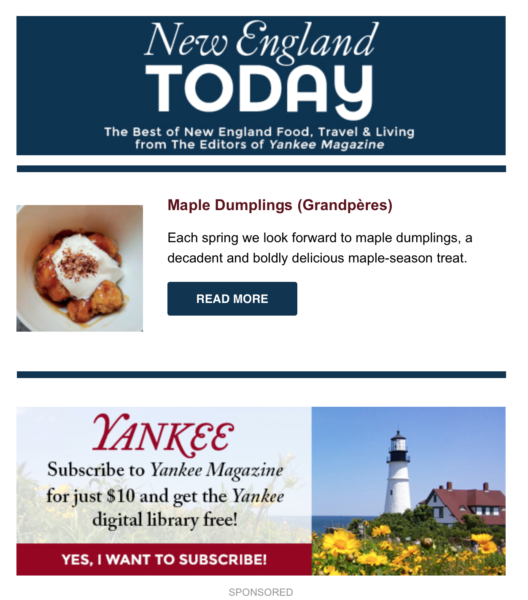 3. Digital Magazine Marketing with Six Sigma
Six Sigma methods are used in direct marketing to test a control against a number of variables. You test each variable against the control in order to declare a winner and this continues until all the variables have been tested. This can take place over the course of a month, or over the course of a year depending on how many variables you have to test. 
In subscription marketing, we adapt this structure to continuously test both offers and creative. For many of our clients, we offer Six Sigma subscription marketing services. For one of our clients, we launched a high-frequency Six Sigma email spotlight program focused on selling more magazine subscriptions. We increased the number of magazine spotlights from the standard 2-3X per week to 5X per week and introduced editorially-driven creative to alternate between offer-driven creative. We saw a 70% increase in their TOPX (total orders per 10K email subscribers) from this program. The email campaigns for this particular client were planned and measured in 2-week cycles, where we'd identify the 5 best performing spotlights and the 5 worst performing spotlights in a given 2-week cycle. We'd keep the 5 winners and include them in the next 2-week email cycle, and we'd replace the 5 losers with brand new creative.
Meanwhile, we are also testing the offer. For example, for this particular client, we ran one offer for 4 weeks and we ran a different offer for the next 4 weeks. While this approach is a significant amount of work, requiring active coordination between editorial and marketing, on-the-spot analytics, great copywriting, and interaction with fulfillment to manage the offers, we have seen it work and strongly recommend all publishers try it.
4. Digital Magazine Marketing with Social Media
There's no excuse not to use one digital medium to promote another. But believe it or not, some of the biggest players have yet to figure this out – and yes, it absolutely makes a difference! Below is an example from I Like Crochet, who is promoting their latest digital issue in the example below, with a big image of the cover, and a link directly to the online table of contents.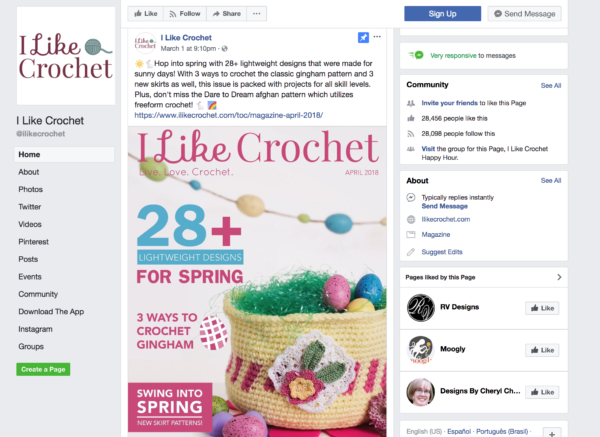 5. Digital Magazine Marketing in the Newsstand
Let's face it: If you have a  digital magazine app and it isn't available in Apple's app store, it doesn't exist for the vast majority of digital magazine buyers. Other options you may also have already considered include Amazon, Google, Barnes & Noble, and Zinio. There are also new partner options worth considering, like Next Issue, a joint venture of Condé Nast, Hearst, Time Inc., Meredith and News Corp.
6. Digital Magazine Marketing with Sampling
If you have an app, there should be at least one free issue inside that a user can view. For web magazines, many of our clients are using metered paywalls, which allow users to sample several pieces of content before being met with an access-challenge page.
7. Digital Magazine Marketing in Print
If you have the resources, you could be buying space to advertise your digital magazine in other publications. In the past we've seen Bon Appétit advertised in Glamour. And you should definitely be including an offer to go digital when you renew or bill your print subscribers via snail mail.
If you're a legacy publisher with a valuable archive of evergreen content, schedule a free consultation with a member of our executive team to discuss how we can help you dramatically increase your subscription revenue and profits.
This post was originally published in 2013 and has been updated.
Posted in Digital Magazine Publishing