Tablet users will prefer digital to print in the next seven years
Did you ever think that consumers would prefer digital magazines over print magazines? We do, and we think it'll happen within the next seven years.
And that judgement isn't even based on speculation.
We just completed our first annual 2013 Mequoda Tablet Study, which revealed that in 2013, 55% of internet users own or have access to a tablet.
If growth occurs at the same rapid pace we've been witnessing thus far, we predict that market penetration will be at 85% by 2020.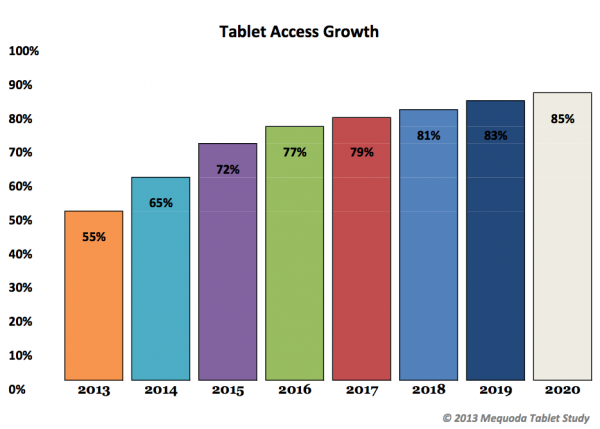 And to align those numbers with the rate at which people prefer digital magazines to print magazines, we start with our 2013 Mequoda Tablet Study results.
Our study, which surveyed over 1,200 tablet users, showed that 26% prefer digital magazines to print magazines. This number is significantly high considering that the iPad (the leading tablet in our study) was released barely three years ago. 0 to 26% in three years? Remarkable!
At the same rate of growth, we predict that number will rise quickly  to 77% by 2020 as digital magazines get better and conform to the user experience that subscribers expect.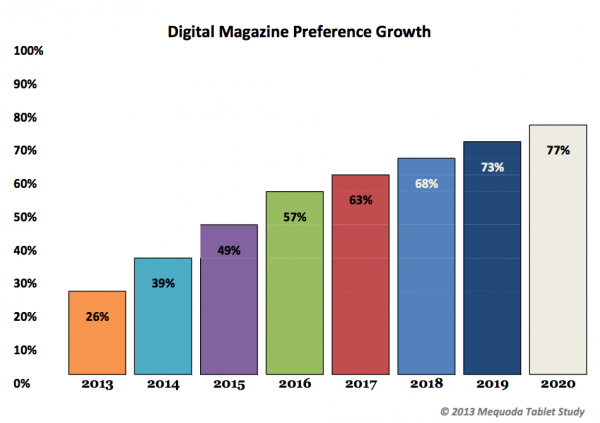 We predict that by 2020, 65% of adult US Internet users will prefer digital magazines to print magazines. To get this number, we calculate that the percent of consumers who prefer digital magazine over print magazines is equal to the percent who have access to a tablet (85% by 2020), times the percent who prefer the digital editions (77% by 2020). In 2020, that calculation is 77% x 85% = 65%.
[text_ad]
And how can we make such a bold statement when people still claim to like the feel of paper?
Digital magazines are better in at least seven ways:
Timely – When the issue is released, it can be viewed and downloaded instantly. For news-based magazines especially, this is crucial. It's even important for those who look forward to reading the latest celebrity gossip as it hits the newsstands.
Portable – When given the choice to bring seven magazines on a 12-hour flight, or an iPad mini, which takes up the least amount of space?
Collectible – Just as tablet users collect apps, they can collect magazines. Magazine apps are increasingly allowing subscribers to clip and save certain articles of the magazine too, which makes it even easier to replace print. And again, apps take up a lot less space than print magazines!
Searchable – Usability of print magazines has never been optimal. Sometimes it's hard even find the index amongst a plethora of ads. Searchable (and tap-able) magazines reduce the barrier to engagement.
Shareable – App publishers are getting savvy about allowing subscribers to share content. In a social media driven world, customers want to share everything with everyone, a feature of print that simply doesn't exist naturally.
Video enhanced – Thirty years ago, science fiction films predicted that we'd be watching video news clips in our print magazines. That was just silly. Digital magazines with video tutorials, interviews, and even video advertisements make much more sense!
Audio enhanced – Along the same lines, subscribers enjoy listening to sound clips, interviews and advertorials, something not even possible in the print medium.
Tablets have bridged the gap between magazines and magazine websites. They've created a complete hybrid of information. Once tablet users actually see and engage with a digital magazine, they're more likely to subscribe.
The rapid consumer adoption of tablets, and an early  preference for digital magazines over print magazines by their users, leads us to conclude that a long-range digital publishing strategy is imperative to the survival and prosperity of every magazine publisher.
That strategy should consider format, partners, and a paywall subscription website to be used as a home base for all paid magazine subscribers. Mequoda advises and guides all its clients in achieving these goals, and you must begin to chart your course, too.
While it's certain and probable that format and platforms will shift, it seems clear that the web will remain a nexus for all consumer activity and the number one application for tablet users.
Download your copy of our 2013 Mequoda Tablet Study: How American Adults Consume Magazines on Tablets.