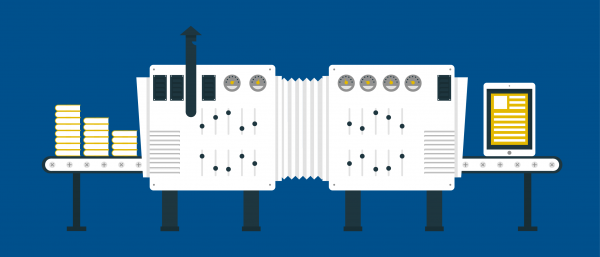 Conventional wisdom says that moving your legacy print magazine into the digital age is complicated, expensive and painful.
Mequoda says: Not if we have anything to say about it.
There's a better way to publish digital magazines that's driving amazing revenues and profits for the select few publishers who understand this new methodology.
The digital publishing strategies we will share in this workshop are currently being used by less than 5 percent of the magazine publishing industry, but will be commonplace in 10 years or less. They are not something you can afford to overlook, especially if you're struggling to move your company into the digital age.
And if you are a legacy print-only magazine publisher, this completely new way of doing business could mean the difference between your company's success and the kind of unhappy ending that many of your colleagues have experienced in the past decade.
If you will commit to spending just one day with me and my team this August, we will share with you a magazine publishing system that can change your organization forever.
I'm the founder of Mequoda Systems, the company that has been guiding hundreds of successful transitions from print to digital publishing for nearly two decades. We may not be a household name, but we like it that way, because it allows us to focus our efforts on the independent publisher who has the agility to execute our strategies – not the mega-sized, ponderous publishing houses that publish a dozen magazines from their beautiful offices in Manhattan.
Those publishers have millions to throw at their problems. We know that you don't. And please believe me, our approach to digital publishing has been created with you in mind.
Mequoda's strategies for successful digital publishing require no proprietary software and can be readily adapted to publications of any size, age or audience.
These are the critical publishing strategies I will share with you this August:
What American magazine readers really want to buy
The five magazine editions that you can and should produce
The prices, offers and incentives you must test now
How to run an integrated multiplatform marketing campaign
How to upsell print-only subscribers into more expensive digital packages
A step-by-step roadmap for making the digital transition
12 case studies of publishers like you who have blazed the trail to success
Go here to get more information on these strategies and what you will learn.
The best part: Mequoda has tested, developed and documented this process, and proven its effectiveness over and over again – with publishing companies no bigger than yours. You can do it, if you learn our method.
The second-best part: These are straightforward, practical concepts that can all be learned in a single day. You waste no time at a long, complicated conference whose content is only marginally relevant to you, and spend a minimal amount on hotel rooms.
My team and I will only be sharing these strategies on one day this year: August 2, 2016. Reservations for this one-day educational event that will change your business forever are now being taken on a first-come, first-served basis.
The magazine industry is evolving at an enormously rapid rate. Learn the strategies that hundreds of publishers already know, and that thousands more will be embracing in the years to come.
Digital magazine publishing is the future.
Will you be part of it?
We look forward to seeing you on August 2. Register now.