Download the 2018 Mequoda Magazine Consumer Study Today
By— Amanda MacArthur • 06/08/2018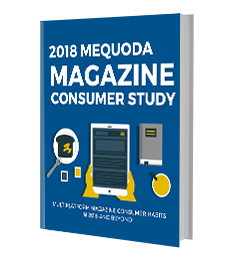 In 2014, Mequoda ran its first ever digital magazine market study, polling US adults with Internet access. At the time, the biggest finding was that 20% of our sample size of 1,136 people reported currently reading or subscribing to digital magazines on their tablets.
In 2015, we conducted another study and more than tripled our sample size from 1,136 to 3,642 US adults with Internet access. We asked the digital magazine usage question a little differently and learned that 1/3 of US adults reporting having read a digital magazine issue in the last 30 days.
In 2016 we polled a total of 3,241 US adults with Internet access. We asked many of the same questions we did in 2015, plus a few new ones and in particular, we set out to further analyze the multiplatform consumer, those who report reading both digital magazines and print magazines in the last 30 days. We found that there was a 16.54% increase in adults reading digital magazines, and a 2% drop in print magazines read.
Fast forward two years to 2018 and this year we discovered the drop in print magazine issues read from 2016 was nearly 12% while digital magazine issues read was up over 11%. Another interesting observation is that digital magazine readership, as a percentage of all magazine readership, climbed from 32% in 2016 to 37% in 2018. At this pace, digital magazine readership as a percentage of all magazine readership will break 40% in 2020.
As the industry evolves, so does our study. We set out to learn as much as we can about digital magazine consumers to discover how consumption, preferences and spending habits are growing and evolving.
To read the key findings of our study, and to learn more about the habits of magazine consumers, download our brand new 2018 Mequoda Magazine Consumer Study.
Don't open your wallet just yet, it's a free gift from us to you, and you can download our guide to creating multiplatform magazines instantly.
The 2018 Mequoda Magazine Consumer Study is FREE to download.
And if you want to talk more about everything you've read, and how to apply it to your own business, schedule a call with a member of our consulting team.
Posted in Digital Magazine Publishing